3rd Annual Economics Conference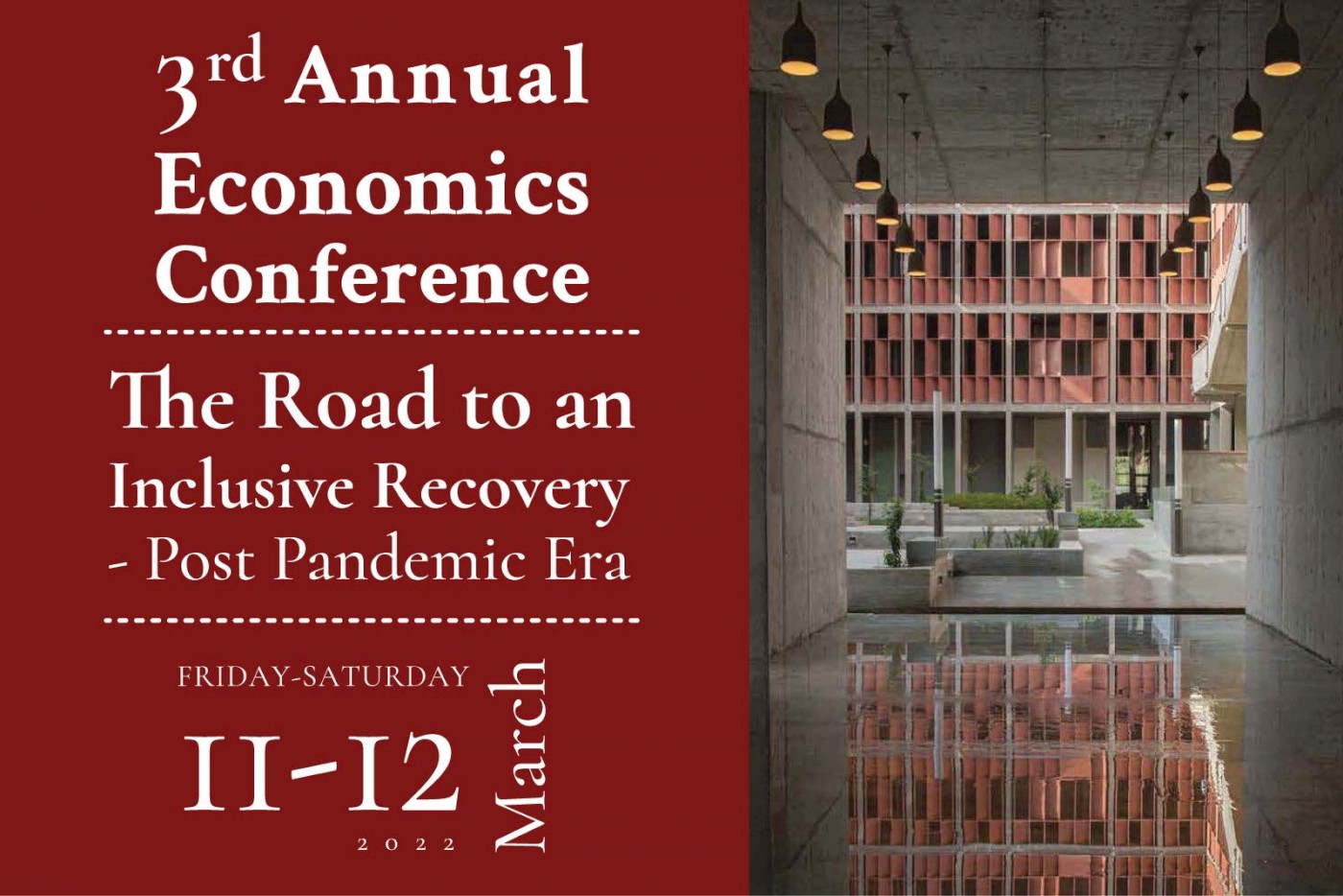 Ahmedabad University is a liberal arts driven Research University established in 2009 by Ahmedabad Education Society. It is dedicated to rigorous academic pursuit with a focus on building inquiry as a value through interdisciplinary learning. We prepare students to think deeply and creatively across fields, and emerge as independent thinkers and compassionate leaders who can innovatively engage with the complex challenges of our society. Our research and teaching includes humanities and languages, social sciences, mathematical and physical sciences, biological and life sciences, performing and visual arts, engineering, and management. Education at Ahmedabad University is premised on three unique characteristics - interdisciplinary, experiential learning and research thinking and our university's signature Foundation Programme builds on these unique characteristics giving the students a holistic knowledge of theory and applications.
The International Monetary Fund projected the global economy to grow at 5.9% in 2021 and 4.9 % in 2022. In the year 2022, India will be experiencing the highest growth among all the countries with 8.5 %. Most countries are trying to get back on the path to recovery amid the possibility that Covid-19 may resurge again. In such uncertain times, policy choices gain the center-stage. Governments need to address the challenges of rising inflation, unemployment, poverty and widening inequality, while also accounting and adjusting for the inadequacy and lack of preparedness observed in delivering quality health and education services. The private sector and industries are working hard to restructure their business with new norms and new market models. The choices that are made now will be pivotal for new age of economic and social dynamics of world.
The 3rd Annual Economic Conference at Ahmedabad University provides an opportunity to discuss these challenges. Dr C Rangarajan, former Governor of RBI will deliver an inaugural session joined by Shri Mahesh Vyas, CEO and managing director CMIE. Many more distinguished academicians, policymakers will be joining us.
We invite your contributions in the form of research papers related to the theme of the conference on various issues related to fiscal and monetary policy, livelihood and migration, international trade management, health and education, manufacturing and service industries and financial sector.
We particularly encourage doctoral students to present their research in order to receive valuable comments to improve their papers.
We request you to submit an abstract of the paper by January 20, 2022.
| Timeline | |
| --- | --- |
| Conference Date | March 11-12, 2022 |
| Abstract Submission Deadline | January 20, 2022 |
| Full Paper Submission Deadline | February 10, 2022 |
| Deadline of Registration | March 1, 2022 |
Registration Details
| | Registration Fees |
| --- | --- |
| Students - PhD Scholar | INR 1000 + GST |
| Academics and Professional | INR 2000 + GST |
Past Conferences: 50 years of Bank Nationalisation - Indian Banking at Cross Roads, 2nd Annual Economics Conference: Economics in Challenging Times
For Communication, please email to [email protected]
Conference Organising Committee
Professor Himani Baxi
Professor Moumita Roy
Professor Gaurav Bhattacharya
For the detailed schedule, please click here