Leadership Conclave 2.0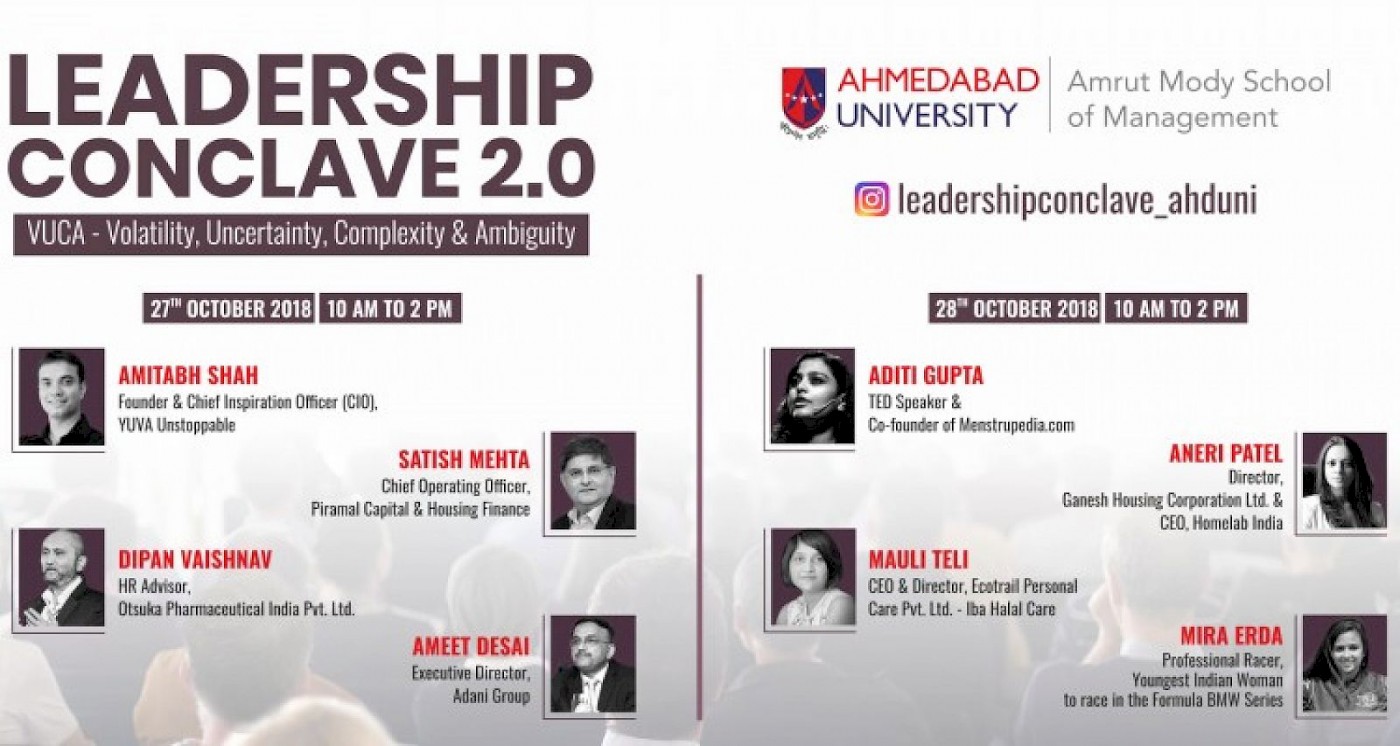 As promised, the Leadership Conclave was to become a regular fixture and Ahmedabad University's Amrut Mody School of Management recently hosted its second edition - "Leadership Conclave 2.0". This time around, the event served to further explore and provide an in-depth study of last edition's theme: the trending term VUCA - Volatility, Uncertainty, Complexity, and Ambiguity.
Following the University's vision of multidisciplinary education, 8 leaders from diverse backgrounds were invited to share their experiences of the VUCA world through examples from their industry; their companies and their own lives. Keeping gender parity and an emphasis on young leaders, it was easy for the audience to connect and this helped this edition to take the event to the next level.
Day 1 (27 October 2018) had Amitabh Shah, Founder and Chief Inspirational Office (CIO) of Yuva Unstoppable; Satish Mehta, Chief Operating Officer (COO) of Piramal Capital and Housing Finance; Dipan Vaishnav, HR Advisor to Otsuka Pharmaceuticals Pvt. Ltd. and Ameet Desai, Executive Director of Adani Group.
Day 2 (28 October 2018) had Aditi Gupta, Co-founder of Menstrupedia.com; Aneri Patel, Director of Ganesh Housing Corporation Ltd. & Chief Executive Officer (CEO) of Homelab India; Mauli Teli, Chief Executive Officer (CEO) & Director, Ecotrail Personal Care Pvt. Ltd. (Iba Halal Care) and Mira Erda, Professional Racer who is the youngest Indian woman to race in the Formula BMW Series.
All of the speakers shared their valuable lessons regarding how, not only to survive, but to thrive in the treacherous VUCA world. Together, they provided insight into successful leadership by discussing various sub-themes at length. These included: a leader as an intellectual; values and models of global leadership in the contemporary world, how to successfully run an enterprise in this dynamic world and how important it is to give back to society at large.
Unsubscribe