2nd International Conference on Heritage Management Education & Practice: Developing Integrated Approaches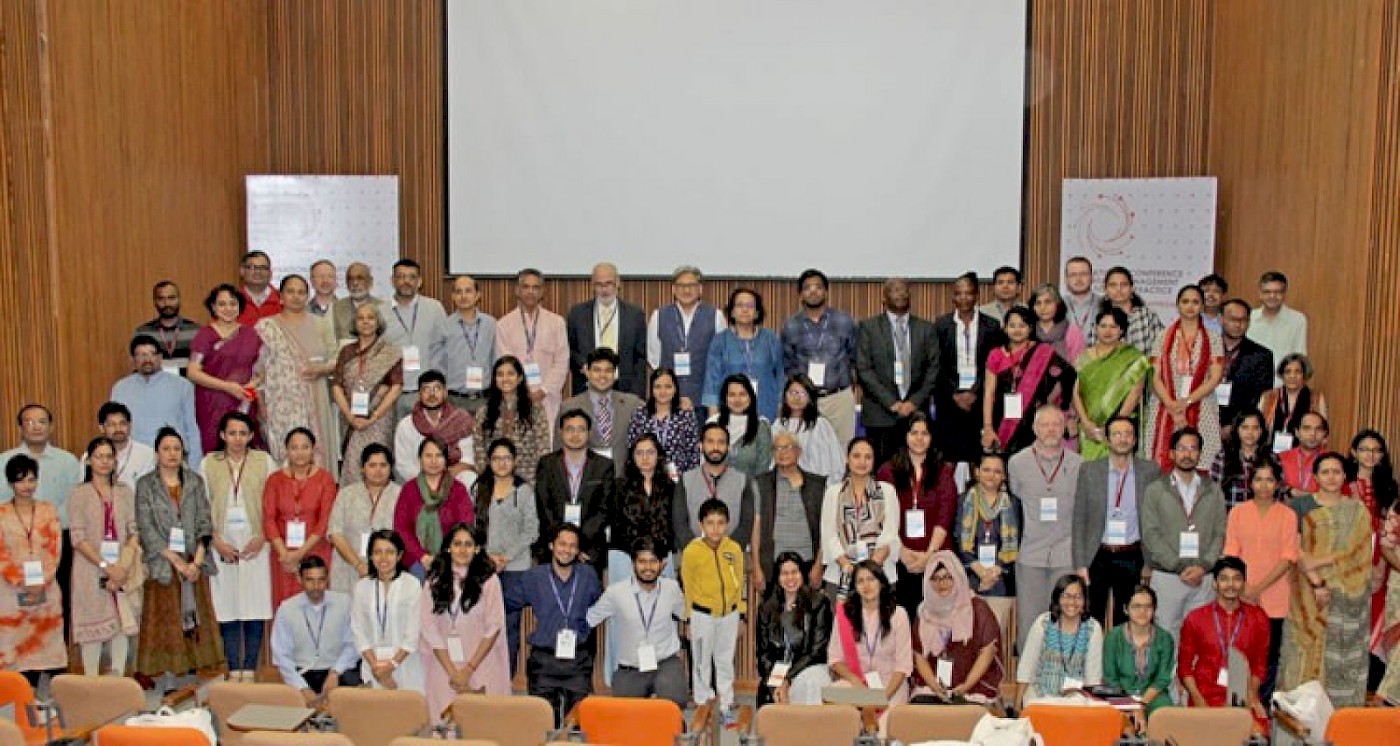 The 2nd edition of the international conference series on Heritage Management Education and Practice, organised by Centre for Heritage Management, Ahmedabad University, at the GICT building of Ahmedabad University Central Campus. Building upon the inaugural edition's theme on 'exploring connections across disciplines and stakeholders' (2017), the second edition focused on developing integrated approaches and sharing best practices as well.

The inaugural session of the conference was anchored by Mr Vijay Ramchandani, Senior Executive for academics and research at Centre for Heritage Management and overall coordinator of the conference. Dr Neel Kamal Chapagain, Associate Professor and Director of Centre for Heritage Management welcomed the delegates and introduced the context as well as the overall agenda of the conference. Professor Bibek Banerjee, Senior Dean of Strategic Planning and New Initiatives at Ahmedabad University gave the inaugural address. The keynote speaker for this year was Dr Webber Ndoro, Director General of ICCROM – the International Centre for Study of Preservation and Restoration of Cultural Property (with its headquarters in Rome, Italy). Dr Ndoro shared perspectives on heritage management from Africa while emphasising on the diversity across various countries and communities in Africa. Drawing upon his experience of working in various roles, he enunciated the need for holistic heritage management educational opportunities. He also highlighted ICCROM's interest in working with universities in different regions, to cater towards the vast need of capacity building on heritage management globally. Following a presentation of memento to the keynote speaker by Professor Bibek Banerjee, Dr Shahul Ameen offered the vote of thanks.

The plenary session sponsored by Aga Khan Trust for Culture (AKTC) set the tone of the best practices expo featuring AKTC's Historic Cities Programme. The panel began with the education director at AKTC, Professor Yudhishthir Raj Isar's overview of the programme. The second presentation by Dr Ashraf Botros, former head of AKTC projects in Egypt, brought forward the lessons from the Cairo experience, followed by a commentary by Professor Ashoke Chatterjee, advisor to CHM and former director of National Institute of Design. The panel was anchored by Mr Piyush Pandya, project manager at CHM.
Day 2 began with a plenary session featuring Ms Sushma Iyengar, a social activist and educator based in Kutch. Ms Iyengar elaborated how heritage can be understood from the ground perspective where there is no separation of natural heritage and cultural heritage, and how such a holistic understanding may be used towards sustainable community development. The anchor for the second day's plenary session was Dr Shahul Ameen, senior lecturer and assistant editor of the Journal of Heritage Management. The plenary session as followed by parallel sessions on 'community participation and partnerships', 'fluid heritage', theses presentations by the recent graduates of Masters in Heritage Management at Ahmedabad University and poster presentations.

Day 3 had a few plenary sessions that were open for wider public discussion. The day began with a special plenary session on heritage management education in collaboration with UNESCO Bangkok in which Dr Neel Kamal Chapagain, Director of Centre for Heritage Management, Ahmedabad University shared a draft competency framework for cultural heritage management. The draft framework is an outcome of an initiative undertaken by UNESCO Bangkok office since last one year involving universities in Asia Pacific region offering programmes on heritage management as well as few site managers and institutions. The draft framework was then critiqued by panellists Dr. Amareswar Galla, director of the Inclusive Museum; Dr. Ioannis Poulios, a heritage management expert and academic from Greece, and Dr. Jigna Desai, coordinator of conservation studies at CEPT University.

Post lunch plenary sessions included a special session on managing world heritage of Ahmedabad, in collaboration with Ahmedabad Municipal Corporation and ICOMOS India. The session started with a presentation by Mr. Ashish Trambadia, director of the newly formed Ahmedabad World Heritage Trust, followed by remarks by panellists – Dr. Neel Kamal Chapagain, Mr. P.K. Ghosh, Chairman, Heritage Conservation Committee for AMC, Mr. P.K.V. Nair, deputy general manager of heritage department at AMC, Dr. Jigna Desai, and Ms. Poonam Trambadia.
Concluding session featured reports by session chairs of various technical sessions and a valedictory address by Professor Devanath Tirupati, Dean, Amrut Mody School of Management, Ahmedabad University.

Following the concluding session, the students of Masters in Heritage Management offered a cultural programme featuring Tabla player Sukrit Sen – a first year student, and Kathak artist Kritika Raghuvanshi – a second year student. The conference concluded with a farewell high tea and informal interaction among the delegates and guests.
Apart from the plenary sessions mentioned above, the conference featured 50 selected presentations on the themes of integrating 'heritage and development', 'heritage and education', 'tangible and intangible heritage', 'natural and cultural heritage', 'local and global discourses' 'heritage and economics', 'water' and 'museums'. The three days conference had around 100 participants from various parts of India, as well as 12 other countries.