Management of Heritage: Challenges and Opportunities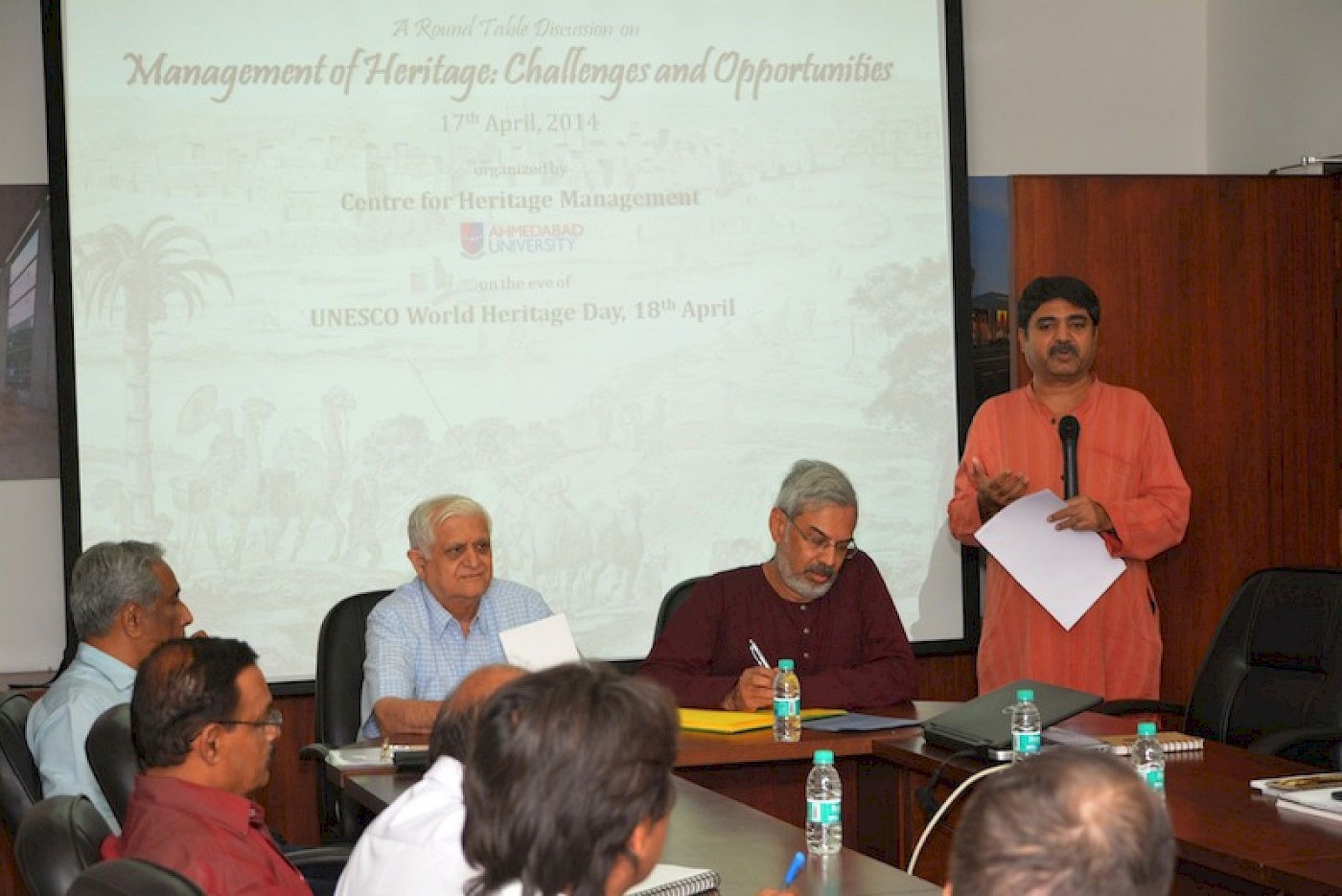 The Centre for Heritage Management at Ahmedabad University organized a round table discussion on Management of Heritage: Challenges and Opportunities on Thursday, April 17, 2014, on the eve of UNESCO's World Heritage Day. The discussion was held at the Conference Hall, Ahmedabad University from 3 pm to 5.30 pm.

A constellation of heritage experts, government officials, conservation architects, heritage NGOs and professionals, along with academicians attended the round table discussion, brainstorming on issues related to the professional management of India's cultural and built heritage assets, and the challenges involved in the process.

Shri Debashish Nayak, director, Centre for Heritage Management, Ahmedabad University welcomed the gathering, and Shri C K Koshy, Chief Executive and Advisor, Centre for Heritage Management offered the introductory remarks.

Professor Amarlal Kalro, Provost, Ahmedabad University delivered the inaugural address at the round table. Talking on the occasion, Professor Kalro highlighted Ahmedabad University's mission through the Centre for Heritage Management of promoting and facilitating heritage management through education, training, advocacy, collaborative efforts and networking. He underlined the need for developing a conservation process, proper communication strategy and creating a sustainability plan for national monuments, arts and crafts.

Setting the tone for the discussion, the invited keynote speaker of the round table, Shri Kartikeya Sarabhai, Director, Centre for Environmental Education highlighted the need for sensitivity and understanding of culture and diversity for the sustainability of heritage systems.

The round table was attended by ardent supporters of sustainable heritage who brainstormed on different ways to consistently campaign towards a sustainable heritage movement. The brainstorming focused on creating an environment of positive change in meeting the challenges of professionalizing heritage management.