Workshop on Intangible Cultural Heritage and Community Resilience: Reflections on the Recent Pandemic Experience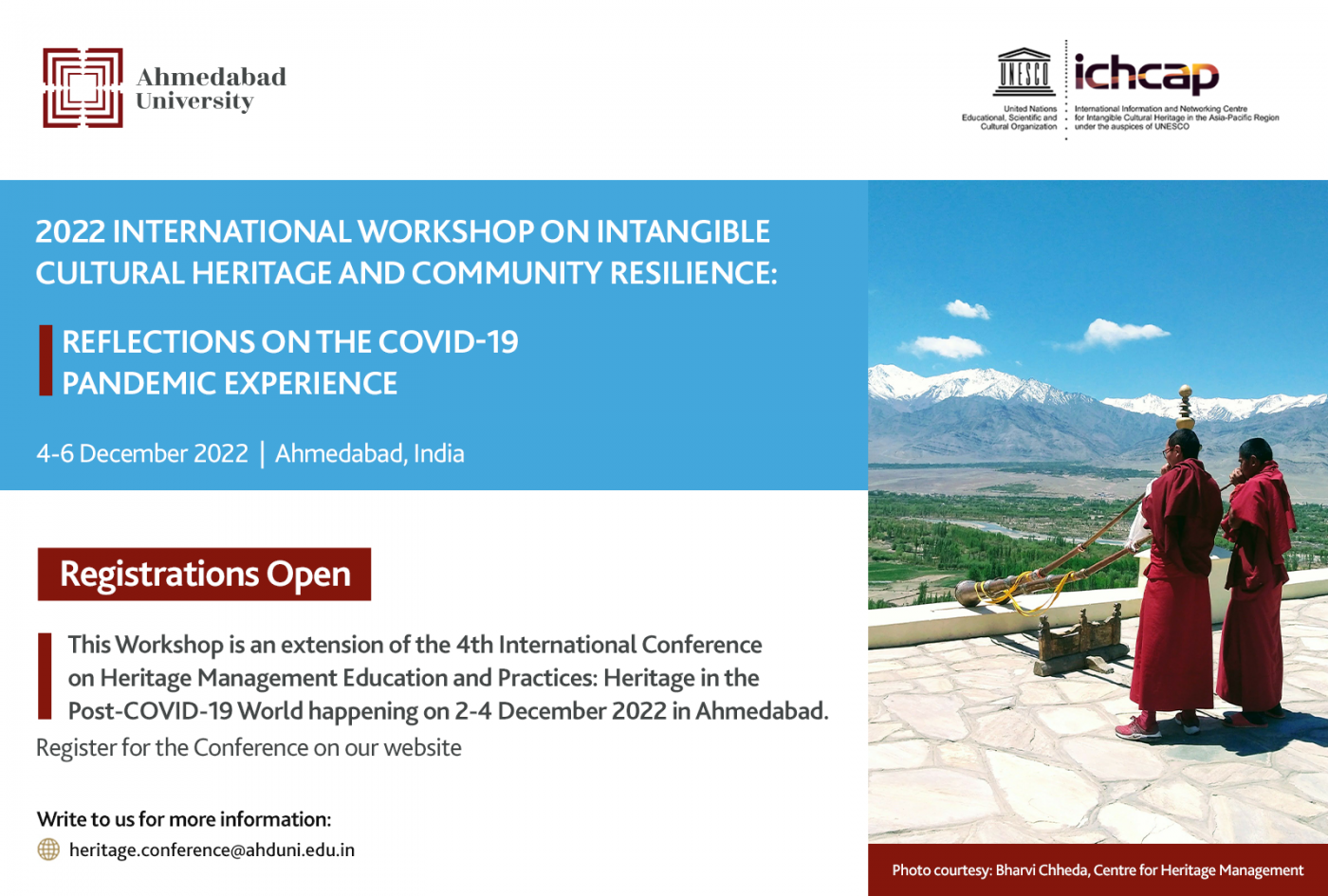 A workshop on Intangible Cultural Heritage and Community Resilience: Reflections on the recent pandemic experience is organised in connection to the International Conference on Heritage Management Education and Practice: Heritage in the Post COVID-19 World, to be held on 2-4 December 2022 at Ahmedabad University, Ahmedabad, India.
Intangible cultural heritage is an integral part of a community's identity and has evolved with the community's needs and norms. During the COVID-19 pandemic, the shared ICH practices became not only symbols of solidarity but also coping mechanisms to deal with the unprecedented conditions. Over the period of the two years of varying restrictions including lockdown, several stories of resilience have emerged from urban and rural communities who have rediscovered and even reinvented ICH practices as a response to the stress caused by the pandemic. These stories of resilience bring us to ponder over the nature and the extent of adaptability of ICH and how it can be used as a powerful tool of resilience, regeneration and remembrance for communities facing crises.
This workshop may not necessarily offer solutions to any existing problems. Rather, it aims to create a network of heritage practitioners and institutions/organisations and provide a platform for them to learn from each other's experiences. Towards this end, the workshop aims to bring together a diverse group of professionals in the form of academicians, cultural heritage experts, ICH practitioners and regional community leaders.
Organised by the Centre for Heritage Management, Ahmedabad University and supported by International Information and Networking Centre for Intangible Cultural Heritage in the Asia-Pacific Region (ICHCAP), this two-day intensive workshop is available only in the physical mode since it is a combination of lectures, panel discussions, field visits and hands-on activities. As a final assignment, the participants will develop a project for a community of their choice taking an example of one ICH element practised by the community to see how it can act as a source of resilience during times of crises. Selected participants will be mentored by the workshop facilitators for this assignment. Selected final assignments will be included in a publication or a virtual exhibition.
Dates and Venue
December 2-4, 2022
Ahmedabad University, Ahmedabad, India.
Application Process
Register by submitting the application form
Selected senior undergraduate, graduate students and early career professionals will be extended added benefits including financial assistance depending on their eligibility and commitment to the workshop.
Contacts for further information
For the content of the workshop
Neel Kamal Chapagain
Associate Professor and Director, Centre for Heritage Management, Ahmedabad University
[email protected]
For assistance with registration or other administrative aspects of the programme
Bharvi Chheda
Research Assistant, Centre for Heritage Management, Ahmedabad University
[email protected]