50 years of Bank Nationalisation - Indian Banking at Cross Roads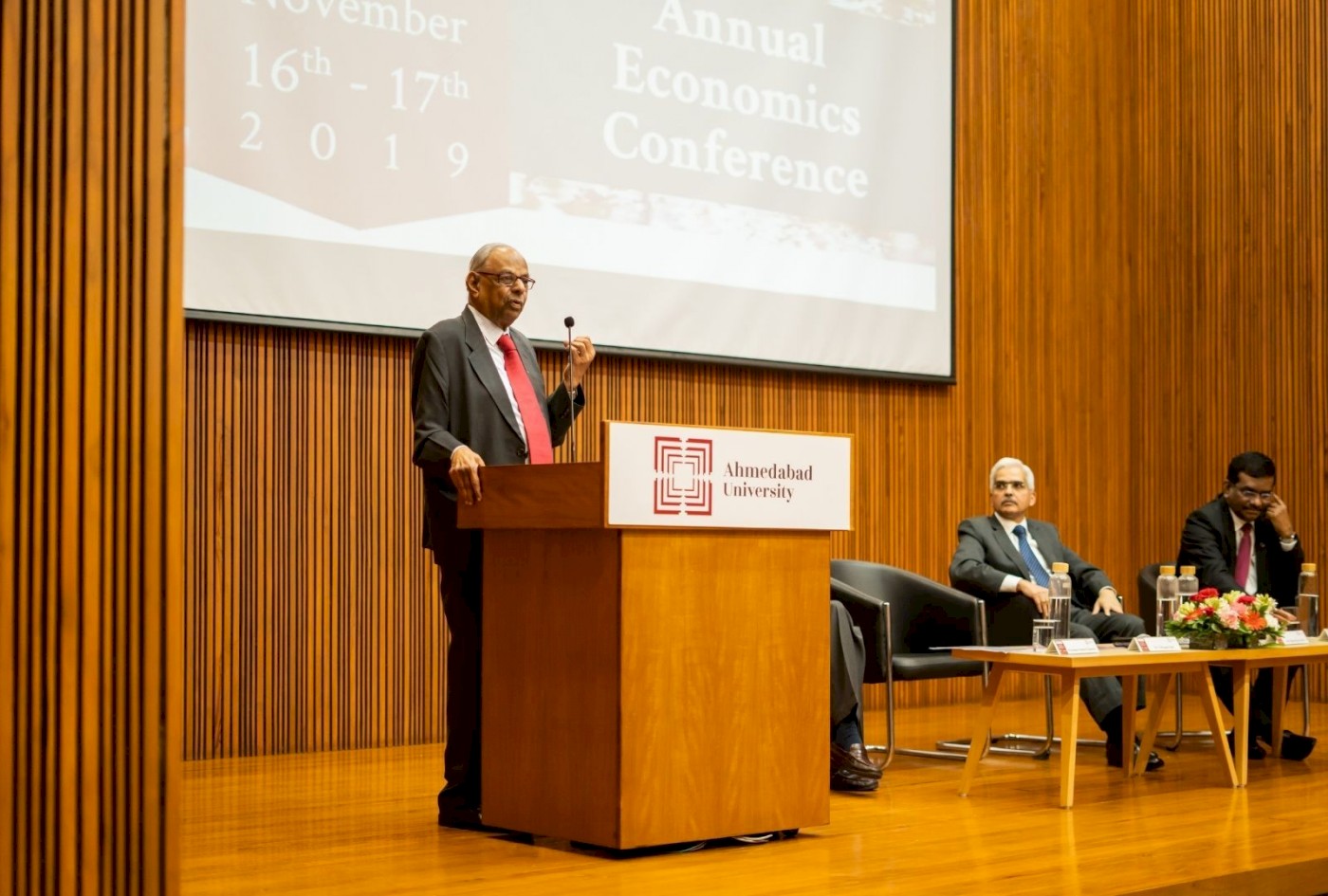 First Annual Economics Conference
50 years of Bank Nationalisation: Indian Banking at Crossroads

Ahmedabad University organised its first economics conference on 16-17 November 2019. The theme for this year's conference was 50 Years of Bank Nationalisation: Indian Banking at Crossroads.
The conference was inaugurated by RBI Governor Shaktikanta Das. Mr Das welcomed the theme of the conference as a reflection point for developments in Indian banking sector in the last 50 years. He listed the challenges facing Indian banking and the policies RBI has put in place to address these challenges. In particular, he highlighted that RBI is revamping its supervision function and will establish a College of Bank Supervisors to train and update the central bank's supervisory personnel. The entire speech of the Governor can be read on the RBI's website.
The inaugural remarks were followed by a keynote lecture by Dr C Rangarajan, former RBI Governor and Distinguished Professor at Ahmedabad University. Dr Ranagarajan addressed the audience, drawing from his decades of policy experience and knowledge of economics. He said that Indian banking has seen two revolutions in the last 50 years. The first was bank nationalization, whose purpose was to spread banking services to rural and neglected areas. The second was the 1991 reforms, which led to decline in the government's stake in public sector banks and giving license to private banks. Dr Rangarajan also expressed some concerns on the current state of Indian banking in the public sector and listed governance of PSBs as one of the top agendas that should be considered by the government and the RBI.
Apart from the conversation with the Governors, there were three panel discussions. The first was on the topic What Ails Indian Banking, chaired by Mr Anantha Nageswaran, Member of PM's Economic Advisory Council and Dean of IFMR Business School. The other panelists were Ms Usha Thorat (Former Deputy Governor, RBI), Mr Arijit Basu (Managing Director, State Bank of India) Mr S Sridhar, Former Chief Managing Director, National Housing Bank and Central Bank of India and Professor Ananth Narayan (SP Jain Institute of Management and Research). In a free-flowing panel discussion, members of the panel discussed more issues regarding governance of banks. One usually blames public sector banks for mis-governance but with recent cases of private sector banks and NBFCs mis-governance, they claimed that ownership is hardly the issue that drives good governance in banks.
The second panel (on 17th November 2019) was on Role of technology in Banking and Payments, chaired by Ms Bindu Ananth Chairperson, Dvara Research. The other panelists were: Mr B Sambamurthy (Former CMD, Corporation Bank and NPCI), Professor MS Sriram (IIM Bangalore) and Dr Santanu Paul (MD & CEO, TalentSprint and Independent Director, NPCI). This panel talked about both opportunities and challenges arising due to increased digitisation of banking. Digitisation provides the opportunity to help in better penetration and bring about more financial inclusion but has the challenge of leaving digital footprints, erosion of privacy and opens cases for state surveillance.
Union Bank was the sponsor of this conference and their MD & CEO, Mr Rajkiran Rai G hosted a panel of Bank Chiefs of Public Sector banks. The panel comprised of five MD/CEOs of banks: Mr SS Mallikarjun Rao, (Punjab National Bank), Mr Mrutunjay Mahapatra (Syndicate Bank),
Mr J Packirisamy (Andhra Bank), Mr Atul K Goel (UCO Bank) and Ms PV Bharathi (Corporation Bank). The leaders from PSU banking sectors gave a various perspectives on why PSBs are important and play an important role in Indian economy.
The valedictory speech was given by Dr Urjit Patel, former Governor of RBI. He also gave the Best Paper Awards to four scholars who presented their research at the conference. Apart from the panels and keynote lectures, the conference saw nearly 30 research papers presented across five themes: History of Bank Nationalisation, Financial Inclusion, Technology in Banking and Payment Systems, Banking Performance and Regulation, and Supervision in Banks and NBFCs.
Overall, professionals from the Indian Banking sector participated in the 50 years of Bank Nationalisation Conference along with policymakers, bankers and researchers. The conference reflected on all three time periods: the past, current scenario and future. Students were also present in large numbers and gained hands on knowledge from the experienced leadership from the banking industry who spoke at the conference.
The schedule of the conference can be found here.