Change and the Arts - A Lecture By Anita Dube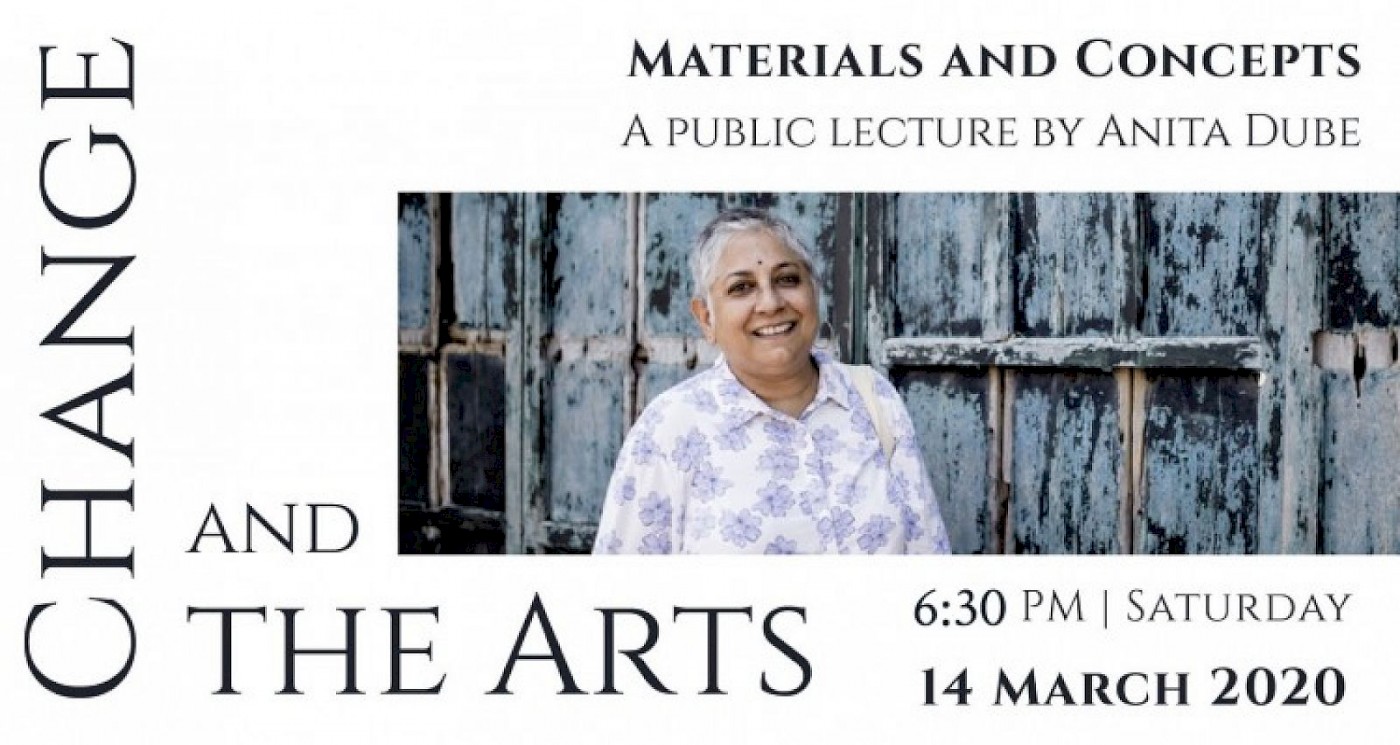 Born in Lucknow in 1958, Anita Dube completed her BA (History) from Delhi University in 1979 and her MVA (Art Criticism) from the Faculty of Fine Arts, Maharaja Sayajirao University, Baroda in 1982. As a member of the Radical Painters and Sculptors Association, she wrote the manifesto of the seminal exhibition 'Questions and Dialogue' in 1987. Dube is the co-founder and board member of KHOj International Artists' Association. She has contributed texts to many publications on contemporary art.

She has been represented in various national and international biennales and festivals such as the first 'Kochi Muziris Biennale' (India, 2012), 'Biennale Jogja XI' (Jogja National Museum, Indonesia, 2011), 'Against Exclusion' 3rd Moscow Biennale of Contemporary Art (curated by Jean-Hubert Martin, Garage Center, Russia, 2009), 'iCon: India Contemporary', Venice Biennale (Collateral event, Italy, 2005), 'Yokohama Triennale'(Japan, 2001) and '7th Havana Biennial' (Cuba, 2000).

Dube has shown widely nationally and internationally in large scale group exhibitions including 'Part Narratives' (curated by Gayatri Sinha, Bikaner House, Delhi 2017),'Given Time: The Gift and Its Offerings' (curated by Dr. Arshiya Lokhandwala, Gallery Odyssey, Mumbai 1016), 'Dwelling' (curated by Ranjit Hoskote, Galerie Mirchandani & Stienruecke, Mumbai, 2016), 'After Midnight: Indian Modernism to Contemporary India 1947/ 1997' (curated by Dr. Arshiya Lokhandwala, Queens Museum of Art, New York, 2015), 'Difficult Loves-7 Contemporaries' (curated by Roobina Karaode, The Kiran Nadar Museum of Art, New Delhi, 2013), 'Labyrinth' (presented by Lakeeren Gallery, Dr. Bhau Daji Lad Museum, Mumbai, 2011), 'Paris-Delhi-Bombay' (curated by Sophie Dupleix and Fabien Bousteau, Centre Pompidou, Paris, 2011), 'Archive of Utopia' (presented by Seven Art Gallery, Lalit Kala Akademi, New Delhi, 2011), 'Conundrum' (Bose Pacia, New York, 2011), 'Indian Highway' (curated by Stinna Toft, Herning Museum of Contemporary Art, Denmark, 2010), 'Indian (Sub)Way' (Grosvenor Vadehra, London, 2010), 'Mythologies' (Haunch of Venison, London, 2009), 'Beyond Globalization' (Beyond Art Space, Beijing, 2009), 'India 3: New Delhi-Republic of Illusions' (Galerie Krinzinger, Wein, 2009), 'The Audience and the Eavesdropper: New Art from India and Pakistan' (Phillips de Pury & Company, London and New York, 2008), 'Santhal Family: Positions Around an Indian Sculpture' (MuKha, Antwerp, 2008), 'Urban Manners' (Hangar Bicocca, Milan, 2007), 'New Delhi New Wave' (Marella Gallery, Milan, 2007), 'India: Public Places/ Private Spaces' (The Newark Museum, Newark, 2007), 'Horn Please- Narratives in Contemporary Indian Art' (Kunstmuseum, Bern, 2007), 'Bombay Maximum City' (Lille, 2006), 'India of The Senses' (Espace Louis Vuitton, Paris, 2006), 'Indian Summer' (Ecole Nationale Superieure des Beaux Arts, Paris, 2005).