Concourse 2021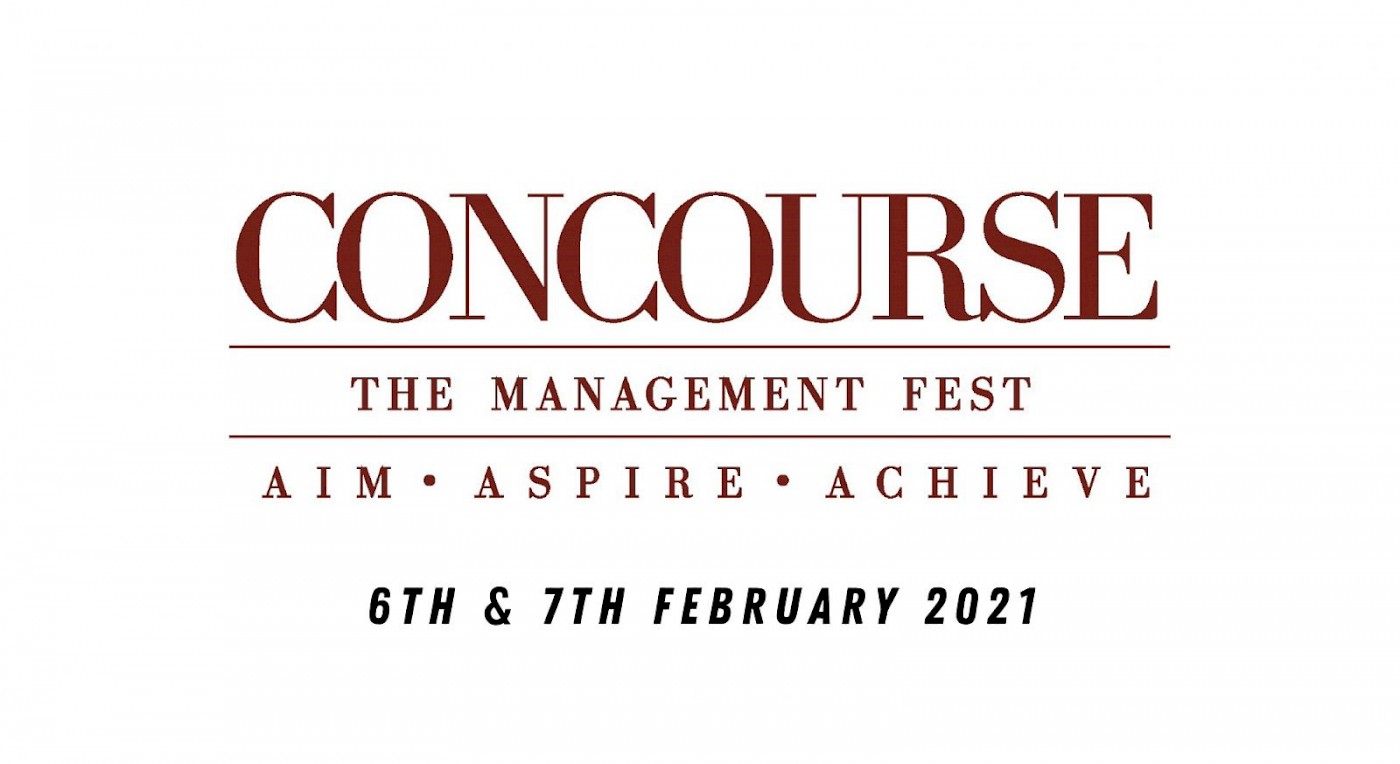 The Management Fest is a flagship event of Amrut Mody School of Management (AMSOM), Ahmedabad University. It was initiated by Ahmedabad University several years ago and has proved to be a successful event ever since. The inter-university competition is one of its kind and is back with exciting twists and an even better opportunity for the emerging managers of tomorrow.
It is a meeting place for budding entrepreneurs and aims to create leaders for the growing industries and managers of tomorrow by promising an opportunity for the students to sharpen their skill-set by exploring various management functions such as presentation, communication, analytical thinking, rationalizing and logical reasoning, leadership skills, creativity, etc.
Concourse is specially designed with events aiming to evolve and help develop the management students and budding business pupils. The competition, this academic year, will be based on a different theme and pattern which connects and challenges the amateur businessmen and forces the participants to brainstorm, develop individual extempore, build team spirit and inculcate qualities and skills like leadership, time management, public speaking, creative management, presentation, marketing and PR, delegation, problem solving, etc.
Those who participate in any of the events can get a chance to win cash prizes worth INR 30k+, Trophy, Certificates & much more!
Apart from that, all the participants will return with a lifetime experience of learning and will emerge as efficacious managers in the future.
The Theme for this year is "BOUNCE FORWARD". This theme emphasizes on the concept of treating the COVID-19 pandemic as an opportunity instead of a setback. When one says "bounce back" during a time of crisis, it is implicit that things before the crisis were appropriate and reaching back to that stage, is reaching success. The main idea is that instead of thinking of going back to the normal i.e., the pre-pandemic scenario, we focus on the concept of "Bounce Forward" and thus going an extra mile from the pre-pandemic scenario.
Dates: 6th & 7th February 2021
Venue: Zoom video conferencing
Keeping in mind the current pandemic situation and considering the health of all our participants, the event this year will be held on online platforms. Events to take place:
Brandalism (Ad-Mad)
Cahoot (Mergers & Acquisitions)
Case Prowess (Case Analysis)
Decipher IT! (Deductive Reasoning)
Quizzard (Business Quiz)
Venture Auction (Business Plan)
Registration Link: https://bit.ly/3mQCxzQ