Digital Conclave 2019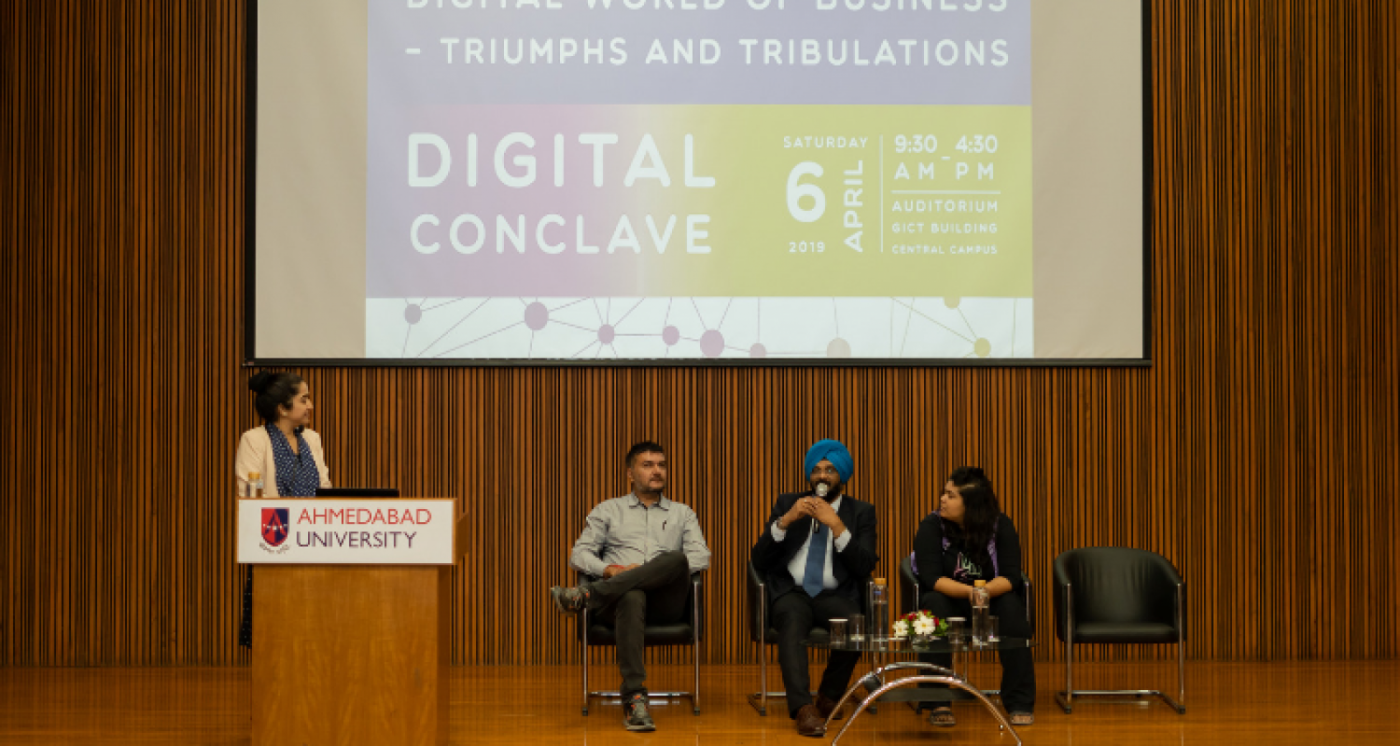 Amrut Mody School of Management at Ahmedabad University hosted the "Digital Conclave 2019" on 6 April 2019with the very relevant theme of "Digital World of Business – Trials and Tribulations".

Digital Technology today drives the society and enables organizations to reach more customers at a lesser cost in a much faster time. The changing digital dynamics have an incredible influence on people's interactions, work, purchases and life habits. Successful businesses today are those that skilfully utilise the digital universe to maximize their brand awareness and impact. Fusing data, content, creativity and technology has resulted in many a profitable customer experiences for firms. Digital marketing has changed and will continue to change the way brands, businesses and industries operate in an opportune yet challenging environment.

Keeping this in mind, Digital Conclave 2019 brought together the best and most experienced business leaders, senior marketers, head of agencies and mentors from the digital sphere from across the country. It provided an opportunity for students to interact with and learn from the challenges faced, opportunities ceased and experiences shared by the invited experts.
This one day event consisted of three sessions and 8 leaders from diverse industries but with one common interest – digital technology, its dynamism and contribution.

Session 01 had Col Inderjeet Singh, Chief Cyber Security Officer - Vara Technology Pvt Ltd , Ms Krutika Katrat Cofounder & Chief Acquisition Officer - Impetus Wellness Pvt. Ltd. and Mr Jaydip Parikh Chief Everything Officer - Tej SolPro Digital Private Ltd.

Session 02 had Mr Amardeep Bajpai, Founder-Webisdom, Director-Webgulf digital, Mr Harish Chib, Vice President – Middle East and Africa, Sophos and Mr Ashish Tiwari Senior Marketing Professional with a sharp focus on Digital and TedX Speaker - Future Generali Life Insurance Co., Ltd.

Session 03 had Mr Hemaang Gandhi, Founder & CEO-Rioconn, Area Director BNI Ahmedabad and Mr. Shrijay Sheth, Cofounder at LegalWiz.

Each session was centered around a broad theme as:

1.'Digital - Shaping trends across genders and geographies',
2.'How Big is the Next Big Thing in Technology' and,
3.'The Phygital Connect- bridging the Physical and Digital' respectively.

All experts shared their experiences, insights and views on how digital dynamics are changing the world from a consumer, business and societal perspective. The elements discussed ranged from use and overuse of technology, data and security, gender inclusion in technology & business and importance of being connected with your stakeholders both physically and digitally. The event worked as one more milestone to make students more aware of the latest happenings in the business world and to be ready for the change.