Decoding the Buzzword Start-up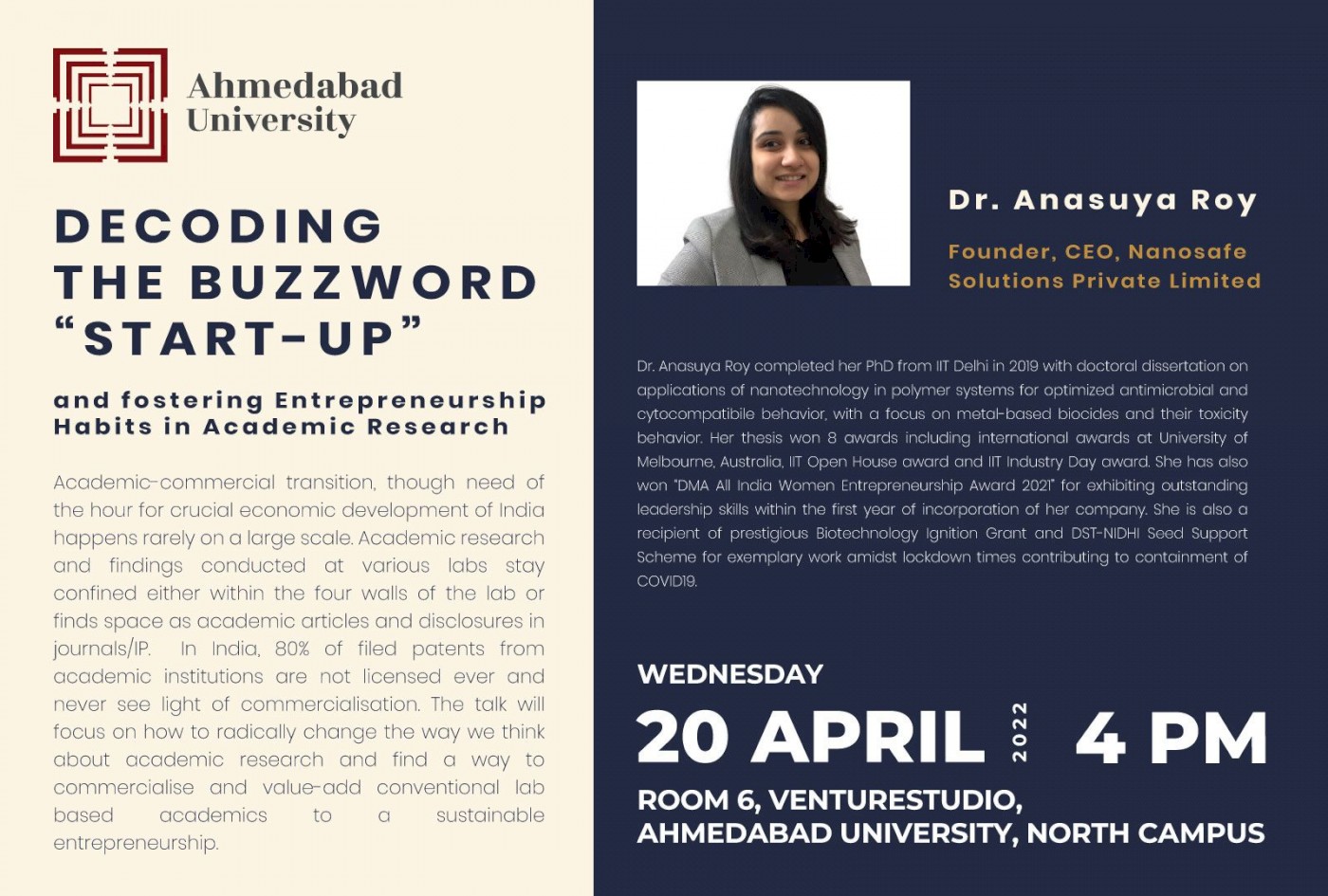 Academic-commercial transition, though need of the hour for crucial economic development of India happens rarely on a large scale. Academic research and findings conducted at various labs stay confined either within the four walls of the lab or finds space as academic articles and disclosures in journals/IP. In India, 80% of filed patents from academic institutions are not licensed ever and never see light of commercialisation. The talk will focus on how to radically change the way we think about academic research and find a way to commercialise and value-add conventional lab based academics to a sustainable entrepreneurship.
Dr Anasuya Roy
Founder, CEO, Nanosafe Solutions Private Limited
Dr Anasuya Roy completed her PhD from IIT Delhi in 2019 with doctoral dissertation on applications of nanotechnology in polymer systems for optimized antimicrobial and cytocompatibile behavior, with a focus on metal-based biocides and their toxicity behavior. Her thesis won 8 awards including international awards at University of Melbourne, Australia, IIT Open House award and IIT Industry Day award. She has also won "DMA All India Women Entrepreneurship Award 2021" for exhibiting outstanding leadership skills within the first year of incorporation of her company. She is also a recipient of prestigious Biotechnology Ignition Grant and DST-NIDHI Seed Support Scheme for exemplary work amidst lockdown times contributing to containment of COVID19.
Date: April 20, 2022 Wednesday
Time: 4 pm
Venue: Room 6, VentureStudio, Ahmedabad University, North Campus