Webinar Series: Process Engineering in Pharmaceutical Industry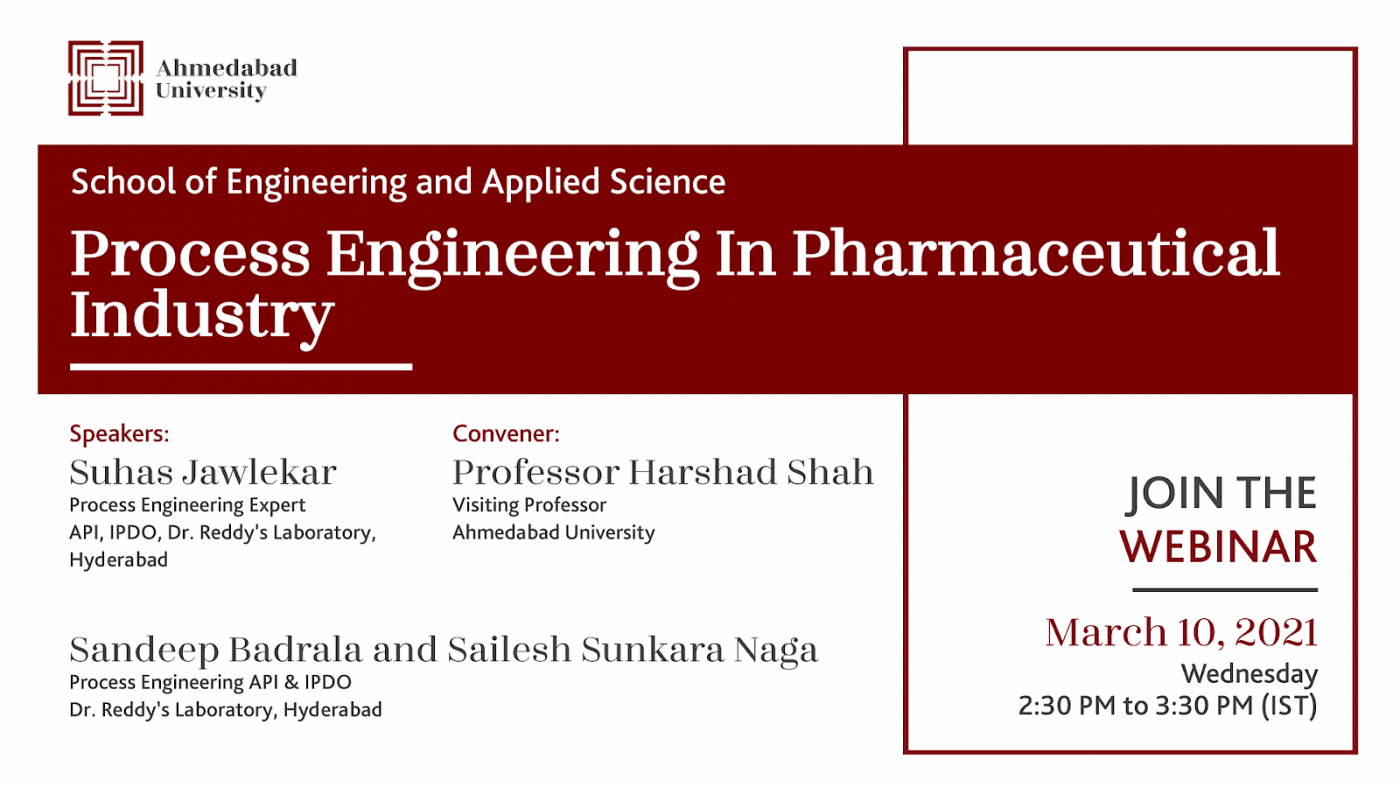 The process engineering tool is very well applied in the chemical Industries for the best result and cost reduction without compromising the quality of the end product. The Sais tool is now applied in the pharmaceutical sector since 2000 with specific applications wherein Chemical Engineering principles are used.
It includes process analytical technology (PAT) measurement systems, process monitoring, plant wide information technology systems, process control, modeling, and optimization methodologies related to the major thrust areas are active pharmaceutical ingredients(API) manufacturing, Crystallization, Solid Oral Dosage Manufacturing, Blending and Lubrication, Fluid Bed Operations: Drying, Granulations, and Coating etc., batch to continuous process.
The experts from Dr. Reddy's, Hyderabad will talk, cover and enlighten us on the applications of Chemical Engineering in some of the above areas like development and scale up of API molecule, Process safety, Design of Control strategies, Crystallization, development of Flow chemistry and Scale up challenges with appropriate examples during the webinar.
Speakers Profile:
Mr. Suhas Jawlekar,
Process Engineering Expert, API, IPDO, Dr. Reddy's Laboratory, Hyderabad
Suhas Jawlekar is a Chemical Engineer from ICT, Mumbai and has 17 years of experience in Pharmaceutical industry. His expertise is in area of Process optimization, equipment selection & design, scale up and technology transfer of API molecules from lab to commercial plant scale. He has worked closely on process safety, crystallization, polymorph development & particle engineering aspects of API. Currently, he leads teams working in areas of particle engineering, scale up & flow manufacturing technologies. He is also a certified Six Sigma Black Belt.
Colleague speakers:
Sandeep Badrala and Sailesh Sunkara Naga,
Process Engineering API & IPDO,
Dr. Reddy's Laboratory, Hyderabad
Professor Harshad Shah,
Visiting Professor of Chemical Engineering,
School of Engineering and Applied Science,
Ahmedabad University, Ahmedabad