Convocation 2017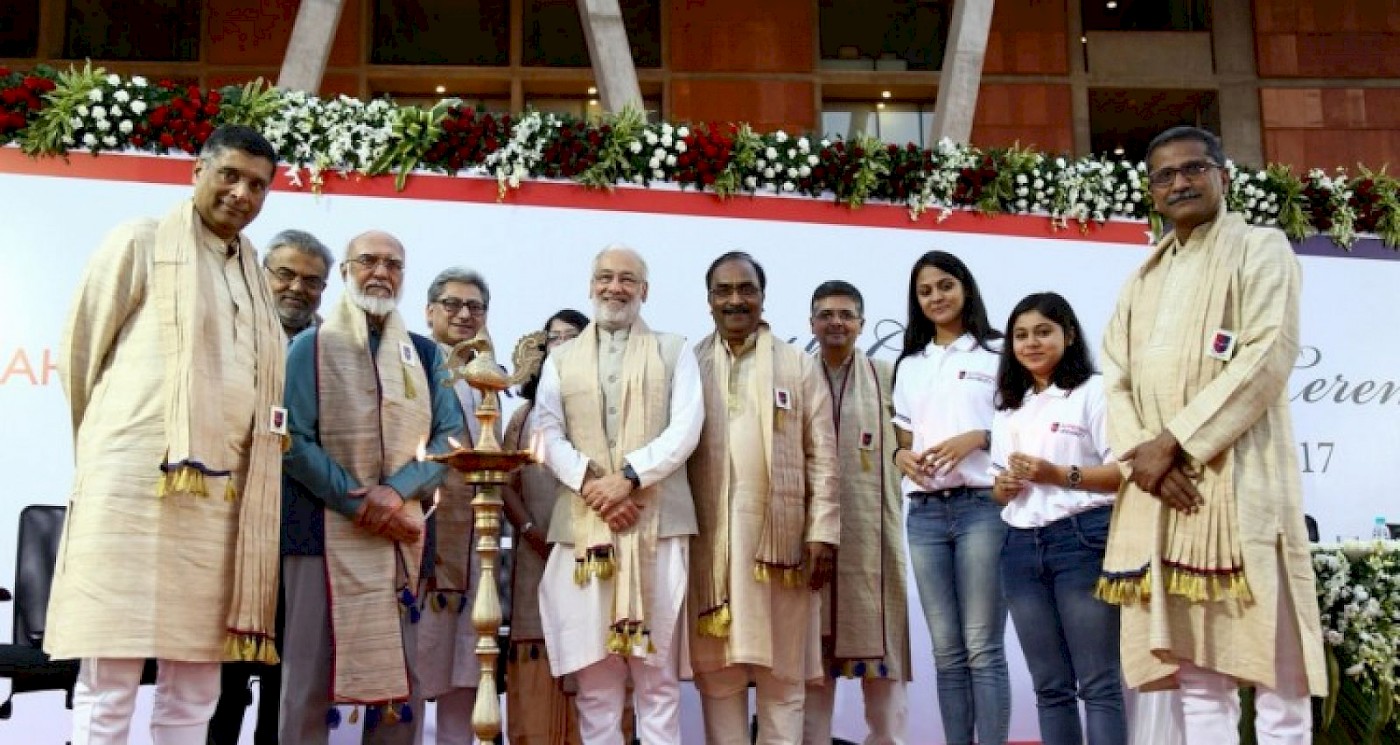 Ahmedabad University held its seventh annual convocation ceremony on November 29, 2017, at its Central Campus at Ahmedabad. Shri Sanjay Lalbhai, Chancellor of the University conferred the degrees to the students. The Chief Guest, Dr Arvind Subramanian, Chief Economic Advisor, Government of India gave away the Gold Medals and delivered the Convocation Address.
Ahmedabad University, established in 2009 as a private university, is an unprecedented effort to build a timeless legacy that brings character and pride to the State of Gujarat and India. It is a unique institutional experiment in contemporary Indian higher education to build an institution of excellence that is characterized by impeccable governance, philanthropic financial support, and rigorous academics. Its commitment is to become a serious research university and its practice centers on the idea of deep interdisciplinarity and has a distinct emphasis on pedagogy along with canonical content. Taken together, these three ideas shape our positioning, strategy, and plan for the University in order to foster continuous progress of the self and society. Leading academicians and philanthropists are helping build Ahmedabad University as one of the finest liberal education driven research university of the country.
Addressing the gathering of graduating students and accompanied parents, Professor Pankaj Chandra, Vice Chancellor of Ahmedabad University, said that time has come to modernize India through the way we think, the way we approach to find solutions to our problems, the way we use science, technology, and commerce as the new theory of development. He emphasized the need to build an interdisciplinary world view to be able to solve the more chronic problems facing our society.
The Chancellor of Ahmedabad University, Shri Sanjay Lalbhai, mentioned that academic institutions with world-class faculty who are conducting highest quality research would be necessary to build the India of tomorrow. Universities build the knowledge ecosystem in the society that leads to the emergence of globally competitive corporations and put India on a platform of world leadership. This will require support and autonomy for multi-disciplinary universities. He emphasized that world-class universities are built through excellent governance, support of universities through an endowment, freedom in the management of institutions, strong research orientation of faculty, diversity, and involvement of alumni in supporting the university.
In his convocation address to students, Dr Arvind Subramanian, Chief Economic Advisor to the Government of India, said, "If you can meet triumph and disaster, treat those imposters much the same. You get more learnings from failure than success. If you have conquered your failure, you are capable of dealing with anything. I encourage you to achieve all the conventional markers of success. To say don't aspire these will be dishonest, but I have two pre-cautionary warnings. Firstly, all evidence from behavioural sciences suggests that acquiring possessions while useful, cannot generate sustained happiness. If the yardstick of success is external and about yourself, you are less likely to be happy all your life. However, if the yardstick is internal and more about others, there are more durable chances of happiness. Secondly, all evidence insist on enjoying the process and one's own efforts than the outcome. One variation of failure is that you will all encounter a lot of boredom in life. It is intrinsic. Each of you has to discover ways to overcome it."
Speaking about changing nature of the workforce, he further said "You will encounter a workforce very different. Opportunities ahead of you are enormous and diverse. You are indeed a blessed generation. But there is also a flipside; the economic environment is going to be a lot riskier and hence adaptability and ability to learn will be the key."
A total of 1118 students graduated this year across four schools, namely
Schools

Number of Graduated Students

Gold Medalists

Amrut Mody School of Management

880

Vikas Damjibhai Fofandi,
Charul Dhingra, and Heer Naresh Goklani

School of Computer Studies

146

Shivangi Shitalbhai Shah

School of Engineering and Applied Science

71

Kavi Dilipkumar Pandya

School of Arts and Sciences

21

-
This seventh convocation was special for Ahmedabad University for two reasons: First, it awarded the first PhD degrees two graduates, Violet Senapati and Govind Sharan Gupta, both in Life Sciences. Govind is heading to the famous Karolisnka Institute in Sweden for his post-doctoral work; Second, the first cohort of students with a degree in Master of Management Studies in Heritage Management had graduated.