Liberal Arts Pedagogy in New India: The Relevance of Humanities and Social Sciences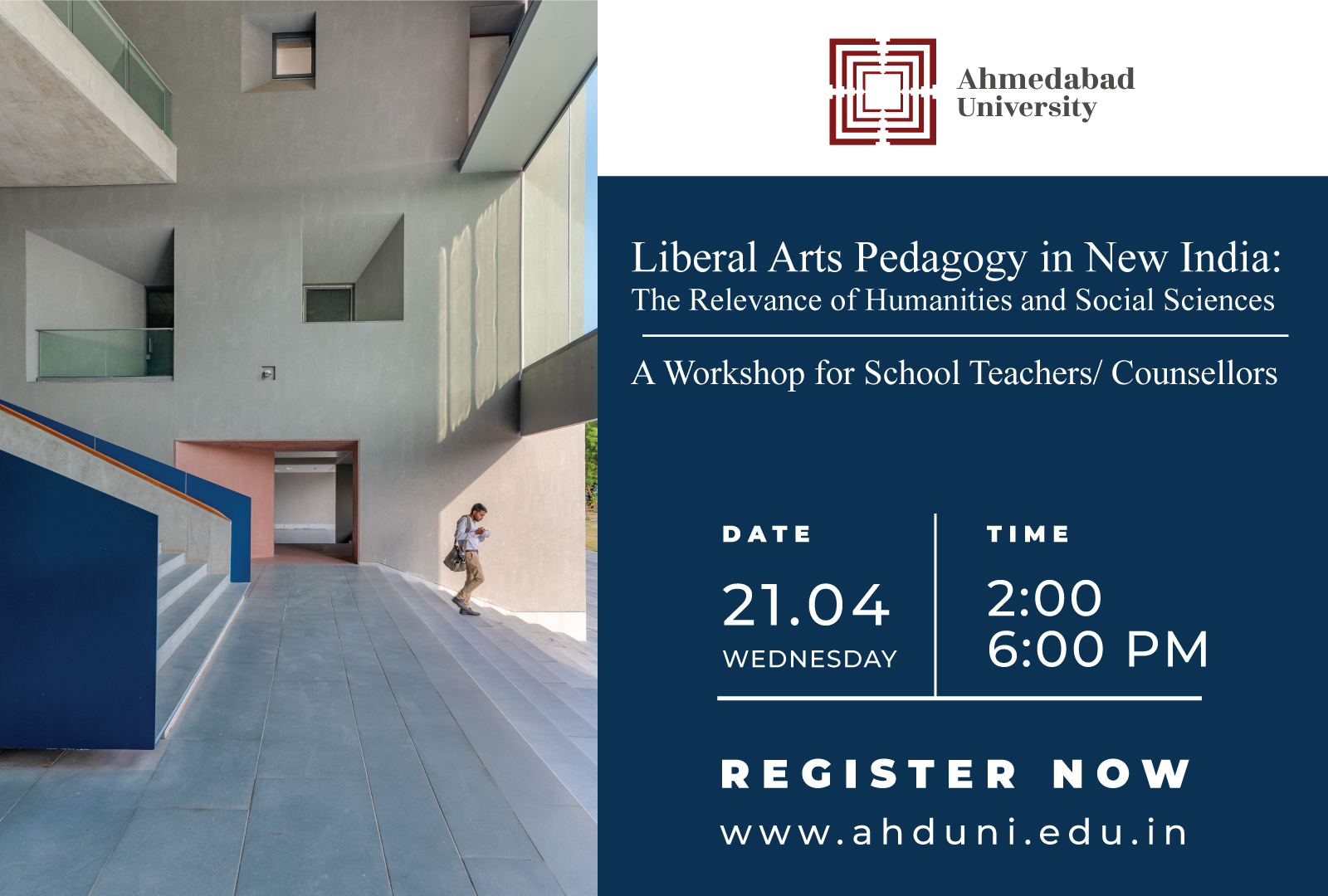 The School of Arts and Sciences, Ahmedabad University, is organising a half-day Workshop. The Workshop, conducted by faculty members in the School, is designed primarily for high-school teachers of Humanities and Social Sciences subjects from across India but is open to all interested participants. The Workshop intends to illuminate ways in which abstract academic ideas and conceptual categories can have practical applications in our everyday lives.
By focusing on selected concepts that overlap between high-school syllabi and undergraduate education -- such as citizenship, democracy, diversity, philosophical and metaphysical concerns -- the Workshop will unpack teaching approaches that bring experiential learning to the fore. It will offer strategies to teach these concepts such that young students relate to them and recognise their contextual significance and practical applicability.
At the Workshop, the Ahmedabad University faculty hope to develop an understanding of the pedagogical methods used in the High School. They are also keen to learn about teachers' reflections on the existing syllabi and their usefulness for the students. A majority of students make career choices based on dominant trends, peer pressure, and existing social biases.The faculty would like to discuss strategies that can be used to attract bright students to opt for the Humanities and Social Sciences subjects for their undergraduate studies.
School teachers who complete the workshop will be given a certificate of participation.
Schedule
2:00 pm – 2:45 pm
Professor Patrick French, Dean of the School of Arts and Sciences, Ahmedabad University Keynote address with Q&A

Liberal Arts Education: What do we need to learn in the 21st Century?
2:00 pm to 2:20 pm (Talk)
2:20 pm to 2:40 pm (Q&A with Professor French and Mr. Jagota)
2:40 pm to 2:45 pm Transition
2:45 pm – 3:30 pm
Professor Sarthak Bagchi and Professor Karthick Rao Cavale

Democracy and citizenship: Contextualising the concepts
2:45 pm to 3:15 pm (Talk)
3:15 pm to 3:30 pm (Q&A)
3:30 pm to 3:45 pm: Short break
3:45 pm –4:30 pm
Professor Manomohini Datta and Professor Aparajita Basu

Making the past come to life: History, texts and performance
3:45 pm to 4:15 pm (Talk)
4:15 pm to 4:30 pm (Q&A)
4:30 pm – 5:15 pm
Professor Apaar Kumar and Professor Joseph van Weelden

Why Philosophy matters
4:30 pm to 5:00 pm (Talk)
5:00 pm to 5:15 pm (Q&A))
5:15 pm to 6:00 pm
Interactive session
Online questionnaire
Vote of thanks