Yamini 2019 hosted by Ahmedabad University in collaboration with SPICMACAY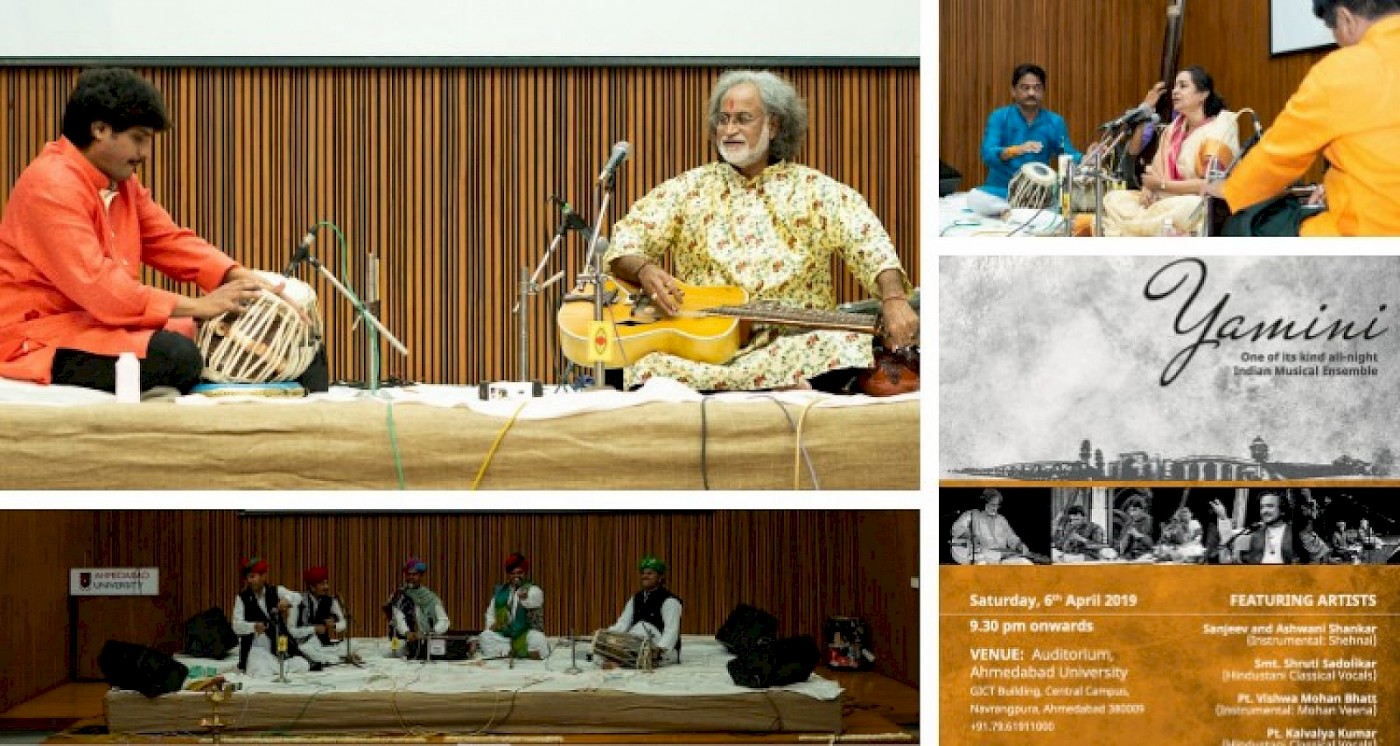 Yamini 2019 – the third edition of the all-night Indian Musical Ensemble was hosted by Ahmedabad University in collaboration with SPICMACAY on Saturday, 6th April 2019 from 9:30 PM to 5:00 AM (Sunday, 7th April 2019) at the Auditorium, Ahmedabad University, GICT building, Central Campus, Navrangpura, Ahmedabad.
Yamini 2019 was honoured to host the following musical maestros in order of their performance:
1. Sanjeev and Ashwani Shankar (Instrumental: Shehnai)
Born in a family of musicians of Banaras Gharana, Sanjeev & Ashwani manifested their strong affinity towards music at a very tender age. They had the privilege to learn Shehnai from their grandfather, the legendary Shehnai player Pt. Anant Lal and their father Pt. Daya Shankar. Shankar Brothers have widened the repertoire of Shehnai manifold with the introduction of Sitar's technique and features like Jod, Jhala to build up the Ragas in Dhrupad style, which shows the profound influence of their Guru the legendary Sitar Maestro Pt. Ravi Shankar. They were awarded scholarship by the Govt. of India, Department of Culture, for their outstanding talent. They also won the Prestigious Sangeet Natak Akademi's Ustad Bismillah Khan "Yuva Puraskar and have represented India on many international platforms in places like France, Spain, Ireland, England, Scotland, Hungary, Slovakia, Japan, USA and many more.
2. Smt. Shruti Sadolikar (Hindustani Classical Vocals)
Shruti Sadolikar is an Indian classical singer of the Khayal style in the Jaipur-Atrauli Gharana. She is a recipient of the Sangeet Natak Akademi Award for Hindustani vocal music for 2011. Her initial training was given by her father, Wamanrao Sadolikar, who was taught by the founder of the Jaipur-Atrauli Gharana, Alladiya Khan, and his son Bhurji Khan. Following her studies with her father Sadolikar performs all forms of Indian classical and semi-classical music, including Thumri, Tappa, and Natya Sangeet, and has performed in India, Canada, the United States, France, Switzerland, Germany, and many West Asian countries. She had several musical and educational recordings published and holds the Homi Bhabha Fellowship of the National Centre for the Performing Arts. Sadolikar works as Vice Chancellor of the Bhatkhande Music Institute University in Lucknow, Uttar Pradesh.
3. Pt. Vishwa Mohan Bhatt (Instrumental: Mohan Veena)
Padma Bhushan: Pt. Vishwa Mohan Bhatt is one of India's most innovative musicians. The inventor of the Mohan Veena, a nineteen string modified archtop guitar. He has created a sound that blends the western Hawaiian guitar with sitar, sarod, and veena techniques. Outstanding features of Bhatt's playing style are his natural ability to play the 'Tantrakari Ang' and along with the 'Gayaki Ang' on Mohan Veena. Being the foremost disciple of Pt. Ravi Shankar, he belongs to an erudite group of musicians hailing from the Maihar Gharana. He was praised by "Acoustic Guitar" magazine as "one of the greatest and most expressive slide players in the world". In addition to various solo albums, Bhatt has recorded with Ry Cooder, Bela Fleck, Jerry Douglas, and Arabian Oudh player Simon Shaheen. Pt. Vishwa Mohan Bhatt is best known for his 1994 Grammy award-winning album 'A Meeting by the River'.
4. Pt. Kaivalya Kumar (Hindustani Classical Vocals)
Pt. Kaivalya Kumar Gurav is a third-generation singer from the Kirana Gharana of Indian classical music. His grandfather Pt.Ganapatrao Gurav was a first batch disciple of Ustad Abdul Karim Khan, the founder of Kirana Gharana. Pt. Kaivalya Kumar received rigorous training from his grandfather and his father Pt. Sangameshwar also a leading exponent of the Gharana. Such a great legacy groomed him into an outstanding vocalist of the nation. Gifted with a naturally high pitched, mellifluous voice, Pandit Kaivalyakumar's rendition of Ragas are marked by natural phirat, murki, tremendous tans, infallible rhythm, imaginative content, and a unique aesthetic approach. Pt. Kaivalyakumar is the youngest Hindustani classical vocalist to get a top grade by 'All India Radio' and 'Doordarshan'. He has received many accolades including Pt. Bhimsen Joshi National Award (2016) and Kumar Gandharva Purskar (2014)
5. The Manganiyars of Barmer (Folk music of Rajasthan)
The Managniyars are Muslim folk musicians of Rajasthan, particularly Barmer and Jaisalmer along the Indo-Pak border. Their music is mystically intriguing and it's played with unique indigenous instruments like "Kamaicha", a stringed instrument played with a bow and "Karthaal", which is a rhythm instrument comprising two wooden blocks held between fingers and deftly manipulated to create a staccato rhythm. Patronized by aristocrats and wealthy landlords, the Mangniyars can be seen rendering songs at various stages of life, rituals and festive occasions - from childbirth to weddings, to songs of bidding farewell to the daughter as she leaves her home after marriage. This repertoire ranges from ballads about kings to Sufi music and Meera bhajans. The music is full bodied, haunting, plaintive and sprightly by turns.