MBA Admissions for prospective applicants to MBA 2023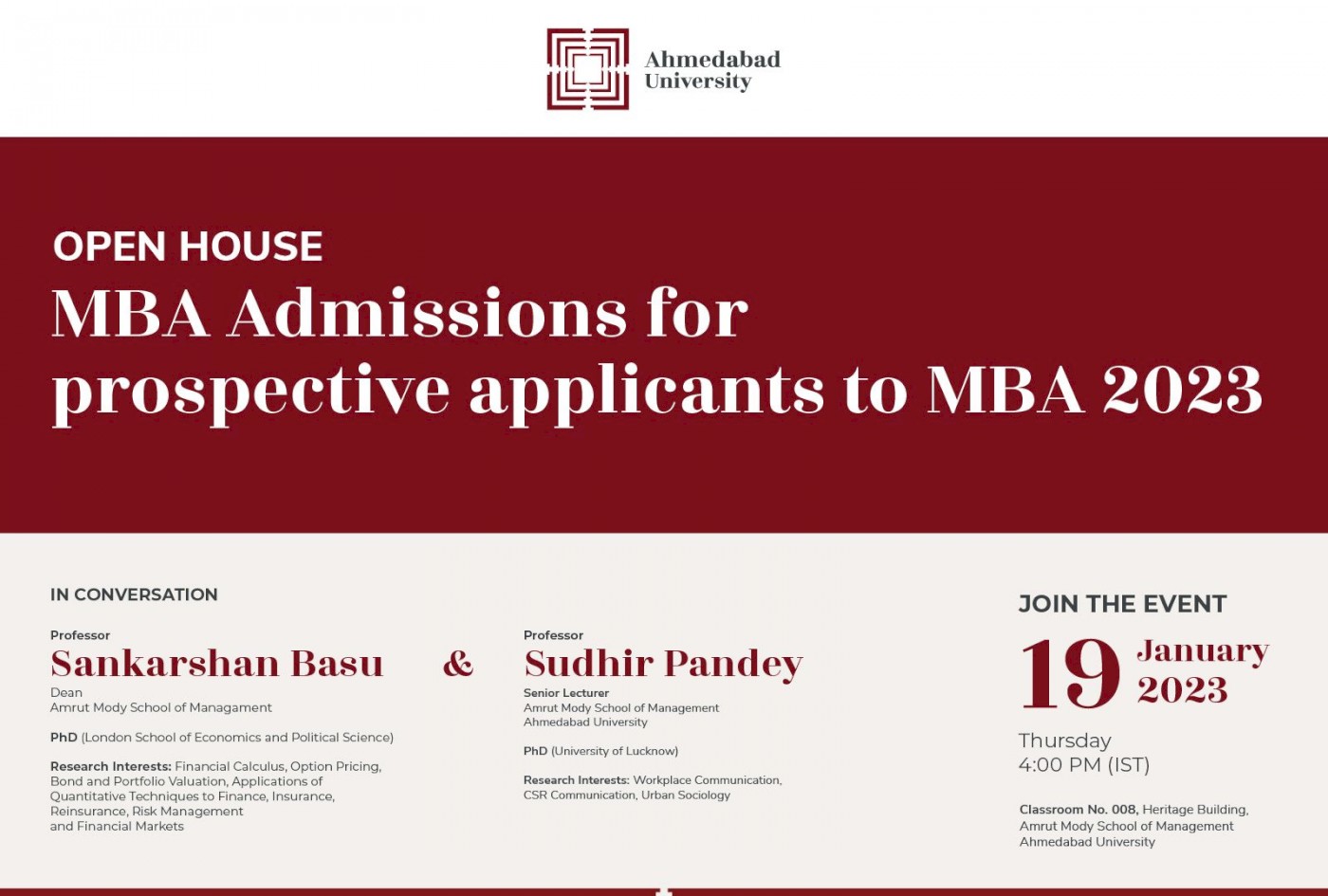 Join the Open House for the Ahmedabad University's MBA Programme for Prospective Applicants to MBA 2023-25 Batch
An exclusive opportunity for applicants/parents seeking information regarding MBA 2023 programme to visit the campus, to meet and interact with Faculty and current MBA students at Amrut Mody School of Management, Ahmedabad University
Date and Time: Thursday, 19 January 2023, 04:00 PM (IST)
Venue: Classroom No. 008, Heritage Building, Amrut Mody School of Management
Ahmedabad University
Theme:
Why an Interdisciplinary MBA is the future of work?
Why should you be doing an MBA from Ahmedabad University? Why MBA in General Management? What is interdisciplinary education and how you can make the most out of it? Why should you pursue your MBA from Ahmedabad, Gujarat? What makes Ahmedabad University an ideal choice to pursue the MBA Programme?
Objective:
The Open House has been organized to facilitate an interaction with prospective applicants and their parents, to resolve queries, such as
1) Programme information
2) Admission and eligibility criteria
3) Application process
4) Fees
5) Placement
6) Class schedule and examination
7) Any other doubts related to the MBA Programme
Looking forward to your active participation in the Open House at the Ahmedabad University Campus.
For any queries, contact: Mr. Swetangkumar Panchal | 09898878063 (WhatsApp)