Yamini 2020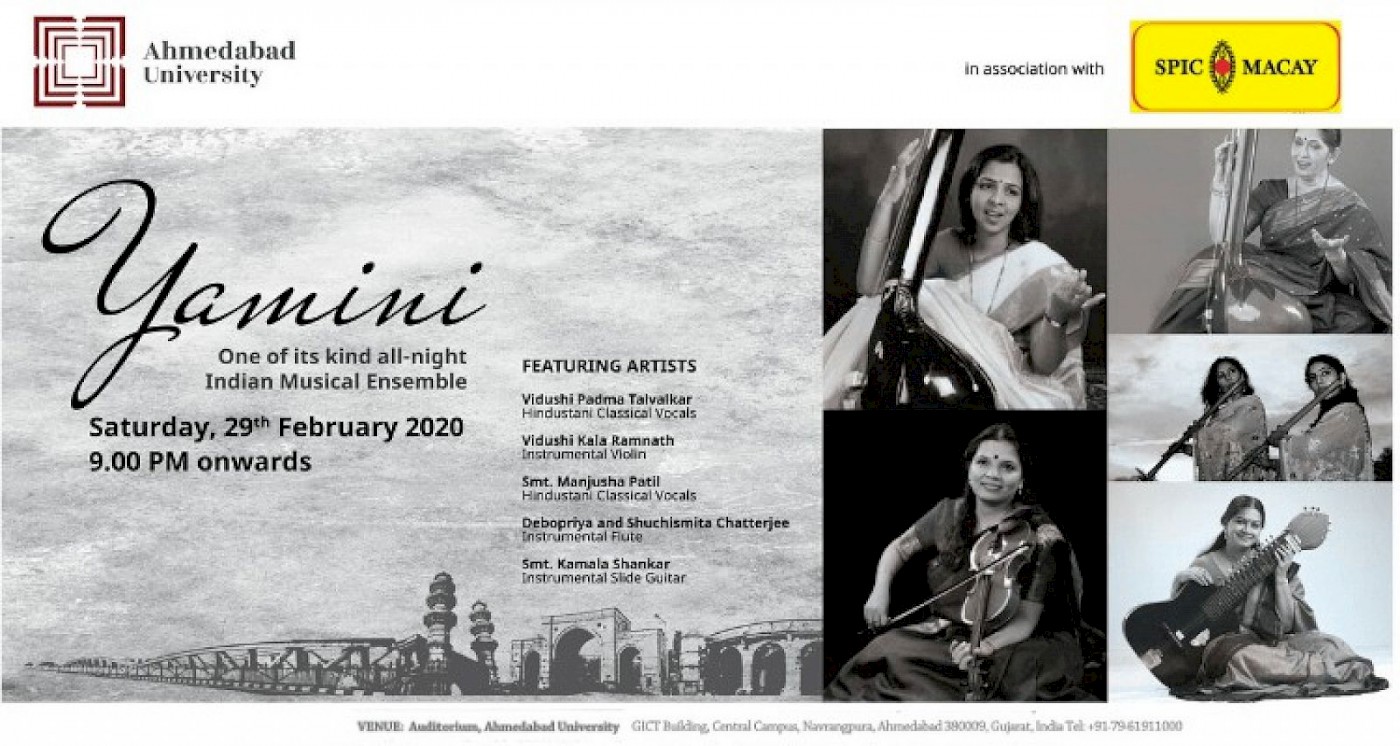 Yamini 2020 – the fourth edition of the all-night Indian Musical Ensemble.

This event will be hosted by Ahmedabad University in collaboration with SPICMACAY on Saturday, 29th February 2020 from 9:00 PM to 5:00 AM (Sunday, 1st March 2020) at the Auditorium, Ahmedabad University, GICT Building, Central Campus, Navrangpura, Ahmedabad.
Map Link - https://maps.app.goo.gl/yv94PistYTCxwxLi9

To acknowledge women's contribution to diverse traditions of Indian Classical Music, this year we have invited eminent women performing artists of India at Yamini 2020.

Here is a brief introduction of the artists who will perform at Yamini 2020 in order of their performance:

1. Vidushi Padma Talwalkar (Hindustani Classical Vocals)
The legendary artist of Gwalior Gharana Vidushi Padma Talwalkar has been a disciple of Late Pt. Gangadharbuva Pimpalkhare. She has received prestigious awards such as Late. Smt Vatsalbai Bhimsen Joshi Puraskar in 2009, Pandit Jasraj Puraskar in 2004 and Rajhans Pratishthan Puraskar in 2010, to name a few.

2. Vidushi Kala Ramnath (Instrumental: Violin)
Vidhushi Kala Ramnath boasts of her lineage from the family of Prof. T.N. Krishnan and renowned violinist Dr N. Rajam. She has been a disciple of the legendary vocalist Pandit Jasraj. Her violin rendition has featured on the Grammy-nominated Miles from India Project. Her compositions have also featured in the Grammy-winning album In 27 Pieces and the Kronos Quartet's 50 For The Future.

3. Smt. Manjusha Patil (Hindustani Classical Vocals)
Shri Manjusha Patil earned her tutelage in Indian Classical vocal from Pandit Kanebuva, Pandit Vikas Kashalkar and presently under Pandit Ulhas Kashalkar in the Gwalior and Jaipur traditions of music. She has been the recipient of esteemed awards like Ustad Bismillah Khan from Sangeet Natak Academy and Pt. Kumar Gandharva Rashtriya Puraskar from Madhya Pradesh Government.

4. Debopriya and Shuchismita Chatterjee (Instrumental: Flute)
Debopriya and Shuchismita Chatterjee, popularly known as flute sisters, belong to the Maihar Senia Gharana of Hindustani classical music. They have received initial guidance from Late Pandit Bholanath Prasanna before becoming one of the first disciples of Pandit Hariprasad Chaurasia. Debopriya is the lead flautist in the all-girls classical band named Sakhi while Shuchismita features as the lead flautist of the band called Raga Symphony.

5. Vidushi Kamala Shankar (Instrumental: Slide Guitar)
Vidushi Dr Kamala Shankar is one of the rare Slide Guitarists who renders Hindustani Classical Music from her unique musical instrument. She has been fortunate enough to have received formal training under her mother Smt. Vijaya Shankar, Pandit Amarnath Mishra, Dr Shivnath Bhattacharya and Pandit Channulal Mishra. She has received one of the most prestigious National Awards in music known as 'Rashtriya Kumar Gandharva Samman'.