Cultural Heritage Management & Venture Lab In Ahmedabad – A Concluding Event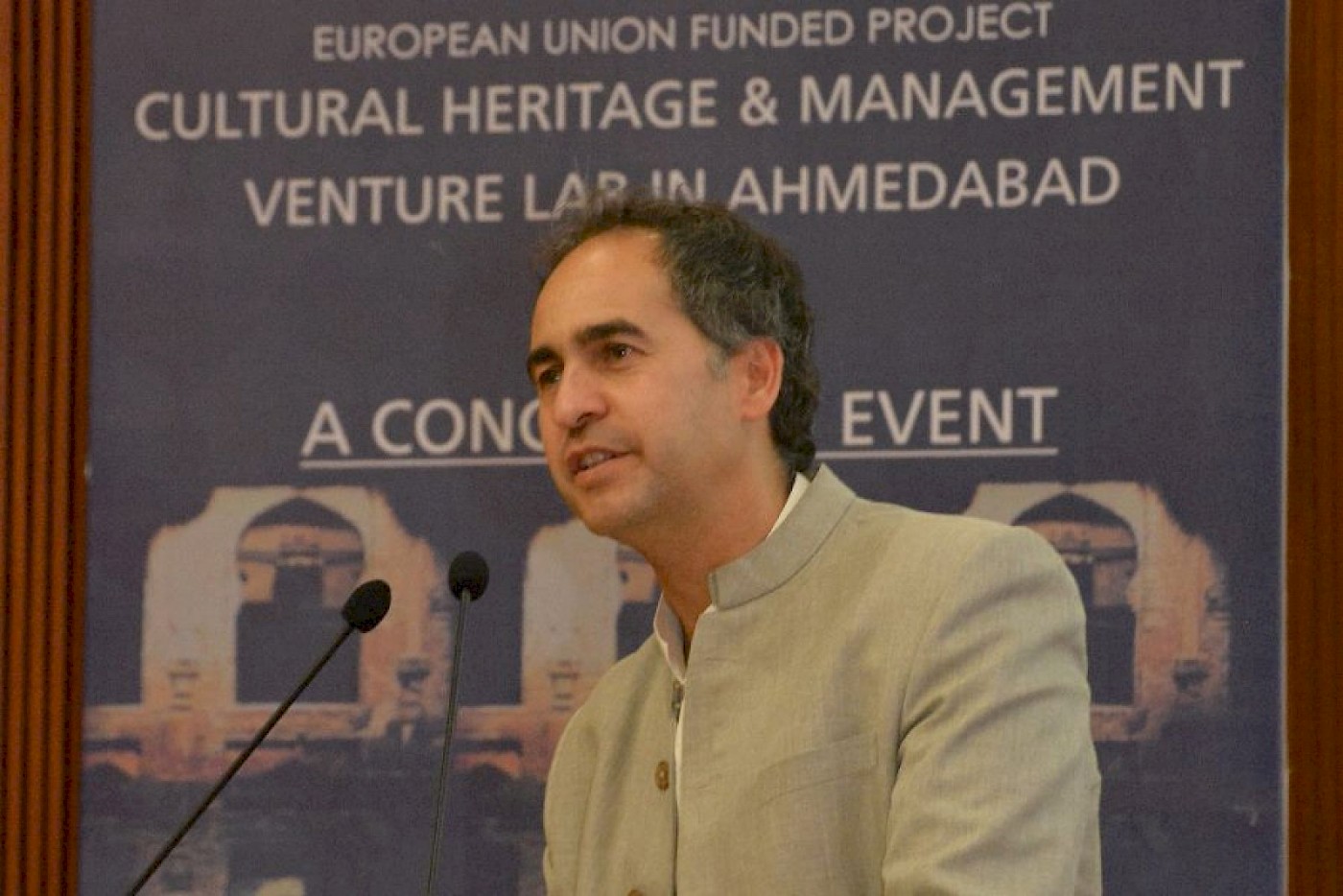 On Tuesday, 13th September 2016, Ahmedabad University-Centre for Heritage Management organized the Concluding event of the 33 months long EU funded project 'Cultural Heritage Management & Venture Lab in Ahmedabad'. The guest of honor Mr. Emilio Contreras, First Secretary, Embassy of Spain in India, along with Dr Guillermo Rodriguez Martin, Director, Casa de la India, Valladolid, Professor Pankaj Chandra, Chairman, BoM & Provost, Ahmedabad University, Professor Devanath Tirupati, CE, Centre for Heritage Management & Dean Amrut Mody School of Management, Ahmedabad University and Mr Debashish Nayak, Director, Centre for Heritage Management released the 'Manual of Best Practices in Cultural Heritage Management' prepared by project partners Ahmedabad University and University of Valladolid.

At this event, a brochure about the project, its partners, the formation of the successor organization namely Ahmedabad Cultural Heritage Cluster Trust (ACHC) and Ahmedabad Heritage Venture Lab (AHVL) was also released.
The speakers highlighted the milestones and achievements of the project and lauded the support of the European Union and the people of Spain and India. A hope was expressed that this was only marking a milestone in the journey of preservation of cultural heritage and promotion of it for economic gain with a view to make it self-sustainable.

At this event, the entrepreneurs who started heritage-linked businesses were felicitated and honoured. These entrepreneurs along with project partners and institution also held a day-long exhibition based on cultural heritage ventures started by them.

Mr Nazareth, Project Coordinator, Ahmedabad University-Centre for Heritage Management thanked all the project partners for their hard and dedicated work. The partners include two universities that of Ahmedabad & Valladolid, two Municipal Councils that of Valladolid & Ahmedabad, Casa de la India the lead partner and four associate partners Urban Management Centre, Ahmedabad; City Heritage Centre, Ahmedabad, EVoCH Platform, Valladolid & Cearcal, Valladolid.

The event concluded with 45 minutes drama 'Pol, Pol, Pol… Ahmedabad ni Olakh Pol' about the unique character of Pols of Ahmedabad, by Theatre Media Centre (TMC) and Budreti.