ETHOS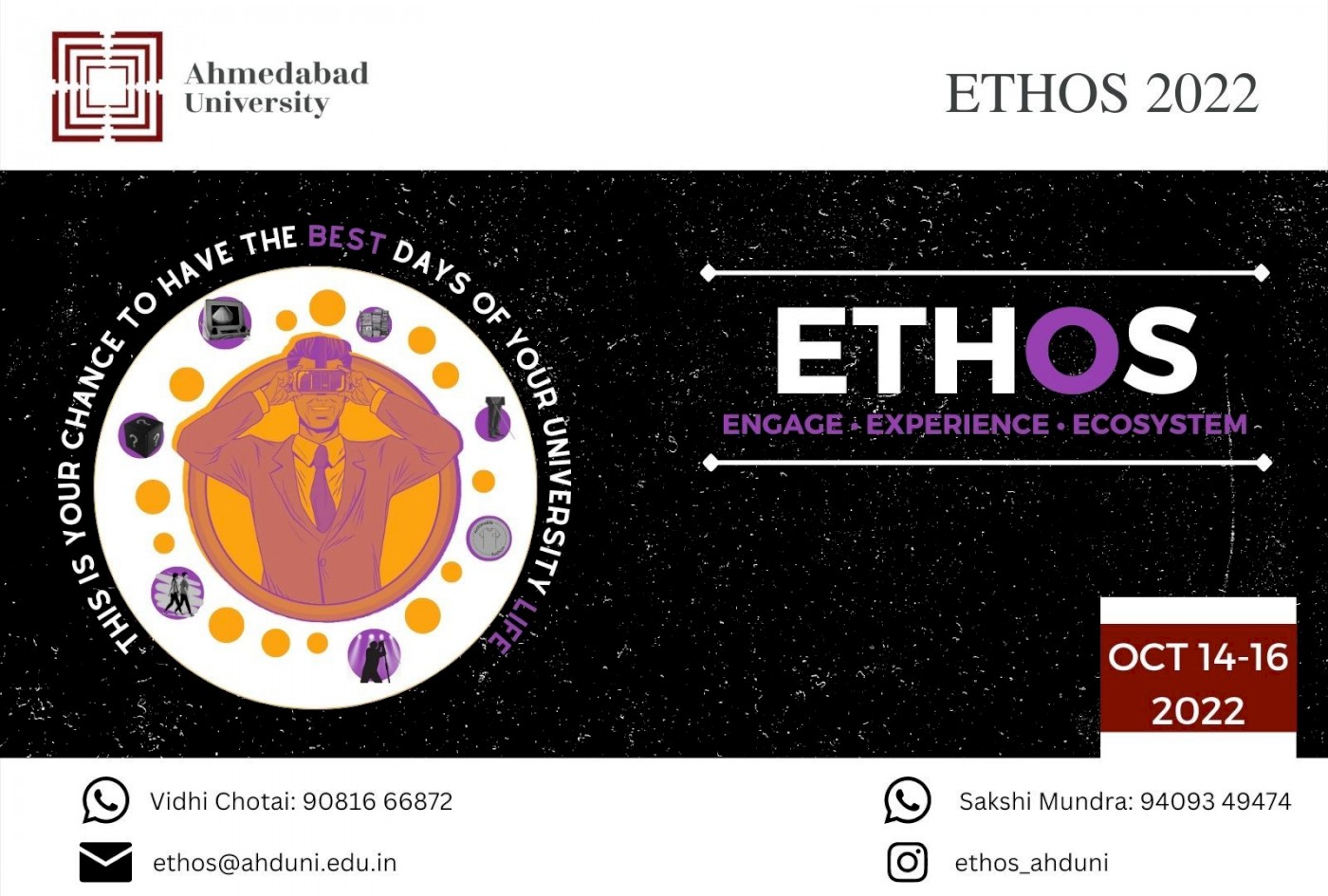 As the scorching sun abates, the fun at Ahmedabad University just begins with ETHOS! From events where you can release your inner Shashi Tharoor and workshop that bring out the detective in you to a spectacular celebrity evening, a city-wide marathon, a cultural night, and loads more, ETHOS promises the best. It is more than just a fest; it is an action-packed, adventurous, and captivating experience with the most incredible prizes at stake. Are you ready to grab this one and have the best days of your university life?
The School for Arts and Sciences' student festival ETHOS, is organised by the students for the students to experience, engage with, and contribute to the values of Ahmedabad University. The fest wholeheartedly embodies the interdisciplinary spirit of Ahmedabad University by organising cutting-edge events, hands-on workshops, and collaborative events followed by cultural celebrations to promote the intersection of science and culture, learning and fun. It brings together students from different domains and backgrounds on a platform to compete, collaborate, and recreate Ahmedabad University's multidisciplinary and interdisciplinary ethos.
The year 2022 is the beginning of the legacy of ETHOS. These two days are meant to cast a spell on you that will not only keep you wanting more but also give you a lifetime's worth of experiences, knowledge, and bonds.

Events Workshops Talks Social Events Register Now The Team

Schedule

The best 2 days of your college life!
Day 1: October 14, 2022
Day 2: October 15, 2022
Day 3: October 16, 2022
Time
Events
Time
Event
Time
Event
7 - 8 PM
Opening Ceremony
6:00 - 10:00 AM
Amdawad Safarnama
6:00 - 9:30 AM
Daud-e-Drishti
11:00 AM - 12:30 PM
Fast and Curious
10:00 AM - 1:00 PM
Millennial Charcha
2:00 - 5:00 PM
Mystery Room
2:00 - 4:00 PM
Deceit's Receipt
6:00 PM Onwards
JALSA
4:30 - 6:30 PM
Sham Mastani
7:00 PM Onwards
Closing Ceremony

FAQs
Registrations
How do I register for individual events?
You must purchase the day-wise package and select the events you wish to register for on the checklist provided in the registration form.

Is there a registration fee for participating?
Yes, you can find the packages here.

Can I register for multiple competitions?
Yes, we recommend you register for as many events as possible, as covered in your package.

Can I register at the venue?
You definitely can. Also, if the seats for the events you wish to register for are full, we would not be able to register you for the same.

How do I pay for the registration?
You can pay via UPI, wallets, and debit/credit cards. You can also pay via cash at various registration booths on campus.

Is this open to all the students at the University?
Yes, all students at the University, undergraduate, graduate and PhD can register for ETHOS.

I wish to cancel my registration. Is that possible?
We doubt you would consider this :).. but you can call on +91 9664764634 to talk about this.

Contact Us

We would love to talk to you!
Venue: Ahmedabad University
Email: [email protected]
Phone + WhatsApp:
Vidhi Chotai: +91 9081666872
Sakshi Mundra: +91 9409349474