Tokyo Geidai AAI Annual 2021 Crosstalk Symposium: Toward a New Platform for Creative Asia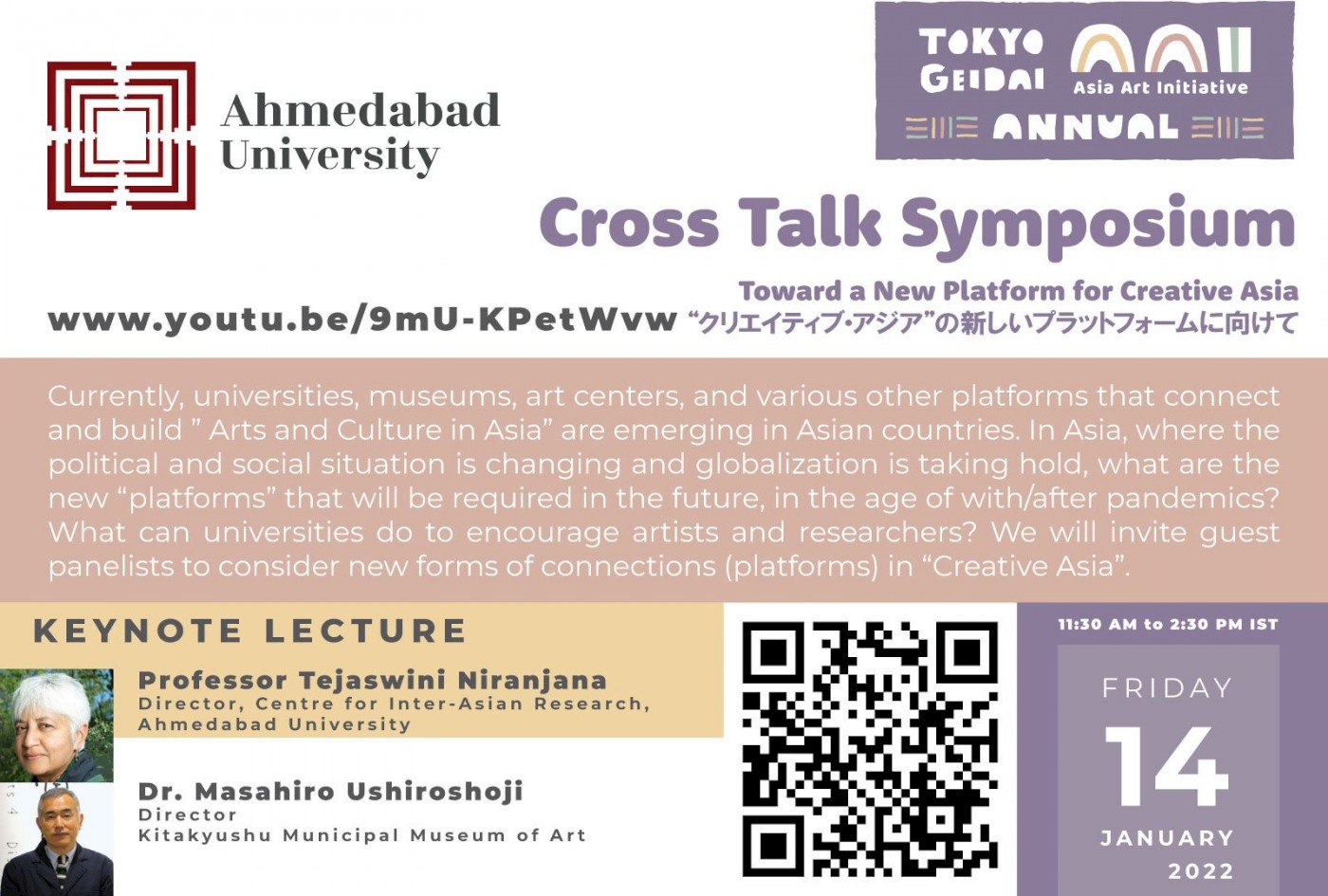 This project is a part of Tokyo Geidai AAI Annual 2021.
Currently, universities, museums, art centres, and various other platforms that connect and build " Arts and Culture in Asia" are emerging in Asian countries. In Asia, where the political and social situation is changing and globalisation is taking hold, what are the new "platforms" that will be required in the future, in the age of with/after pandemics? What can universities do to encourage artists and researchers? We will invite guest panellists to consider new forms of connections (platforms) in "Creative Asia".
Date: January 14, 2022
Time: 15:00 - 18:00 JST | 11:30 AM to 2:30 PM IST
Simultaneous interpretation will be provided in English and Japanese.
Online Streaming (Youtube live): https://youtu.be/9mU-KPetWvw
Guest Panelists
Dr Masahiro Ushiroshoji (Director, Kitakyushu Municipal Museum of Art)
Professor Tejaswini Niranjana (Director, Centre for Inter-Asian Research, Ahmedabad University)
Discussant
Professor Yusaku Imamura (Professor, Global Art Practice, Graduate School of Fine Arts)
Professor Mitsuko Okamoto (Professor, Department of Animation, Graduate School of Film and New Media)
Professor Hiroyuki Hattori (Associate Professor, Department of Media Arts, Graduate School of Film and New Media)
Professor Yoshitaka Mori (Professor, Graduate School of Global Arts)
Moderator
Ms Haruka Iharada (Part-time Lecturer, Global Support Center)
Programme (JST)
15:00 – 15:10 Introduction
15:10 – 15:50 Presentation by Dr Masahiro Ushiroshoji (Director, Kitakyushu Municipal Museum of Art)
15:50 – 16:30 Presentation by Professor Tejaswini Niranjana (Director, Centre for Inter-Asian Research, Ahmedabad University)
16:30 – 16:45 Break
16:45 – 17:10 Comments by Discussants
17:10 – 18:00 Discussion