Ahmedabad University Launches Journal of Heritage Management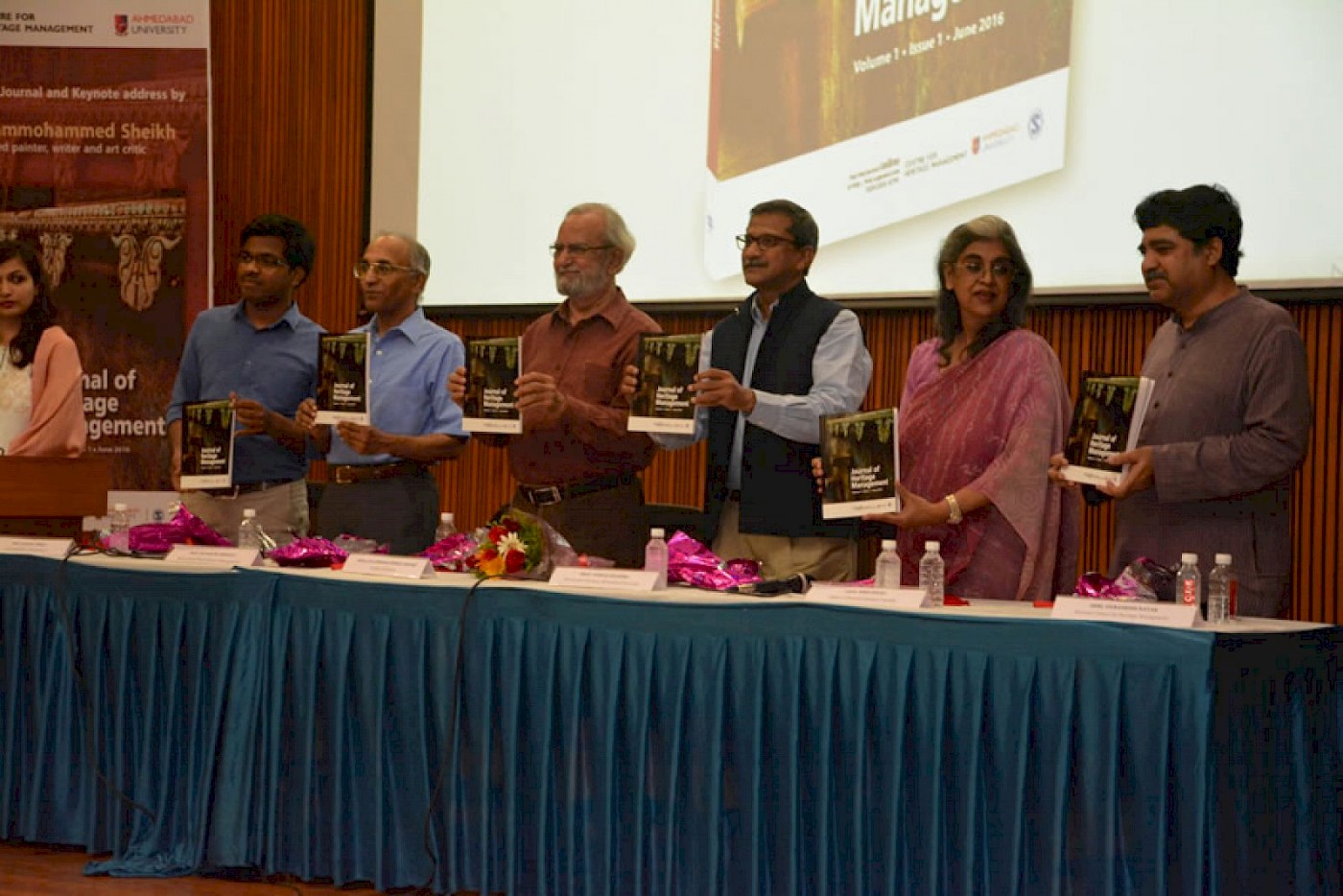 Centre for Heritage Management, Ahmedabad University, launched its peer-reviewed international Journal of Heritage Management on Wednesday, August 31, 2016. The journal was released by the Guest of Honour, an eminent artist, Padmabhushan Shri Gulammohammed Sheikh along with Professor Pankaj Chandra, Chairman, Board of Management; Professor Devanath Tirupati, Dean, Amrut Mody School of Management; Shri Debashish Nayak, Director, CHM; Professor Rima Hooja, Editor of the journal & Adjunct Faculty, CHM and Professor Shahul Ameen, Assistant Editor of the Journal and Faculty, Centre for Heritage Management.

In his keynote address, Shri Gulammohammed Sheikh shared about the current state of art & heritage in India and issues with the institutions responsible for its documentation, conservation and management. Citing some examples from India and abroad, he emphasized the need of rejuvenating these institutions and coming up with innovative ways of managing the rich heritage. He also advocated for setting up new institutions both at local & national level that would nurture the cultural heritage. He appreciated the positioning of the Centre for Heritage Management, Ahmedabad University, in the context of the city Ahmedabad with its rich and vibrant cultural and educational legacy. In such contexts, he recognized the initiatives of the Ahmedabad University and the role of the Journal of Heritage Management as important milestones.

Professor Pankaj Chandra shared the aspirations of Ahmedabad University to be a liberal education driven research University. He said that the journal truly reflected the movement towards that research centricity. He further added that while the world of heritage inquiry in India has largely been practice and documentation driven but its growth in an academic environment has to be driven by an amalgam of theory, policy and managerial thinking. In the end, Professor Chandra said that a peer-review journal would thus be an appropriate mechanism for creating a dialogue around conceptual issues, building theories and showing ways of executing ideas and practices.
Professor Rima Hooja introduced the journal and highlighted its aim to be a forum for sharing theoretical discourses, analyzing policies and practices, and promoting discussions on key issues on heritage management. Shri Debashish Nayak earlier gave his welcome remarks, in which he highlighted the journal launch as an integral part of Master's Degree in Heritage Management, offered at CHM. Professor Shahul Ameen offered a vote of thanks. The programme was attended by professionals, heritage enthusiasts, faculty and students.

About Ahmedabad University: Ahmedabad University is a private, non-profit, liberal education driven, research university located in one of India's most vibrant cities. It was founded in 2009 by Ahmedabad Education Society, a non-profit educational trust that was established by leaders of the society and industry in Ahmedabad over 80 years ago. The University offers undergraduate, graduate, and doctoral programs in a wide variety of areas including management, life sciences, engineering, and computer studies. It has made strides through global collaborative research, broad-based contextual and flexible curriculum, project-based learning, and industry linkages thus creating a unique learning environment. Ahmedabad University is a community of scholars and practitioners who believe in the value of original enquiry and its application for the benefit of society.