Asian Cultural Research: Discussing Cinema in India and Iran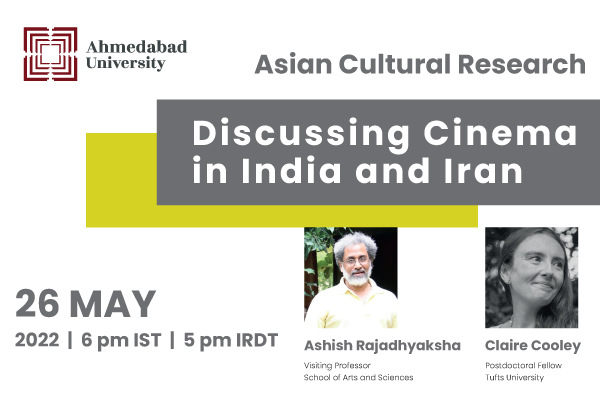 A webinar series hosted by the Centre for Inter-Asian Research, Ahmedabad University, India, and Mardomnameh Cultural History Journal, University of Tehran, Iran
India and Iran have been connected across the centuries in a myriad ways, being part of the same physical and imaginative geography before the emergence of modern nation-states. 'Iran' and 'India' feature strongly in the everyday life of both societies, as our series will demonstrate. Looking at these interconnections will help us configure new objects of enquiry for comparative research in Asia.
Venue: Online Via Zoom
Zoom Link: https://zoom.us/j/94604758003?pwd=SnVSeTBEMy9sSEdsSFV5cThKN0FtUT09
Meeting ID: 946 0475 8003
Passcode: 330514
The speakers for our first webinar are film scholars Ashish Rajadhyaksha and Claire Cooley, who present the intricate and entangled histories of cinema in India and Iran.
THE MAKHMALBAF IN MY HEAD
Ashish Rajadhyaksha
Sometime in the early 1990s, the influential Federation of Indian Chambers of Commerce (FICCI) Report, writing on opportunities for the growing Indian Media and Entertainment sector, offered the Indian cinema strange advice. It recommended that India should 'follow the Iranian cinema route' if it needed to make a global impact. Was there any larger significance to be read into the FICCI's sage advice? Could it be because, unlike several traditions of world cinema that appear forbidding and unduplicatable, Iran has had a strangely hospitable approach to what one of its greatest cinematic works once dubbed the 'certified copy'? Could we in India produce a kind of Indian version of the great Iranian new cinema?
Let us wind back to 1930 to the Imperial Film Company's larger-than-life mogul Khan Bahadur Ardeshir Irani. It is not hard to think back on Persian political power in Mughal India when you recall his grand production of Anarkali (1928). Or, thinking back on lost grandeur, the onset of modernity, and the pull of migrant cultures from Iran to India and back, his 1933 production Dokhtar-e-Lor (or Lor Girl), better known as the first-ever Iranian film, made in downtown Mumbai. What is strange is the far more recent return of Lor Girl as the haunting centrepiece of Mohsen Makhmalbaf's 1992 epic ode to cinema in his Naser al-din Shah, Actor of Cinema (known in English as Once Upon a Time, Cinema). Lor Girl was a love story between Golenar and Jafar, set in the lawless district of Lorestan where the two attempt to escape the villainous Goli Khan. It seems (though this is not in the surviving section of Lor Girl) that Golenar and Jafar actually escaped to Mumbai, where they might well have lived in the city at the same time as when Irani thought to make this film. Most of what survives in the fragments is a dance seen in a tea-house in Lorestan, Golenar hanging mid-air on a rope as Jafar tries to hang on to the rope even as he fights off the evil Goli Khan.
Two years earlier, in 1990, Makhmalbaf had himself been played by an impostor who believed, truly and deeply, that salvation lay in 'becoming Makhmalbaf' (as FICCI wanted Indian cinema to do), in a film by Abbas Kiarostami. Now, as Makhmalbaf in 1992 reconstructs Golenar in the court of Naser al-Din Shah, the Shah of Qajer, as the rope snaps and she falls directly into his court, it is once again the filmmaker who threatens the entire imperial system with his travelling camera. The Shah sees her in Ardeshir Irani's film among the body of work of a travelling cinematographer with a resemblance to Charlie Chaplin and falls desperately in love. The cinematographer, perennially under the Shah's guillotine, survives even as Golenar reappears in his magic box, threatening his court by her (and the cinema's) very existence. My talk is about reconstructing the Makhmalbaf in my head, as he in turn reconstructs Ardeshir Irani's female lead – as we reconstruct Iranian cinema, to find ways forward for the moving image in India, in Iran, and in the world.
Ashish Rajadhyaksha is co-editor of the Encyclopaedia of Indian Cinema with Paul Willemen, and the author of Ritwick Ghatak: Return to the Epic, Indian Cinema in the Time of Celluloid, and A Very Short Introduction to Indian Cinema.
Stories of Love and Co-Production: Cinematic Traffic Between Iran and India
Claire Cooley
With turns to transnational, regional, and similar frames in film studies, the first Persian language film The Lor Girl (1933) made in India in collaboration between Iranian expatriate Abdolhossein Sepanta and Parsi film studio owner Ardeshir Irani have been the subject of a flurry of recent scholarship. Facilitated also by the mere availability of The Lor Girl on YouTube, these studies have been helpful in expanding and challenging our definitions of Iranian Cinema and its geographies, genres, technologies, chronologies, and networks. Less attention has been paid, however, to Iranian-Indian co-productions Subah-O-Shaam (1972, dir. Tapi Chanakya) and Salaam Mumbai (2016, dir. Ghorban Mohamadpour). In this presentation, I draw on these films by Chanakya and Mohamadpour to chart a history of interaction between Iranian and Indian film industries. In doing so, I will ask: what were the circumstances that led to the creation of these films? How can comparison of these films and the historical conjunctures of their production expand our conceptions of co-production? Why, despite the long history of exchange, have they been discursively constructed in promotional material and other texts in the amnesic language of firsts? Through consideration of these questions, I demonstrate how, despite the ahistorical framing of exchange, comparisons of The Lor Girl, Subah-O-Shaam, and Salaam Mumbai allow us to hear continuities across ruptures in film history, such as the 1979 Revolution in Iran.
Claire Cooley is a postdoctoral fellow at Tufts University. Her research focuses on film historiography in the Global South; sound studies; south-south media flows; and media infrastructures and racialised labor in the Gulf. Her work has appeared in a range of publications including Jump Cut, Film History, and Spectator. She is currently writing a book on the interconnected history of cinema in the Middle East and South Asia from the turn of the 20th century to the 1960s.