Usable Pasts, Sustainable Futures: The Housing Lab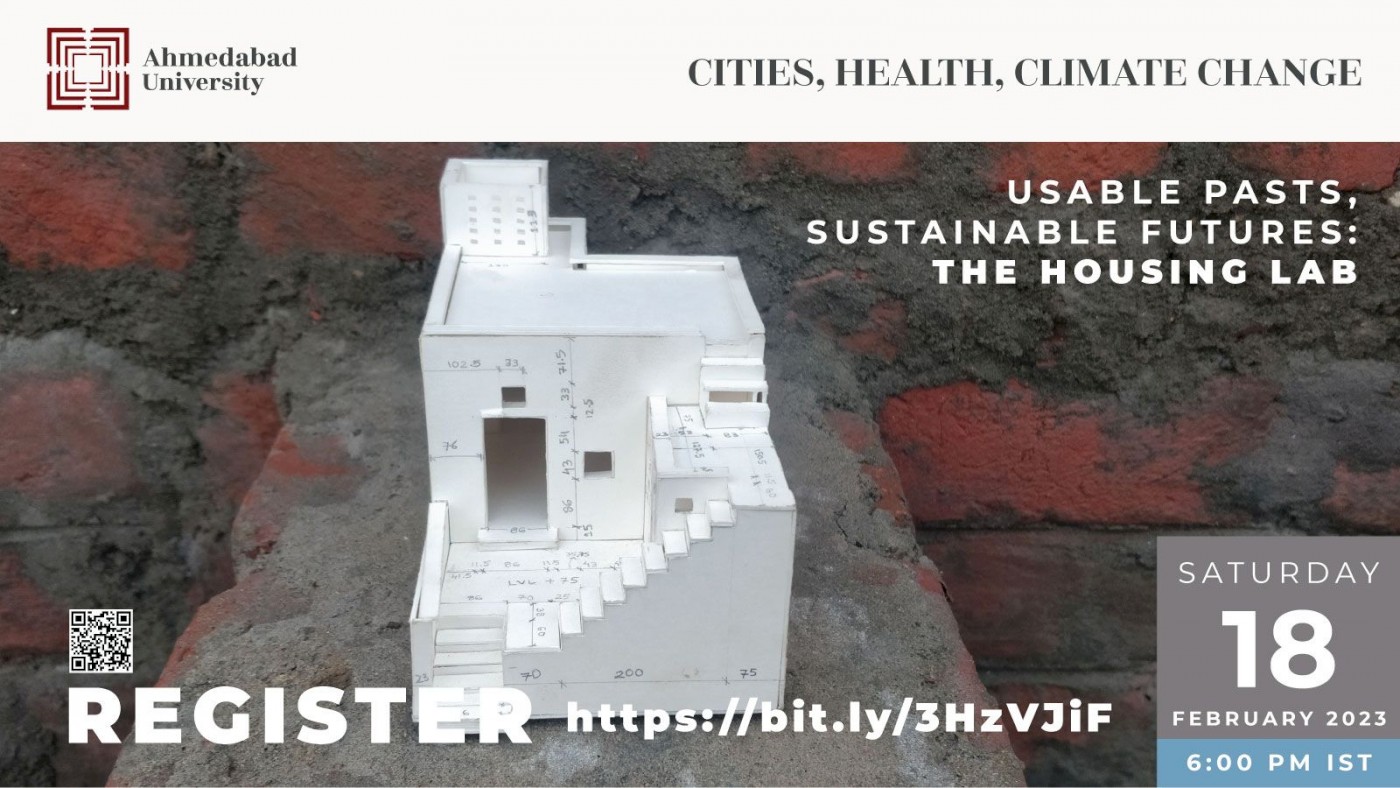 Through this interdisciplinary public-facing research engagement, we aim to revisit and bring into renewed circulation historically effective practices that can help mitigate climate change. We hope to achieve this through generating new conversations around forms of urban living in the 21st century as they relate to the issues of public health and climate change, with the involvement of specialists, students, and the general public. We have identified three key nodes or 'industries' around which our host city of Ahmedabad has been organised historically: food, clothing, and housing, with a view to connecting each one to urban life, collective health issues, and the crises sparked by climate change. The long-term objective would be to drive positive transformation from below through public engagements, reports, and a published volume on the topic.
The Housing Lab
The Housing Lab brings together practitioners from different domains of expertise including architecture, sustainable and alternative housing, governance and policy, and creative writing coming together to re-imagine the human habitat. Housing is one of the three nodes, along with food and clothing, that serve as anchoring points for the Usable Pasts, Sustainable Futures project.
Resource Persons
Lab Anchor: Sejal Patel, Centre for Environmental Planning and Technology, Ahmedabad
Anand Sonecha, SEA Lab, Ahmedabad
Bijal Brahmbhatt, Mahila Housing SEWA Trust, Ahmedabad
Prasad Shetty, School of Environment and Architecture, Mumbai
Rupali Gupte, School of Environment and Architecture, Mumbai
Sandeep Virmani, Hunnarshaala Foundation, Bhuj
Saswat Bandhyopadhyay, Centre for Environmental Planning and Technology, Ahmedabad
Saumya Malviya, Indian Institute of Technology, Mandi
Vaishvik Brahmbhatt, Gujarat Real Estate Regulatory Authority
Tejaswini Niranjana, Centre for Inter-Asian Research, Ahmedabad University
Student Participants
Aatman Vrundavan Vaidya - BTech, Computer Science and Engineering
Abraham Dayalu Arakkaparambil - IMS, Life Sciences
Archisha Gautam - BA, Psychology
Bhavya Patodi - BA, Social and Political Sciences
Madhav Sharma - BA, Psychology
Date: February 18, 2023
Time: 6 pm to 8 pm (High Tea from 5:00 pm onwards)
Venue: Room 110, University Centre, Ahmedabad University