Cannes Film Festival, Golden Lotus at National Film Awards for Ahmedabad Alumni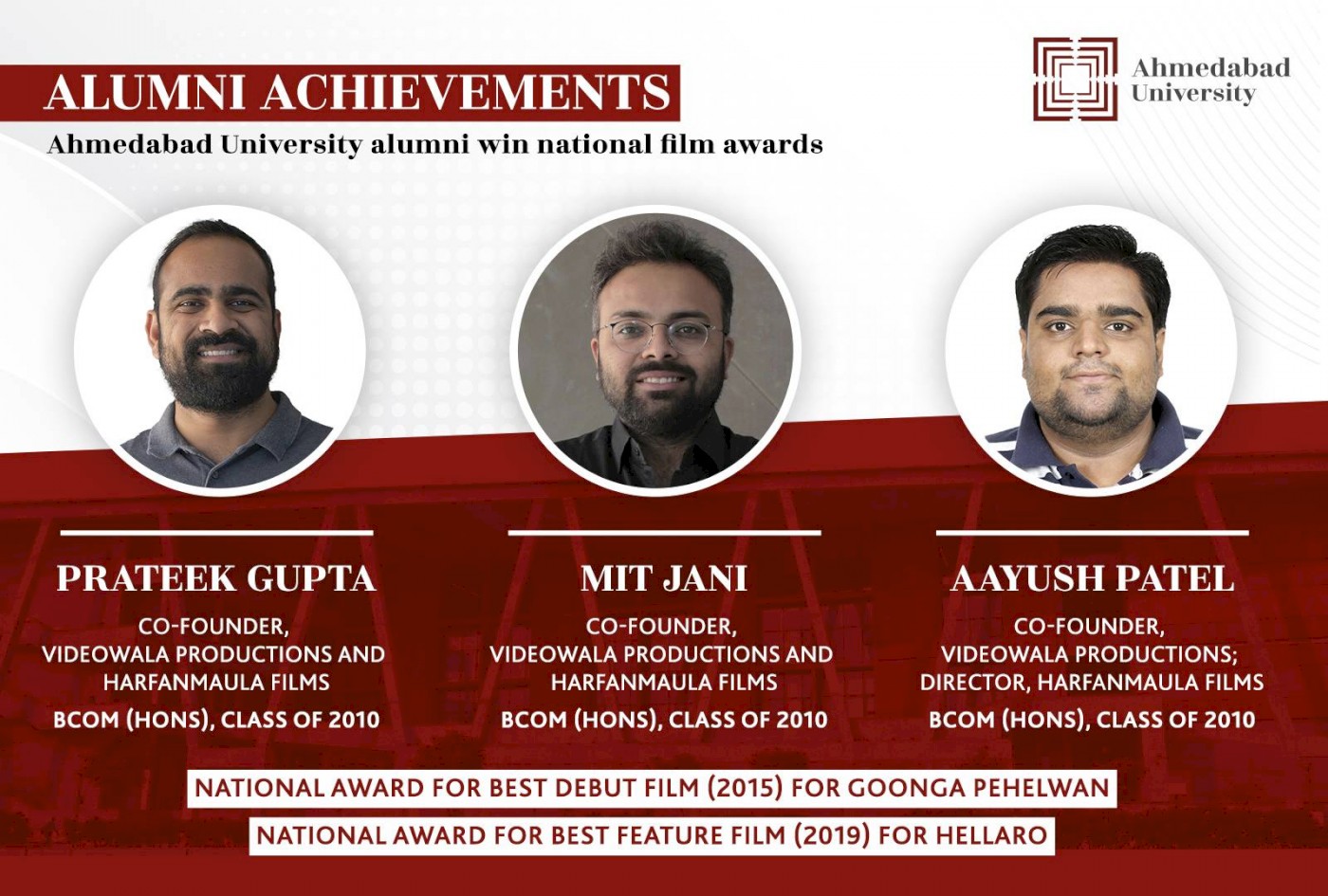 When Prateek Gupta, producer of Hellaro, and director Abhishek Shah wrapped up their movie in 2018, they had an ambitious idea. Their film set in the Rann of Kutch challenged patriarchy through the unusual medium of dance. The two, possibly having gauged its potential, set out to procure a certification from India's Central Board of Film Certification to qualify as contenders for the National Film Awards for 2019 and only then have a theatrical release. True to the title of their film, which means a current that sweeps everything away, Hellaro went ahead and did just that.
Not only did it receive the certification to contend for the 66th National Film Awards of 2019 but also won it, becoming the first Gujarati film to win the Golden Lotus for Best Feature Film across India. It was also selected as the Ministry of Information and Broadcasting's Official Entry at Marché du Film's India Pavillion Market held virtually at the prestigious Cannes Film Festival in June 2020. Prior to its Cannes screening, Hellaro had already created an impact as the opening film at the Indian Panorama during the 50th International Film Festival of India (IFFI) held in November 2019 in Goa and had also been screened at the 19th River-to-River Florence Indian Film Festival held in Italy in December 2019 winning the Audience Choice Award.
For Gujarati cinema, Hellaro signals a definite change; for Ahmedabad University, a moment of immense pride as the key people behind the movie - Prateek Gupta, Mit Jani and Aayush Patel, co-founders of production houses Videowala Productions and Harfanmaula Films - are alumni from the BCom (Hons) with Major in Accounting, Class of 2010, Amrut Mody School of Management. While all three were the co-producers for Hellaro, Prateek additionally co-wrote and edited it too. However, it isn't the first time that the trio has been lauded for its work. Their 2013 feature-length documentary Goonga Pehelwan, about the life and struggles of Padma Shri and Arjuna awardee wrestler Virendra Singh Yadav who has a hearing disability, had won at the 62nd National Film Awards of 2014 for Best Debut Film of a Director in the non-feature film category. Prateek and Mit, along with a friend, had co-directed Goonga Pehelwan while Pratik had also edited it.
Unlike its regional counterparts, Gujarati cinema has not found its footing in either the national or the international arena. With Hellaro, that is history. Ahmedabad University salutes its alumni for being the harbingers of, what promises to be, a revolution.