Shana Parikh Patel (BCom '05) Wins Gold for Best Wedding Proposal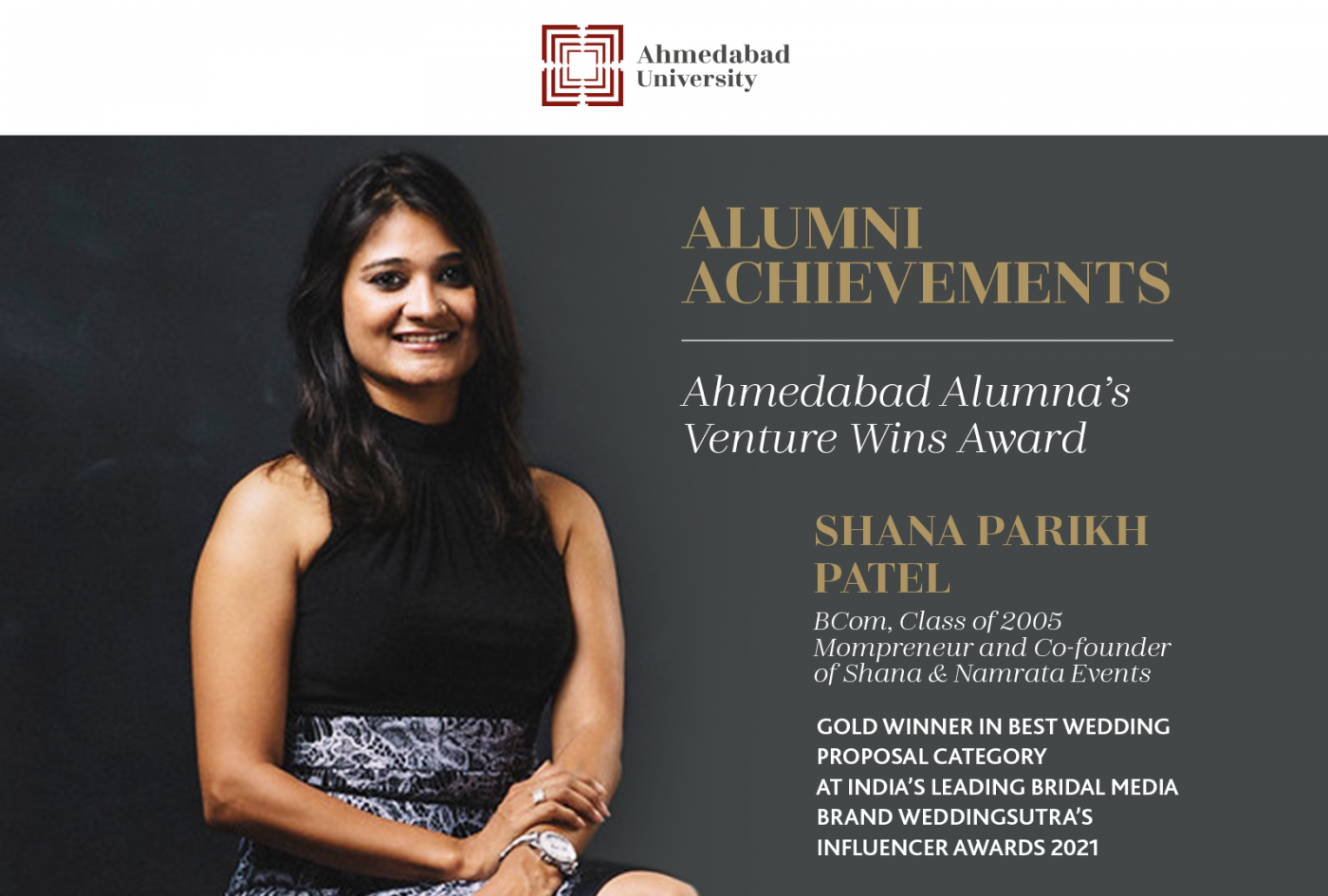 Ahmedabad Alumna Shana Parikh Patel, BCom, Class of 2005, Amrut Mody School of Management, and her business partner Namrata Patel could definitely qualify as masters at multitasking. The women, who have been running a highly successful event management company, Shana & Namrata Events, since 2015, are both moms to two children each and keep an appointment diary that's relentlessly brimming with events. In spite of this, they make time for active education, pulling out three months every year from their schedule. In recognition of their entrepreneurial spirit, the mompreneur duo was awarded Gold in the category of Best Wedding Proposal (Planning/ Design/ Decor Execution/ Overall Management) at India's leading bridal media brand WeddingSutra's Influencer Awards 2021 held in Mumbai in October. The awards felicitate the brass of the events' industry.
Being awarded brings immense recognition to the Shana & Namrata Events brand which handles end-to-end client servicing, right from planning the number of days an event should be held over down to the floral design at the venue. "The award validates the work we've been doing over the years, and what makes it really special is that the recognition came around industry greats whom we personally idolise," says Shana. However, it's not just wedding events that the company focuses on but also corporate events, brand launches, and high-end personal parties. They have worked on decor and styling as well as hosted events for corporate bigwigs such as the Adani Group, Zydus Hospital and Mamta Industries.
"We are a package - two women, four children - mompreneurs in a men-centric space. When we are in the field, there are at least a 100 men working with us," says Shana. She adds that her multitasking skills kicked off right at the college level. "As a young 17-year-old, I was possibly the only one who wanted to work while studying, and I really thank my professors who were very supportive. Since I was also a national-level swimmer, I learnt to handle multiple things pretty early in my life, and it has stood me in good stead."