A trained classical and folk dancer and a flautist, Anjali Chokshi is majoring in Psychology as a BA (Honours) student, Class of 2025, at the School of Arts and Sciences. In this blog, she recounts the rich experience of participating in two international folklore festivals the last two months.
For the last 12 years, since I was four, I've been classically trained in Bharatnatyam. Besides, I have been a professional folk dancer for the last six years. I got my first opportunity to represent India through Surtaal Performing Arts in 2016 when I went to Indonesia for my first International Folklore Festival. However, this summer was extremely special. During June-July, I got an opportunity to be a part of not one but two international folklore festivals - the OpRoakeldais festival in Warffum, Netherlands, between June 22 and 26, and the Polka Festival in Pabianice, Poland, between June 28 and July 4. Representing Indian folk dances and our culture abroad in a space where people from all across the world bring forward their cultures, has been an experience of a lifetime.
We were a 19-strong troupe with 15 dancers and four musicians. We performed dance forms such as Garba, Rajasthani folk, Raas, Bhangda, and Rathwa ni Gher. I was one of the lead dancers in Rajasthani folklore, Raas and Garba and I also played the flute to the tune of the Rathva folk dance. Rathva is one of the tribal dance forms of India and has been performed at international folk festivals for many decades by different Indian dance groups.
The OpRoakeldais Folklore Festival is a festival organised by the International Council of Organizations of Folklore Festivals and Folk Arts (CIOFF) which is an international non-governmental organisation in official partnership with UNESCO. It is accredited to provide advisory service to the Committee of the UNESCO Convention for the Safeguarding of Intangible Cultural Heritage. CIOFF festivals hold their participants to very high standards, and it was an honour to have secured an invitation to it. Along with India, other participating countries were Chile, Ecuador, France, Hungary, Romania, Kenya, and the Netherlands. At the Polka Festival, we had performers from Mexico, Romania, Kenya, Spain, Brazil, and Poland.
International folklore festivals are all about dance, music and an exchange of cultures. Besides performing, we also hold workshops to teach our dance forms to the audience and tell them about our country's culture and heritage. We too learn dance forms of other countries during their workshops. Every night, regardless of where we come from or the cultural differences between us, we dance together. We are bound by dance and music.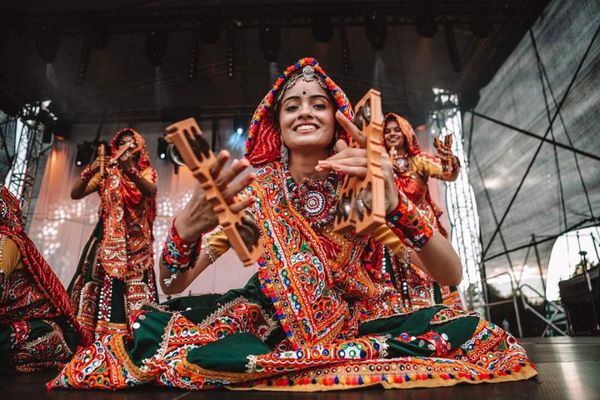 It's beautiful how each and every culture is different. Everyone's costumes, dance forms, and music have a story to tell. It's nearly impossible not to make lasting friendships. One such person I formed a close bond with was Edison Pilco from Ecuador. He's a musician and one of the lead performers of his group as a flautist. I had seen other wind instruments earlier but not the one this group was playing. As soon as they finished their first performance, I went to them and introduced myself as a fellow flautist. I remember how excited we all were when we tried playing each other's instruments for the first time. Edison was a quick learner and could easily play our Indian bansuri, whereas it took me a while to play their instrument, known as 'the rondador'. After having several conversations with him, I found out that it is in fact their national instrument in their folk dances. It is a set of chorded cane panpipes which can produce two tones simultaneously. It has pieces of cane, that are placed adjacent to each other in order of size and closed at one end, and is played by blowing across the top of the instrument. They're in different sizes and have about 8 to 30 pipes, depending on the scales and chords.
It was truly an amazing experience to see how musicians from such different places connected over the different kinds of instruments and how we were all so eager to learn them as well. As a dancer, it was easier for me to learn dances from all over the world. However, learning an instrument is always a tad more complicated.
The closing ceremony was the most memorable. We exchanged costumes with participants from other countries, and clicked pictures endlessly. The most striking thing is that not everyone understood English, yet, with hand gestures or through Google translate, we communicated. I wore costumes from Chile, Ecuador, and Romania. As a final goodbye, there is an exchange of gifts and souvenirs.
My personal learnings from these festivals are immense and deep. It's amazing to see how respectfully you're treated as an artist. Just like celebrities! You're not known by your name but by your culture and your country. During the parade, we spread awareness about our culture by passing on souvenirs. This time we gave away bindis, henna tattoos or mehndi, anklets and other traditional jewellery. The next day, in the audience, we saw women wearing those pieces of jewellery and the bindis. It's a wow moment when you know you've achieved something priceless. When you have put in months of hard work with innumerable practice sessions, uncountable injuries, being away from your family, these moments of joy make the entire experience worth it.