This month at Ahmedabad University, we had a motley crew of professionals from fields as diverse as career coaching to corporate communications to publishing visit us to perform two performative readings - Afghani Dukhtaran and Har Qatra Toofan. Raschakra is a literary and cultural platform that has been active since 2016. Described as rasikon ki addebazi, Raschakra brings women's writings (mostly non-fictional texts) to the world in an enjoyable and thought-provoking way.
And thought-provoking, it was. It was as though they had breathed life into the words once written by women decades ago as they talked about their dreams, hopes, and struggles. What made the performances special was their ability to bring to light these women's lives without any expectations of external agencies. Whether it was a woman writing a letter to Gandhiji expressing her disagreement with one of his ideas or a young Afghani woman writing about her experiences, Raschakra kept its focus intact on what women wanted to say. That is quite rare to capture in a society that has always seen women in the context of patriarchal duties and gender norms.
Afghani Dukhtaran, the story of the daughters of Afghanistan, Raschakra's newest play-reading, was filled with tales of courage, love, and an undying sense of hope. Today, when the image of a woman living in Afghanistan has been made synonymous with weakness and helplessness, this collection of poems and stories compiled as Afghani Dukhtaran made us reflect on how women there have the same dreams and aspirations as any ordinary girl. They want to write, study, pursue their goals, and, most importantly, live a life of respect and safety. The performative readings portrayed a different side of the media, highlighting how it often indulges in changing the narrative of the stories of these women to, more often than not, sensationalise the situation. The undying sense of rebellion and hope that Afghani women nurtured amidst the chaos remained quite constant in the readings.
Har Qatra Toofan, getting its name from an article by Ismat Chughtai, was a unique and beautiful collection of letters and reports that conveyed how, in spite of the varying amounts of love and hate he evokes even today, Mahatma Gandhi cannot be ignored and continues to be relevant. A lot about Gandhiji has been known and analysed over the years as a student, a lawyer, a spiritual leader, a political leader, and more. What was, however, unique about this performative reading was that it conveyed women's perspectives. It unravelled who Gandhi was in the eyes of these women who were significant in shaping history and literature then. Raschakra incorporated carefully selected letters of women contemporaries of Gandhiji, such as Sarojini Naidu, Mahadevi Verma, Ismat Chughtai, and so on. While some of the letters displayed the writers' immense respect for him, there were also instances where women engaging write in humour, and even those who disagreed with what Gandhiji had proposed. It was interesting to note how he would always be open to a discussion in his correspondence with them. The narrative of the letters made me understand how important it is to learn about a person's story in their words and how often different perspectives over time can change the entire message written in the original.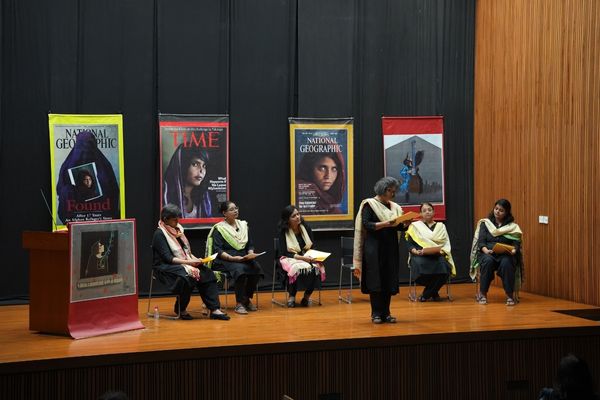 One of the most beautiful things about Raschakra is how the group organically grew with like-minded people passionate about literature. Their passion for these performative readings had a great impact on me. What is commendable about the group is how disciplined and supportive they are regarding their art. All the members in different parts of the country meet virtually every day to practise for hours. As a student, getting the opportunity to have a conversation with them made me reflect on the strong work ethic that all the performers had. I believe this very discipline and devotion helps them stand out with the message that they are trying to spread. 
Raschakra's performances are testimonies to how literature is so powerful that it can move people, make them question the things they already know, arouse in them a certain desire to learn more, and makes them reflect on so many different levels!