Bee Base Founder Pratik Ghoda (BCom '03) Wins Frontrunner Award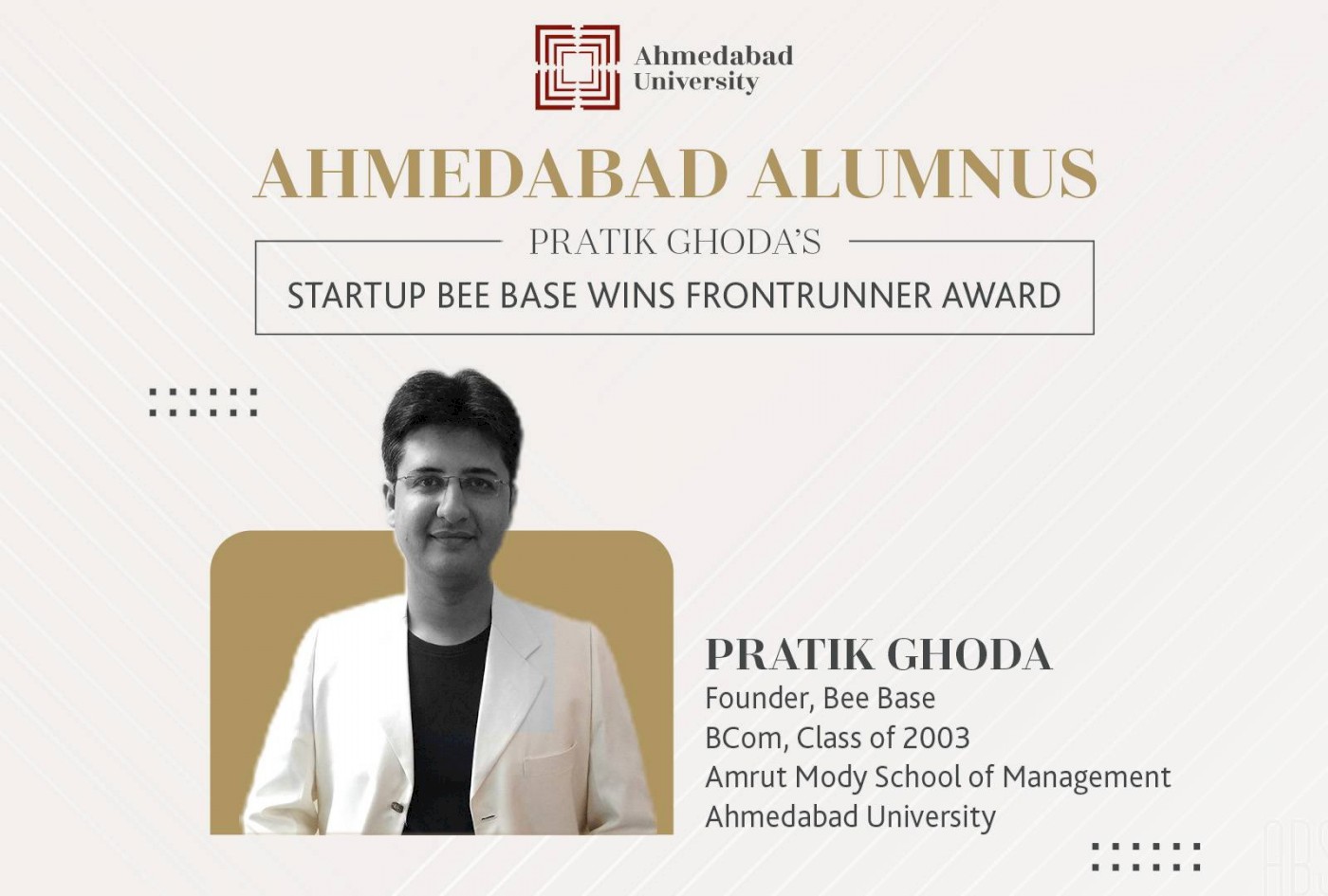 Ahmedabad Alumnus Pratik Ghoda, BCom, Class of 2003, Amrut Mody School of Management, had been marking time as a chartered accountant for 15 years, working largely with pharma companies. In 2014, with the Make in India movement launched in the country, the entrepreneurial bug caught him and in August 2020, he finally plunged into it after a year of highly driven research. Within just a year of establishment, his venture Bee Base Private Limited, which manufactures value-added honey products, has won a Frontrunner Award in the category of Food and Snacks at the International Trade Council's Go Global Awards 2021 held in Washington DC. Bee Base's nomination was one among approximately 6000 from 178 countries across the world.
"The most valuable aspect of winning at the Go Global Awards was that we got to speak about our concept and our products to the jury in a 10-minute presentation," says Pratik. Bee Base has several honey flavours including fennel, carom, ginger, and turmeric, among others.It had also received the Emerging Startup Award earlier from the Indian Achievers' Forum. For Pratik, research is the key to progress. His team has spent about six to eight months developing an indigenous probiotic honey which is grabbing the attention of global investors, he says.
Bee Base was also among the 150 finalists at the National Startup Awards 2021 of the Indian government's Start Up India initiative thereby getting the opportunity to interact with not just Prime Minister Narendra Modi but also Commerce and Industry Minister Piyush Goyal this month.
The company is now working on producing an organic wax-based lipstick and a nutraceutical product – a plant-based protein. Plans to use/extract bee venom, which is a critical element to treat arthritis and cancer, and in pain management, are also underway.
Pratik thanks his professors at Ahmedabad University for the moral support and motivation he needed in his early college years. "We were a bunch of kids from Saurashtra. Our professors knew that we were bright but lacked language skills since we had studied in Gujarati medium schools. They worked with us to ensure we didn't retract into a shell," he signs off.