Nakul Sharedalal (BCom '05) Ranks Among India's Top 25 IP Advocates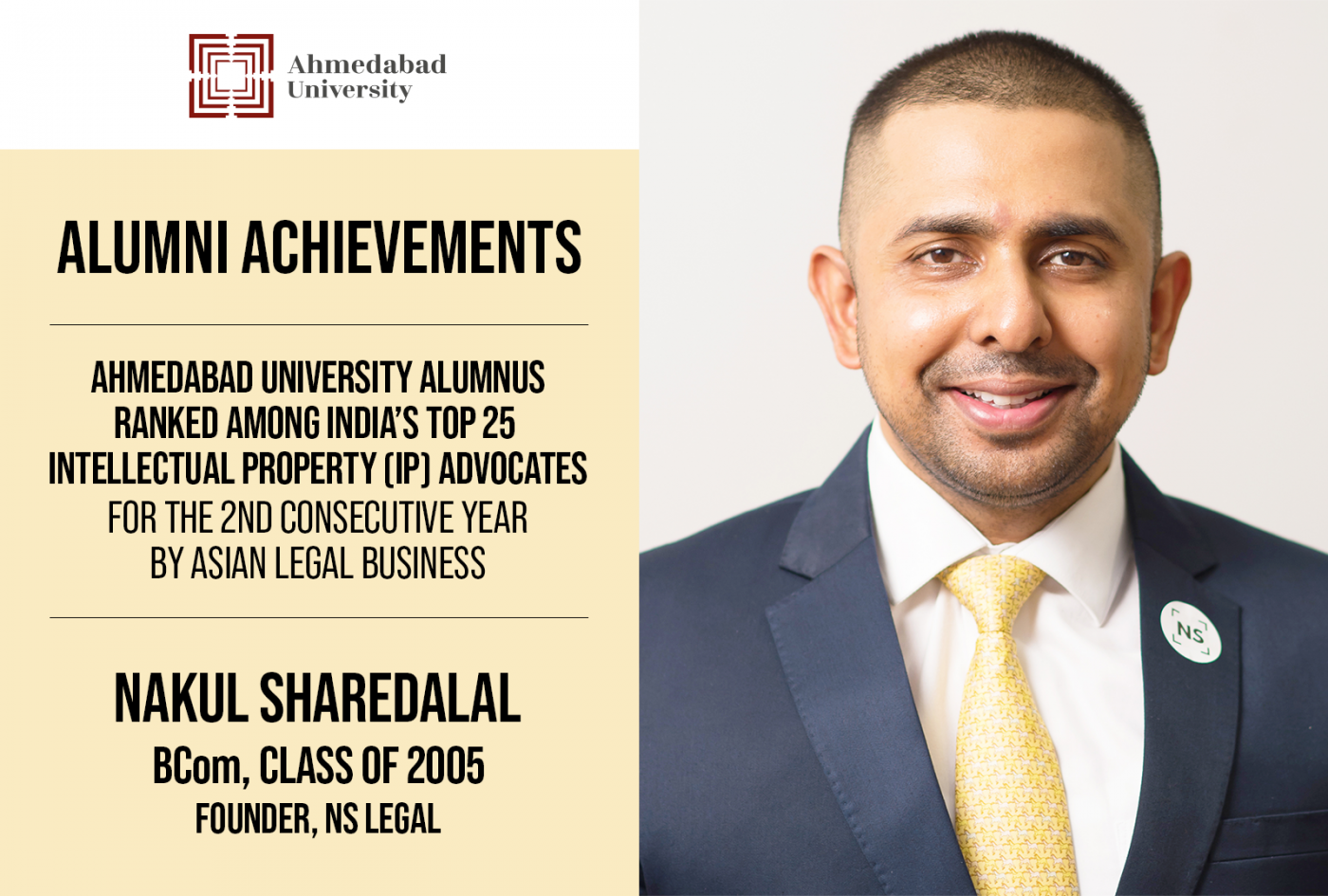 Ahmedabad Alumnus Nakul Sharedalal, BCom, Class of 2005, Amrut Mody School of Management, has been ranked among India's Top 25 Intellectual Property (IP) Advocates for the second consecutive year by the Asian Legal Business magazine. In the November-December 2021 issue, the Thomas Reuter magazine profiled Nakul in the second edition of their annual list, stating, "being ranked for the second time consecutively requires effort". It quoted Nakul's clients attributing his growth in the industry to his expertise and time management skills.
The last two years have spelt immense growth and recognition for the young Intellectual Property Rights (IPR) specialist whose subject matter expertise lies in IP strategy, applications, prosecutions, agreements, mediations, settlements and litigation. Admitted to the Indian Bar in 2008, he functioned for 12 years as an independent legal practitioner till April 2020, when he founded NS Legal. In its second year itself, his firm went on to win the Emerging Firm of the Year Award in IPR & Legal Services at the Asian African Business Summit.
At The India 2022 Summit last month, Nakul was recognised for creating IP awareness among micro, small and medium enterprises (MSMEs). Asked about the future of IPR in India, Nakul cites the Global Innovation Index rankings for the country. "From 81 in 2015, we are up to 46, among 132 countries. It speaks volumes about the way we are supporting innovation in the country. As a result, IP enforcement is deeper, and we're looking at a more airtight situation for IP," he says.
Nakul says that the traits that have taken him through to success are fearlessness and positivity, for which he has his alma mater to thank. "At college, I was the one participating in cultural activities all the time. For encouraging me to be out there, I have only my professors to thank - especially Professor Parag Patel and Professor Vaibhav Kadia," he adds.
An optimal turn-around time sets him apart in the industry, he opines. "My clients and the industry value how they are being handled and what expertise they receive promptly. That makes a difference," he says, signing off to attend his next client meeting.