Kartikeya Tanna (BCom' 04) Traces Smriti Irani's Journey to Winning Amethi in Debut Book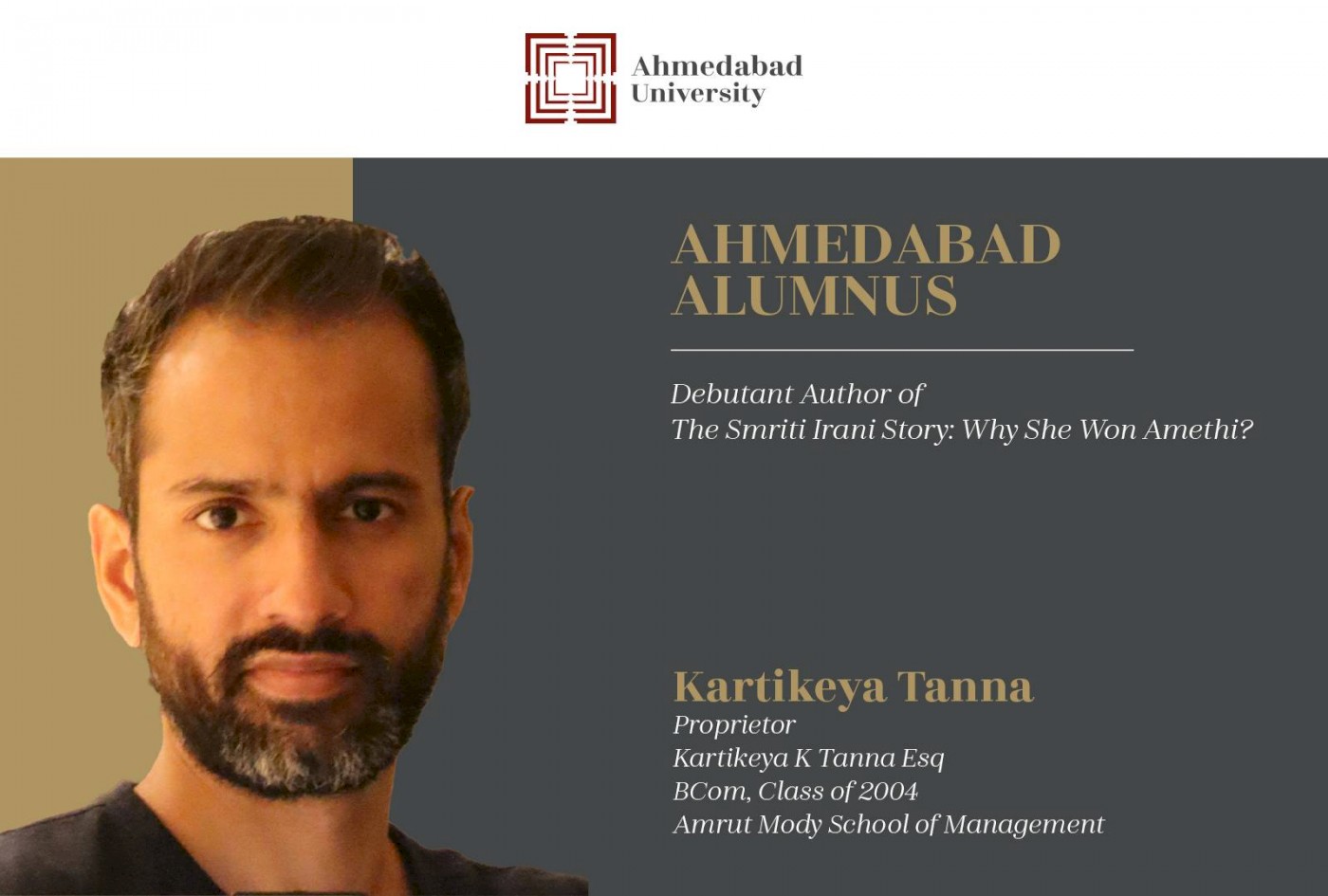 Ahmedabad Alumnus Kartikeya Tanna, BCom, Class of 2004, Amrut Mody School of Management, has made his debut as an author with a book on Smriti Irani, Union Minister for Women and Child Development. Titled The Smriti Irani Story: Why She Won Amethi, the recently-released work delves into her journey in politics, rising the ranks from a party worker to handling important portfolios as Cabinet Minister.
Kartikeya, who has self-published the book, says that he closely followed Smriti's career graph since she became a Rajya Sabha MP from Gujarat (his home State) in 2011. "Her candidature from Amethi in 2014 in itself made history. The prevalent commentary was that she was selected just to cause some inconvenience to her opponent, Rahul Gandhi, but not really give a serious fight. In only a month-long campaign, she garnered 3,00,000 votes even if she lost," he says. Then, in 2019, she won in Amethi, a Nehru-Gandhi family bastion. Wholly unexpected, that was what enticed Kartikeya to research how she could have achieved it.
According to Kartikeya, Smriti's processes, her mental makeup, her approach, and the traits that led her to win Amethi are all gender-neutral. "Her story could resonate with not just women but men too. She had, indeed, broken a glass ceiling, but it was a gender-neutral ceiling. And, as a man, I wanted to explore that further," he says about his choice of subject.
Writing about a politician of a Union minister's stature would be unnerving, but Kartikeya says he attempted to be objective, addressing even her flaws. Speaking as a political commentator, he says, "To write about her wasn't challenging because her victory in Amethi, no matter what one's political affiliation or personal opinion of her, is epoch-making. It is a manual for any young, budding politician who wants to achieve something epic, especially if they have their inner battles to conquer."
A US Immigration attorney, Kartikeya has been a member of the New York Bar since 2010 and a member of the Bar Council of Gujarat (India) since 2007. He is also admitted to the Roll of Solicitors of England and Wales. He writes columns on legal issues and current affairs, and in Ahmedabad he was also Visiting Faculty at the HL Institute of Commerce, his alma mater, teaching Corporate Governance to third year students.
Kartikeya says he likes to express himself through photography, videography and writing. He adds that he came into his own while studying at the erstwhile HL Institute of Commerce, now part of Ahmedabad University. "The environment was empowering, and there was a great degree of autonomy given to us as students," he recounts.