Programme Overview
The Master in Management Studies in Heritage Management Programme is a unique programme of its kind in India. It emphasizes critical understanding of heritage and builds a managerial approach to the management of the heritage sector. Areas of exploration within the curriculum include diverse range of heritage sectors spanning tangible and intangible, cultural and natural, historic and contemporary/living heritage etc. with an emphasis on the management of these areas. The programme is about processes of understanding and working in the heritage sector and learning to manage it well, and not about learning a specific heritage as it is.
The two year MMS in Heritage Management programme would be most useful for people aspiring to serve various sectors of heritage management in India and abroad or working in some area of heritage. Typical backgrounds of students are those with a minimum of a Bachelor's degree in arts, architecture, archaeology, business, commerce, culture, history, museum studies etc., The course requires demonstrated experience or inclination to undertake a profession in heritage management.
The Educational Experience
The Programme begins with a week-long 'Inaugural Seminar' prior to commencement of regular coursework. Each semester includes a workshop or a studio course where students engage in a real life scenario as their project work. At the end of the first semester, a week long field-immersion programme will enrich the students' understanding of heritage issues in a given context. After the second semester, the students need to pursue a ten to twelve weeks long practicum – an internship programme with explicit learning objectives and a research paper. In the second year, students take elective courses as per their interest along with preparations for thesis work. The final semester is reserved for thesis work, which is expected to be presented at an international conference.
The programme practices mixed pedagogy and includes lectures, seminars, discussion and group works as well as field-learning, including immersion and practicum programmes and a culminating thesis.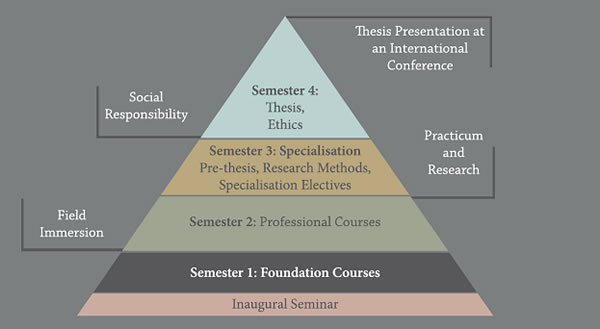 Details of the Programme
The programme begins with a week long 'introductory seminar'. The first two semesters include course work on heritage studies and management. In between the first two semesters, a week long field-immersion programme will enrich students' understanding of heritage issues in the South Asian context.
The second semester will feature professional heritage management courses and skills development courses, followed by a two month-long practicum.
The third semester includes project works under a specialized studio, electives and thesis proposal. A part of the whole semester may also be taken as an exchange programme with a pre-approved university abroad. This exchange programme is optional component and may depend on individual student's internship and/or field work related to his/her thesis.
The final semester is mostly focused on thesis work, and can be combined with an exchange programme or field research. All graduating students will present their thesis work at an international conference, which may be a good opportunity for networking and continuing with their future career path.
The programme includes a total of 80 credit hours including lectures, seminars, field-studies, volunteer works, internship and research.
The faculty of the programme includes prominent experts and academics from India and abroad.
The programme is also open for international students, particularly from South and Southeast Asia. International students may undertake part of their field work and thesis research in their home country with prior planning and proper guidance under the approval of the programme committee.
Students also have the options of taking elective classes at other Schools of Ahmedabad University.
In addition to regular academic work, the students also benefit from the centre's journal and newsletter publication series, regular heritage talks, and heritage management projects at the centre.