Programme Overview
Context and Objectives
The world is changing, often in dramatic ways, and the organisations that are responsible for safeguarding and exploiting heritage often find it difficult to adapt.
The Master in Management Studies in Heritage Management Programme aims at providing the theoretical models and practical tools that would enable heritage professionals to manage change, benefiting from some of the latest developments in the areas of heritage management and business management.
Content
The programme deals with all types of heritage, yet focuses on living heritage, community-centred approaches to heritage management, tourism and sustainable development.
Living heritage sees (tangible and intangible) culture, nature and people as a unity. It embraces historic cities, religious and traditional settlements, national parks, rural areas, as well as traditional arts-crafts, design, fashion and sports.
The programme connects heritage and business entrepreneurship.
In order to secure economic viability and contribute to the sustainable development of the local and the broader community, heritage organisations need to adopt business management, strategy and marketing models and tools.
The programme attempts to craft applied solutions to the needs of a changing and fluid world.
The imperative of heritage organisations is to sustain innovation in an increasingly competitive market, and also achieve agility against severe crises such as the economic crisis, the pandemic crisis and climate change.
Programme Addressing
The students and professionals of diverse backgrounds, such as architecture, history, archaeology, sociology, museum studies, traditional arts-crafts, tourism and business interested in a wide range of heritage organisations, such as international and regional organisations, national and local authorities, museums, heritage trusts, religious institutions, NGOs, local community and civil society initiatives, tourism agencies, and private enterprises.
By the end of the program, the participants will be in the position to
Have a firm understanding of heritage governance and business management.
Conduct original research, and publish at international conferences and journals.
Craft business plans for heritage organisations.
Develop critical thinking and entrepreneurship skills, towards setting up their own cultural and tourism enterprises.
STRUCTURE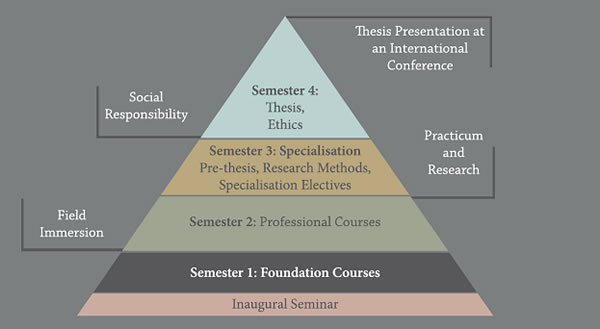 Foundation courses
Specialisation courses
Practicum, and Research methodology
Thesis, or project
OPPORTUNITIES
Take courses from other centres-departments of Ahmedabad University, such as Amrut Mody School of Management; School of Arts and Sciences; Global Centre for Environment and Energy; and School of Engineering and Applied Science.
Connect with VentureStudio (Ahmedabad University Incubation Centre for New Business) to develop new business products and services
Present at international conference; and publish at international journal 'Heritage Management' (Sage)
Connect with projects at UNESCO World Heritage City of Ahmedabad
In addition to regular lectures, benefit from the Centre's heritage talks, walks and projects [web links]
International students may undertake (part of) their fieldwork and thesis research in their home country under the approval of the programme committee.