22 June 2023
Times Higher Education Awards Asia 2023 Recognises Ahmedabad University as Highly Commended University for Teaching and Learning Strategy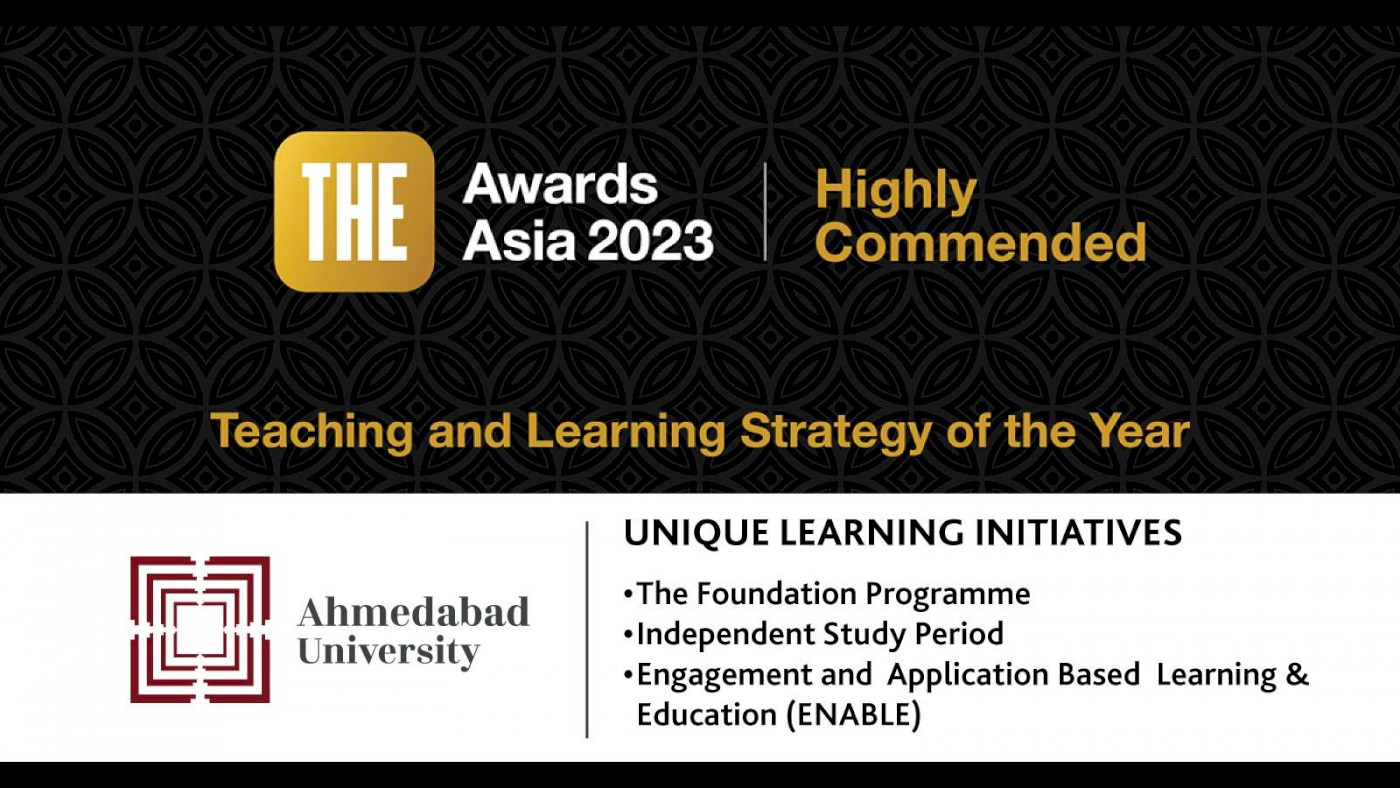 Ahmedabad University has been recognised as a Highly Commended University for Teaching and Learning Strategy of the Year in the Times Higher Education (THE) Awards Asia 2023. The recognition has been awarded for our research-pedagogy design and unique learning initiatives, underscored by our Foundation Programme, Engagement and Application Based Learning and Education (ENABLE), and Independent Study Period. Widely known as the 'Oscars of higher education', THE Awards offer a major international platform to recognise outstanding leadership and institutional performance and celebrate Asia's higher education excellence.
Ahmedabad University is a leading liberal education-driven research university with a dynamic learning environment based on cross-disciplinary linkages between the arts, sciences, and professional disciplines. We offer students, researchers, and faculty an unprecedented locus of choice and flexibility and the opportunity to participate in a unique learning process, mediated by fieldwork and projects that enable deep creative insight, rigorous analytical experimentation, and fulfilling careers.
All students entering the undergraduate programme go through our common core, Foundation Programme. It builds the foundations of interdisciplinary learning and engages with issues of society through project-based learning. The Foundation programme is built around six domains that define contemporary academic and life skills in the 21st century, areas of innovation that are transforming the world, and perspectives that help become a responsible member of any society. ENABLE is an experiential learning process with a dynamic classroom approach that allows application of theoretical concepts to real problems through an industry project. The University has a hands-on winter term called the Independent Study Period where students take courses offered by experts, practitioners, and pioneers in various fields beyond their choice of discipline. It allows students to explore their passion and go beyond the classroom, making their academic learning truly interdisciplinary and conceptual understanding more experiential.
Phil Baty, Chief Knowledge Officer, THE, said, "Universities have never been more needed than they are now. That's not a new sentiment, but it's worth restating. As the world works to recover from the Covid pandemic's devastating impact, the countries that will be most successful in restoring the health of their populations, their economies, and their wider societies will find accomplished guides to new and better futures in our higher education institutions."