21 October 2023
Is India's National Innovation System on the Cusp of a Change?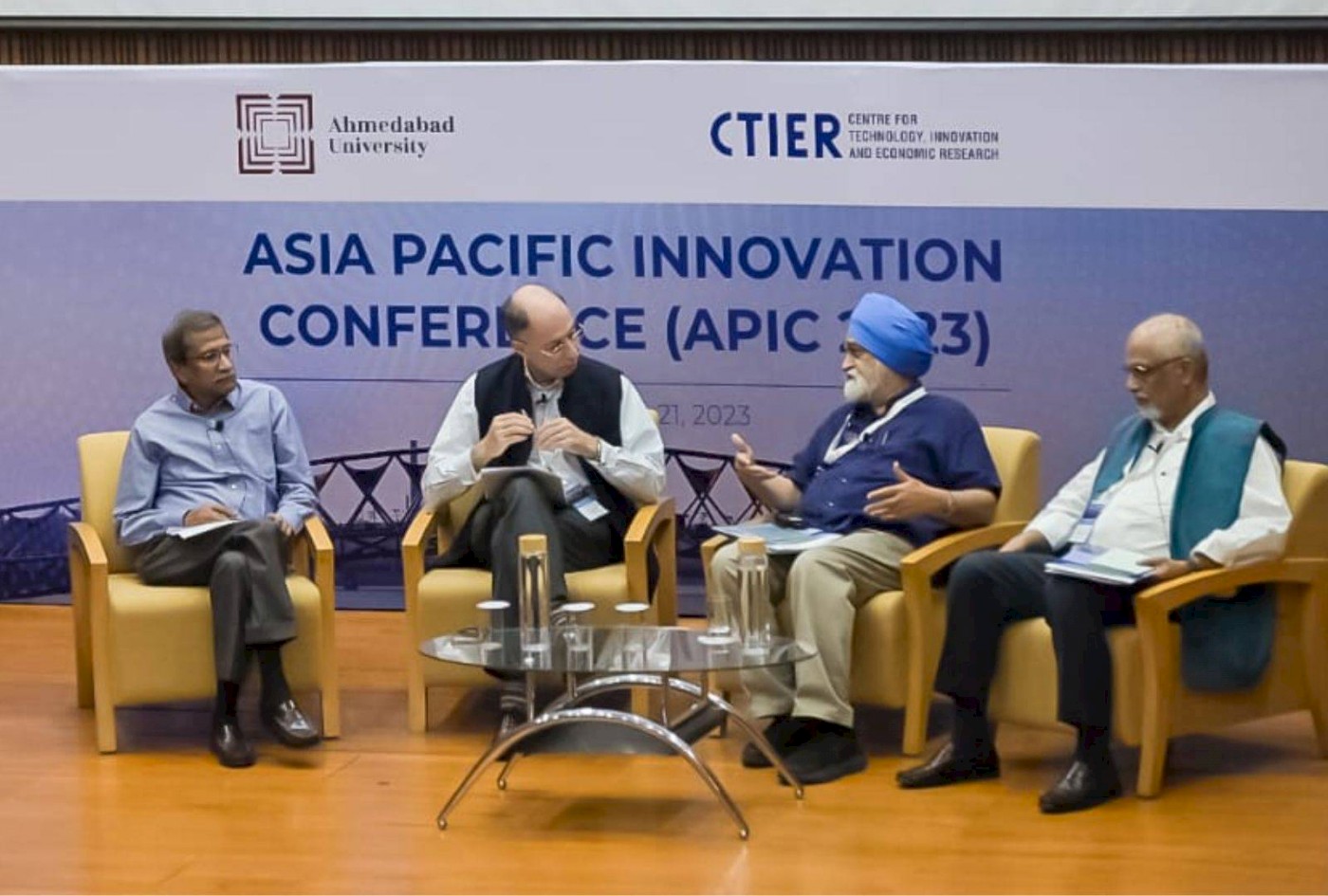 Global crises, such as climate change, pandemic, urbanisation and many others, require deep science and technology interventions. This is a moment for Indian Science to play a significant role at the global scale. It would require deep scientific capabilities, building our science infrastructure to meet these requirements and investments by both government and industry in the national innovation system.
At the inaugural panel discussion of the Asia-Pacific Innovation Conference 2023, held at Ahmedabad University, on the Need for India's 1991 Moment for Science and Technology Reform, Naushad Forbes, chair of the panel, talked about whether India's national innovation system is on the cusp of a change and why investment in research, development, and innovation must greatly matter to India. The panellists were Montek Singh Ahluwalia, a key figure in India's economic policy and reforms since the 1980s and the former Deputy Chairman of the Planning Commission of India; T N Ninan, one of India's leading commentator on the Indian Economy and the former Chairman of Business Standard Limited; and Pankaj Chandra, Vice Chancellor, Ahmedabad University.
Dr Forbes, the Co-Chairperson of Forbes Marshall, Member- Board of Governors, Ahmedabad University, and Chairman, CTIER, said in his keynote address, "India has more skill and capital intensive industries than countries with similar per capita GDP. This means our industries must innovate more. Lessons from China and South Korea can help us rapidly deepen our research and restructure our institutions."
Mr Ahluwalia spoke on the possible watershed movement for India's research and development in the context of 1991 economic reforms, "In 1991, we had a first-rate microeconomic crisis. People knew that they had to do something different. The government used that public awareness not just to stabilise the economy but also to push through a series of reforms. There was also an awareness that India was falling behind compared to other East Asian countries. This combination led to a deeper set of changes that happened. In research and innovation, we must look at the significant gap between our performance and the rest of the world." He mentioned that, in Mr Manmohan Singh, the country also had a first rate economist as our Finance Minister.
Regarding whether we can create a science and technology crisis to bring out changes in innovation and research, Mr Ninan said, "We have to differentiate between overt crisis and silent crisis. We don't need to create a crisis because India has several silent crises. For instance, we have gone from water-rich, to water scarce to water scanty, and we use 80 per cent of this water in agriculture, so there is also a need to develop less water-intensive crops. Silent crises like these call for research and innovation driven solutions."
Professor Chandra emphasised that the Indian higher education system needs dramatic reform - autonomy to make decisions internally, quality science and technology infrastructure in small colleges and state level public institutions, and access to high-quality faculty resources will go a long way in building an environment of excellence in science.