Civic Crowdfunding for public projects definitely has some valuable strengths like a high rate of process democratisation, high involvement of social players, and a user-friendly structure, among others. However, can it be used effectively to generate interest among the public who, as taxpayers, are not sure of how their money is utilised? Hetal Jhaveri, Assistant Professor, Amrut Mody School of Management, weighs the options.
Crowdfunding solicits funds from the general public to support an idea, create projects, or fund businesses. It directly connects people with money to the people who need it. In a way, it is the crowd's collective pocketbook. The concept of collective funding of a project by a group of people is as old as time.
Civic crowdfunding (CivCF) refers to the direct funding of public, civic, or community projects benefiting from government funds, assets, or sponsorship. The financing of the Royal Albert Hall (London) and Pedestal of the Statue of Liberty (New York) at the end of the 19th century can be considered among the oldest records of the use of crowdfunding for a government project. Civic crowdfunding is not a recent phenomenon, but using online platforms for such fundraising is an innovative form. In 2009, ioby (in our backyards) emerged as the first such platform for CivCF. CivCF mechanisms have made it possible to support diverse public infrastructure projects like public parks, auditoriums, roads, etc., initiated by local authorities, state governments, or central governments. Multiple such examples of citizen-funded civic projects are found across the world.
CivCF offers a mechanism for boosting the public-private partnership, participatory budgeting approach by empowering citizens and enabling high levels of transparency over the budgeting and financing processes (Fig. 1).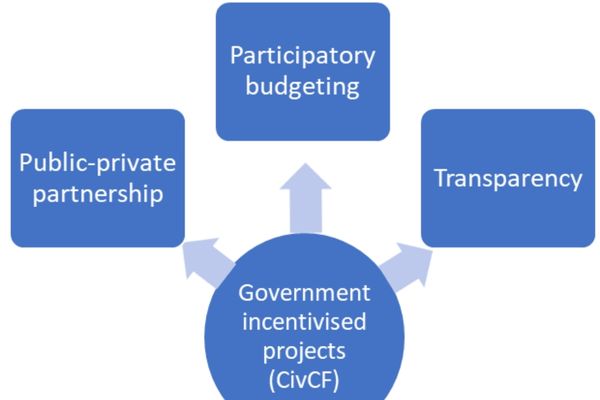 In the same way that modern-day crowdfunding uses technology and raises funds through online platforms, CivCF also uses online platforms. Spacehive (UK), and ioby (USA) are well-known active CivCF online platforms. While Spacehive has raised GBP 26 million for 2,000 projects with a 55 per cent campaign success rate, ioby has supported 3,430 projects to raise USD 18 million with an average donation size of USD 50. At the same time, some platforms, like Citizinvestor and Patronhood, are no longer involved in CivCF activities.
CivCF is not a common route for financing public/community projects by governments in India. The state, as well as central governments, undertake various developmental projects every year. Given the high cost of treatment, resource constraints, and competing health priorities, it is becoming increasingly difficult for governments to fully finance various public health projects. To fill this gap, digital platforms for individual, corporate and other donors have been created by the Government of India to facilitate voluntary donations. One such scheme for treating rare diseases was launched in August 2021 (https://rarediseases.nhp.gov.in/). The digital portal was designed, developed, and hosted by the Centre for Health Informatics (CHI) of the National Health Portal (NHP), but it received a very poor response. Even after a year, it could raise a meagre INR 1.8 lakh. Another such scheme, 'Ni-kshay 2.0' (https://www.nikshay.in/), was launched on Sept. 9, 2022, to support people affected by TB and make India TB-free by 2025. Fortunately, it got 50k+ registrations as Ni-kshay Mitra (who are willing to extend financial help for such patients). A few other state governments, like Kerala and Tamilnadu, also launched health and laptop support schemes, respectively but could not get the expected support. 
Though the country has quite a few online portals for crowdfunding/crowdfunding platforms (CFPs) for treating patients with disabilities or diseases, for example - Ketto, Milaap, and GiveIndia; these CivCF are different from them on various grounds. CivCF is a government-initiated, partially government-financed, general project-based crowdfunding. In contrast, private CFPs float campaigns for individual patients on a case-to-case basis without any contribution commitment from the platform.
CivCF definitely has some valuable strengths like a high rate of process democratisation, high involvement of social players, user-friendly structure, etc. At the same time, one should not forget that it requires a strong leadership role on the part of public administration, transparency in operations, as well as a good level of IT literacy among interested citizens to ensure at least a reasonable number of citizens find such proposals worth contributing. Here, the primary concern from the taxpayers remains, 'While we are not sure of what's happening with the money we pay as taxes, how can we ensure the justifiable use of such contributions?'
While the response is not so positive, can the government link such contributions with CSR activities to get more corporate assistance? In a way, governments are trying to be more responsive to the needs of citizens for public services and projects through this new route. It can be possible only if there is more transparency in budgeting and financing.