Looking Back Through the History Literature Festival at Ahmedabad University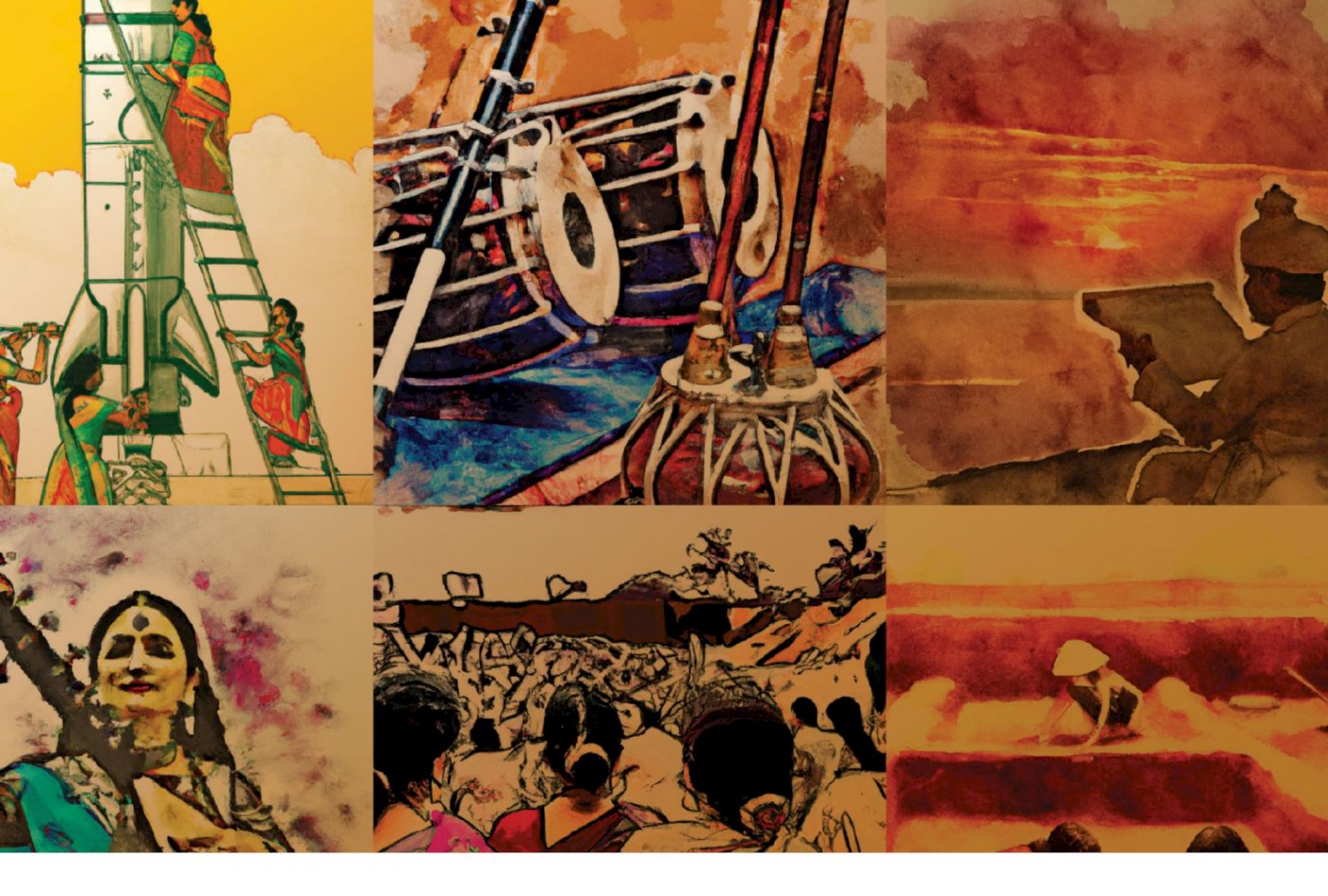 Last month, the History Literature Festival hosted on Ahmedabad University's Campus explored how the histories of science, food, music, languages, and architecture crossed paths through India's long journey. Here's a look at the reflections on the past by faculty at Ahmedabad University.
Rahul Sarwate, Assistant Professor, School of Arts and Sciences, on the relationship between English and Indian languages
"The relationship between English and Indian languages has long been a matter of deliberation within both the academic and the popular realms. There are at least two main considerations while I seek to reflect on this today. Firstly, English, which was transplanted in India via colonialism, is not simply a language in the Indian context; it represents a certain social and economic class in India. Historically, Sanskrit and Persian performed the function of the cosmopolitan, free-flowing, itinerant language in India, a role that has now been appropriated by English, while, most modern Indian languages like Gujarati, Telugu, Marathi – delimited by their regionality – are the vernaculars. The relationship between English and these various Indian vernaculars has been asymmetrical and unequal, to say the least. This asymmetry is ever-present in India. Consider the prestige accorded to literary production in English in comparison to Indian languages, or the status of Indian vernaculars in elite places like five-star hotels in the country. The power of English is at your face on the social level. English can open and close doors for you. It provides or denies significant cultural capital in a post-colonial society like India.
Secondly and more importantly, English is a prerequisite in almost all forms of higher education. During the colonial era, there were many unsuccessful attempts in various Indian languages to invent vernacular vocabularies for science and technology studies. Such attempts in Humanities and Social Sciences were also found to be limited. And it seems now that this project has been abandoned. The other aspect of this inescapable prism of English is that other Indian languages are increasingly seen as unimportant and insignificant, either as knowledge-producing or as employment-generating spaces. And thus, English is increasingly being adopted as a medium of instruction for education. The consequences of this are too many to summarise here, but at the very least, it is significantly narrowing our ability to approach the multidimensionality of our world.
Does this mean that we must abolish the use of English? By no means must it be abandoned. Rather we need to correct the asymmetry in the relations between English and Indian languages. And perhaps the best way would be to reinvent our historical ways of being Indian, by being multilingual."
Tana Trivedi, Lecturer, Amrut Mody School of Management, on her exhibit and discussion on the Pattani Archives
"Can archives become the means to interpret historical facts creatively? What happens when generation Z dives deep into history? Archives are critical story-telling tools; they are the windows that not only unlock the past but also provide a prescription for understanding the present and envisaging the future. Sir Prabhashankar Pattani and Anantrai Pattani the erstwhile diwans of the princely state of Bhavnagar, during their 40 years of service in pre-independent India, created monumental correspondence related to state and national politics, state administration and family matters. Bequeathed to their subsequent generations, about a lakh of papers found themselves bundled up in an old cupboard in the ancestral haveli at Bhavnagar. This was until one of the great-granddaughters, along with a scholar and a conservator, opened them and realised the significance of preserving the inter-generational archives not just physically but also of digitising them as a means of conserving them for posterity and research.
Through our exhibition at the History Literature Festival, we brought out exciting stories of the intergenerational archives and produced interesting outcomes such as spatial documentation, oral histories, cultural mapping, website creation, etc.
That laid the ground for a very engaging discussion on Tools of History: How Do We Know What We Know with two archaeologists – Vasant Shinde and Disha Ahluwalia. We uncovered some interesting facts about civilisations and the need to study them in contemporary times. The implications of archaeological findings on matters of race and identity are significant, and they bring to light the interconnectedness of human evolutionary history. On the other hand, archives shed light on more modern aspects of history, politics, society, and culture. Unexplored archives, such as those from the princely states of Kathiawad, can disrupt the existing narratives about the state and nation by facilitating newer ways of thinking about both. Importantly, the conversation also established the need for disciplines to engage more closely with each other instead of working in silos, thus promoting interdisciplinary approaches to research."
Aparajith Ramnath, Associate Professor, School of Arts and Sciences, on the relationship between science and technology and India's recent history
"Our panel, which included historians John Mathew and Dinesh C Sharma, discussed the role of science and technology in the creation of modern India, both in the colonial period and after Independence. We spoke about the special meanings and connotations borne by the terms science and technology. John Mathew discussed how the discipline of natural history (the study of flora and fauna) developed in India, including the role of colonial institutions and officials along with local participants. He also spoke about his work on the history of pandemics like the global influenza of a century ago, and what lessons it might hold for the present. Dinesh C Sharma spoke about the role of science in the nationalist imagination during the 1940s and 1950s, and how the institutions of that time laid the foundation for later developments in computers and IT. He also discussed his recent work on innovations–technological and otherwise–that have helped build today's India. Finally, the panel discussed examples of how various media and art forms might be harnessed to explore aspects of science and technology."
Tejaswini Niranjana, Director, Centre for Inter-Asian Research, on the history of Hindustani music from the late 19th century to the present through the lens of tradition, colonialism, and cinema
"My discussion with Srijan Deshpande, classical vocalist and archivist of Hindustani Raga Sangeet, and Amarendra Dhaneshwar, HIndustani singer of the Gwalior gayaki and music critic, explored the history of Hindustani music from the late 19th century to the present through three axes, among other things. We dwelled on the creative conflicts that musicians have had in the process of learning, teaching, and practising; on order and discipline on the one hand and freedom and flexibility, on the other; and on how advancement in technology has impacted music. We analysed the phenomenon of musicophilia in colonial and post-colonial times through the history of Bombay/Mumbai, and explored the love for music in the cultural melting pot that Bombay was and remains. We explored the deep connections between raga music and music composed for the cinema by tracing how the Hindi film song has evolved. Film music has, after all, contributed widely to spreading musical literacy instead of being controlled by the elite few."
Shishir Saxena, Assistant Professor, School of Arts and Sciences, on Ethics and Epics: History of Indian Philosophy
"The word itihas in itself is a simple translation of the word history, and it is overused to a large extent. But in its technical usage, itihas is not even a word; it is a phrase. It refers to this large epic, Mahabharata. It is important to know because this is the difference between Mahabharata and Ramayana. Ramayana is the adi kaavya, which means that, prior to it, there was no kaavya or poem. It is a vast body of work. There are about 25-odd Ramayanas in Sanskrit itself, not retellings but vary significantly in depicting the same episodes. Besides, there are so many in innumerable different languages. Each of these has had a significant influence on the subcontinent. Then there are other Ramayanas – the Malay and Thai Ramayana, for instance. So there is a tremendous influence on intellectual traditions due to these.
While discussing ethics and the epics, we must also understand that Indian philosophy is very distinct from the epics. Also, Indian philosophy is not the Bhagavad Gita or the Ramayana. They differ in scope. The scope of epics was ethics. They answered the question that in life, in the midst of all the grey, how does one live? They discussed the framework of purushartha: dharma, artha, kama, and moksha. It was a charged-up discussion with acclaimed dancer and public intellectual Mallika Sarabhai and renowned author Ami Ganatra who had different approaches to these timeless works."