Heritage and the Pandemic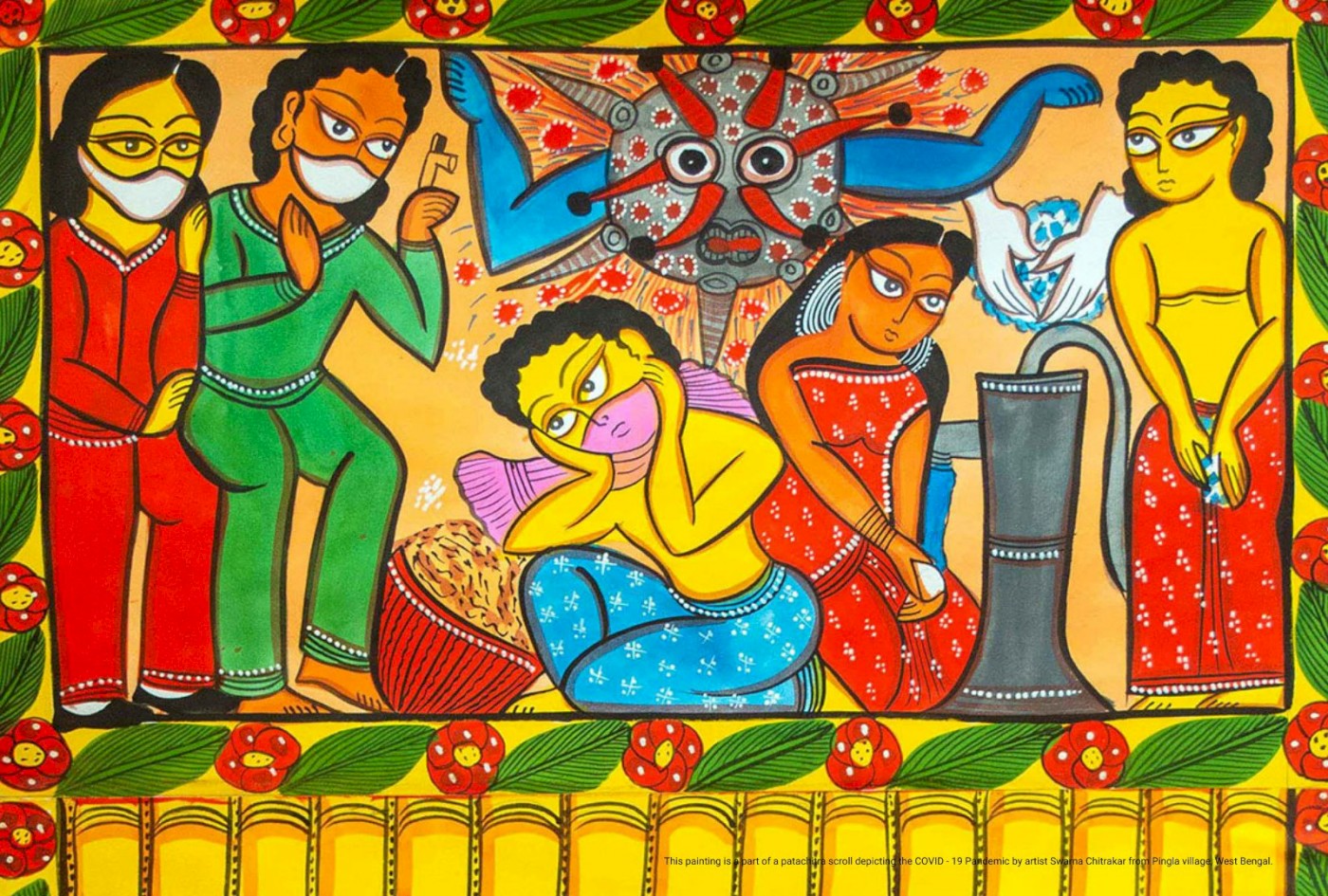 Supported by the International Information and Networking Centre for Intangible Cultural Heritage (ICHCAP), a UNESCO category 2 Centre in South Korea, Ahmedabad University's Centre for Heritage Management evaluated the effect of the pandemic on heritage in its 4th Annual Conference on Heritage Management Practice and Education. The Stepwell spoke to the Centre's Director, Neel Kamal Chapagain, about the intersections of heritage and COVID-19 and mapping pandemic-related memories.
What were the key challenges that heritage and heritage management faced due to the pandemic, and how were they managed?
First, we must recognise that heritage is not just about monuments and antiquities. It is also about the vernacular structures, settlements, cultural traditions and practices, crafts, a range of skills and other creative professions, knowledge, and so on - most of which are considered living heritage. So, many of them are part of everyday life in society. The impact of the COVID-19 pandemic can be seen in multiple ways. When the restriction on movements caused heritage sites and institutions to shut down, the prolonged closure impacted some of such institutions, like museums, in such a manner that many of them were eventually shut down permanently. Other sites and institutions ended up accumulating so many issues of maintenance, upkeep, and financial deficit that they are still struggling to catch up.
Apart from the institutional side of it, many of these sites and institutions were also connected to people in multiple ways. Depriving people of engagement with such sites and institutions during the pandemic restrictions impacted people's wellbeing. On the other hand, many of the living heritage were intricately linked to livelihoods and socio-cultural wellbeing. Hence, many individuals and communities whose livelihoods were based on these heritage practices were significantly impacted. The impact was not only in terms of livelihood but also the loss of such heritage practices.
However, many heritage practices, including crafts are not properly accounted for in the official census or any such recognisable database. This has been why many heritage-based livelihoods are not properly accounted for during the government's support programmes. The keynote talk by Dr. Mallika Sarabhai on the first day of our Conference touched upon this, particularly from the performing arts sector.
On the other hand, there have been instances where heritage has actually offered a support system during such difficult times. These were due to the wisdom in indigenous knowledge systems and cultural practices, the refuge offered by various cultural systems to bring communities together and offer resilience to each other, and so on. During the conferences, some of such cases were shared by colleagues from different countries and different parts of India. Dr Eric Zerrudo from the Philippines highlighted how some of the indigenous communities in the Philippines did have traditional practices of isolation on such occasions. Certain cultural symbols, like tying up some plants, would indicate to visitors that they were not supposed to enter an area. Many papers also highlighted the challenges faced at the community and institutional levels. Several presentations from India highlighted the challenges faced by museums and pilgrimage places facing the consequences of not being able to host visitors. Educational institutions and practices were impacted. Still, they also creatively switched to a fully online mode to start with and to a hybrid mode as the restrictions were eased partially.
On the other hand, the keynote lecture by Professor A Damodaran, the author of the recently published book 'Managing Arts in the Times of Pandemic and Beyond', highlighted the good practices observed in some of the traditional cultural institutions that were able to embrace digital technologies to thrive even during the pandemic times.
The pandemic triggered several digital interaction options, but how effective is communicating and preserving heritage digitally?
Yes, the realisation of the potential of digital technologies and being comfortable with them was perhaps one of the positive outcomes of the recent pandemic. In the heritage sector, digital technologies were being used before the pandemic, including digitising objects and manuscripts and digitally recording other heritage forms and processes. These became more of mainstream practice due to the pandemic and offered a way of distantly engaging with heritage practices. While such employment of digital technologies was an optional thing before the pandemic, they have become part of the mainstream practice today. Many sites and museums have offered virtual tours and engagement options, and livelihoods have also been connected through digital marketing and distant engagements. Rather than thinking about whether they have been effective, we need to consider how best to utilise these mainstream technologies to connect to people and enable better public engagement with various heritages. Of course, this comes with its own set of ethical and social issues that we must be aware of, but the digital options today are not any more optional.
Talking about the narratives that emerged during and post-pandemic, how do we utilise them best, and how do we memorialise them?
The first thing is that the two-plus years of the pandemic experience are worth documentation and interpretation to memorialise them and, more importantly, to ensure that we do not forget the lessons learned the hard way during those times. It was also a historic time in its own right, with significant achievements in the scientific and medical fields that they could develop vaccines in a comparatively short span of time. Perhaps this showed rays of hope that humans can still do miracles if a culture of collaboration is pursued. Also, the pandemic uncovered many aspects of resilience that communities across the world had, in the way they supported each other, that must be celebrated. Yet, there were also instances where the pandemic revealed the fault lines of our society and how deeply we can be selfish in crisis times. This must be reflected upon. These are just a few of the ways in which we must reflect on the recent pandemic. It seems like we are already forgetting such a recent history. Hence, it is essential that the experience, achievements, and difficulties that we shared must be acknowledged in systematic ways to pave for a better future for all. The memorialisation can be a way to ensure that we work towards a better future based on what we collectively went through during the pandemic times. You may remember the performance by pattachitra artists Swarna and Shambhu Chitrakar from West Bengal, who were invited to perform at a special session in the Conference. They had a special pattachitra painting depicting the frames reflecting the experience of COVID-19 along with messages on basic behavioural practices to fight the pandemic crisis. It was a very fitting cultural practice to be a part of the Conference. We were able to see a traditional art form responding to the contemporary crisis by painting the scroll with COVID-19-related scenes and then singing to recount the experience along with medical tips to prevent the transmission of the virus.
There was also a workshop on 'Intangible Cultural Heritage and Community Resilience' right after the Conference. Could you tell us about it?
Yes, this was a related workshop we had added to the agenda this year along with the Conference. It was a follow-up to last year's online workshop on Intangible Cultural Heritage and Sustainable Development. The theme of intangible cultural heritage has been a focus area for us in the past four years since the formation of the Asia Pacific Higher Education Network on Intangible Cultural Heritage. This network is supported by the UNESCO Bangkok office and a UNESCO Category 2 Centre in South Korea, by the name International Information and Networking Centre for Intangible Cultural Heritage (ICHCAP). We were one of the founding members of this network, and I have been serving as its bureau member since the beginning. Last year, ICHCAP collaborated with us to offer the first online workshop. Seeing its success and importance, we were asked to offer another edition of the workshop, and we felt it would be suitable to interlink with the Conference. So, the theme for the workshop 'intangible cultural heritage and community resilience' was decided to relate to the conference theme. We had graduate students and young professionals from India, Nepal, and the Philippines participate in this workshop. Thus, it complemented the conference discussion on the reflections on the pandemic experience to explore how we can use those lessons to work towards building community resilience by tapping into living heritage or intangible cultural heritage. Through this series of workshops, we are also exploring effective pedagogy for intangible cultural heritage education.
Could you give your perspective on challenges to the pedagogy for intangible cultural heritage?
Intangible cultural heritage (ICH) is mostly about people and their cultural practices, traditions, knowledge, and skills; and is also known as living heritage. While one could study them in a classroom setting, it is much more effective to study them in real life, on-ground, or within the communities of practice. Hence, ICH pedagogy needs to be field-based. Teaching and learning about ICH are also integrally connected to the ethics of learning and doing heritage. While digital technologies may support such learning processes, we realised during the pandemic restrictions that learning ICH virtually may not always be effective, particularly those aspects that need to be understood in the community context in real life. Hence, this one aspect was a challenge for us to deal with during the online mode we had to resort to. However, there have been lessons learnt as well, which we are now interested in embedding into our regular teaching and learning processes.