Diana Award for Green Warrior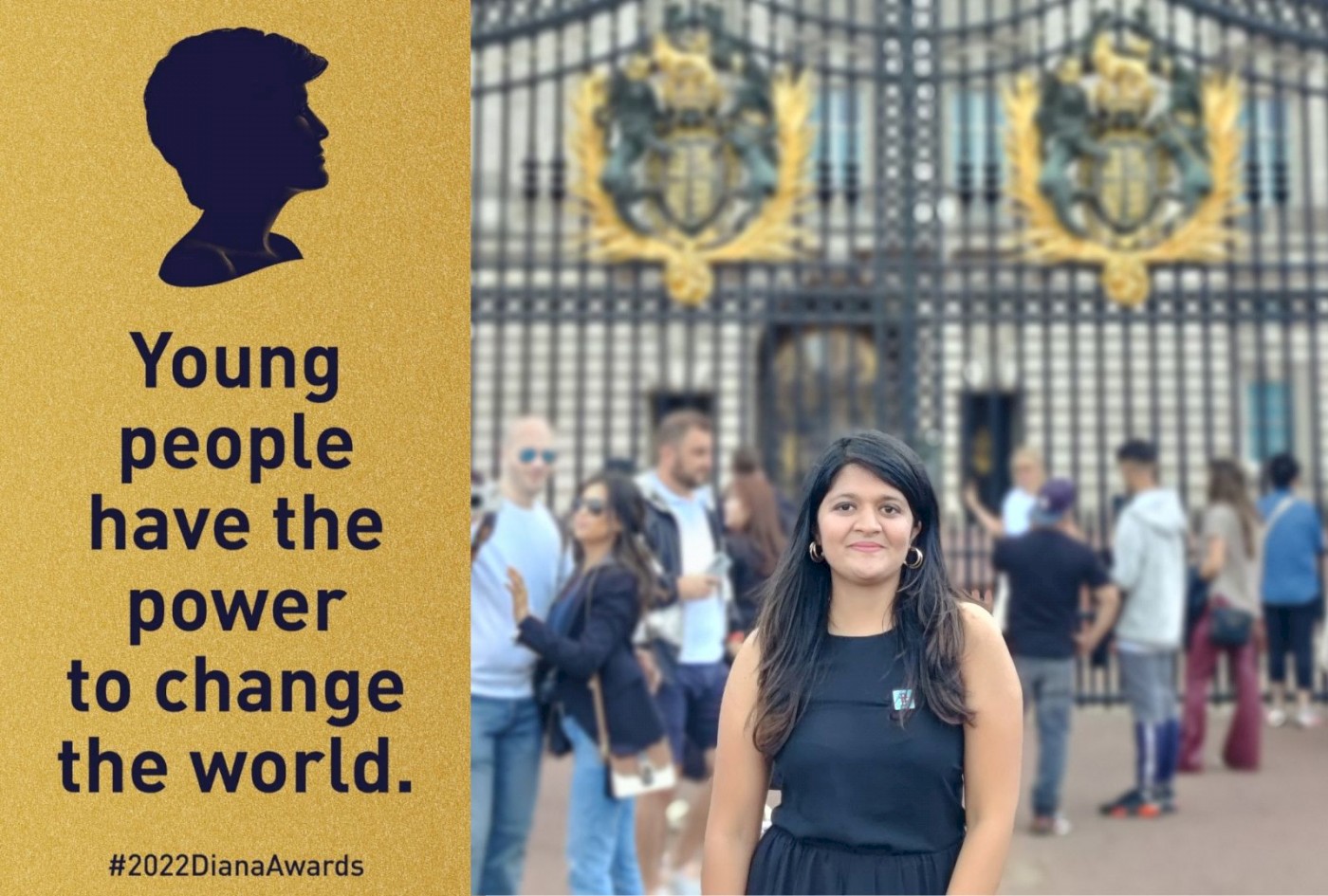 It was a moment of incredible pride for Ahmedabad University as our alumna Hasti Modi was honoured with The Diana Award 2022 for impacting social change in the area of environment and sustainability through innovation and leadership. Established in memory of Diana, Princess of Wales, The Diana Award is the highest honour that any young person between the age of 9 and 25 can get for their social action or humanitarian work. Hasti received the Award for her relentless efforts in supporting sustainability by mobilising the community, and leading campaigns for planting trees and nurturing trees.
Hasti is pursuing her two-year Master of Public Administration (MPA) at the London School of Economics and Political Science (LSE). But her incredible journey leading to The Diana Award started in the small Gujarat town of Bhavnagar. She was only 15 when she founded an NGO in her hometown, Bhavnagar, mobilising over 100 community volunteers to plant and nurture tree saplings in the courtyard of a church.
She went on to study BBA at the Amrut Mody School of Management, Class of 2020. Her volunteerism and intellectual excellence were also recognised at Ahmedabad University, where she holds an impeccable academic and leadership record.
This inspiring youth leader's plans include pursuing her sustainability drive in the world community. "I would like to make my initiative of planting and nurturing trees a global campaign and focus on its local implementation," says the Diana Award recipient.
Sustainability Efforts
Planted and presently takes care of more than 35,000 trees in her hometown, Bhavnagar, along with the Green City team, another tree lovers' organisation.
Actively advocates, raises funds for, and conducts and manages tree planting and nurturing drives in India, France, and the UK.
Recently led a team of 20 university volunteers at a conference on carbon-negative food systems hosted by the 'Global Alliance for a Sustainable Planet' at 'COP26' in Glasgow.
Planted and currently nurturing about 500 tree saplings in London.
Introduced the Environment Panel to facilitate discussions on Environment on the LIF platform, LSE's India-centric student-led conference.
Worked passionately as a core committee member of the Environment Club at Ahmedabad University.
Academic Achievements
Gold Medallist at Ahmedabad University (2019-2020)
Best Student Award for Outstanding Performance and Impact on Community, Ahmedabad University (2019-20)
University Topper (2019-20)
Ranked first throughout her undergraduate studies
Recognised as a Distinguished Alumni of Fatima Convent Primary School in 2020
Received an Honorary Mention by the Rennes School of Business in France in 2019 for securing the highest grade in all subjects taken while pursuing its one-term semester exchange programme
About The Diana Award
The Diana Award is recognised as a great merit, encouraging agency among the youth. The panel holds those nominated to high standards of impact created in five key areas - Vision, Social Impact, Inspiring Others, Youth Leadership, and Service Journey. Tessy Ojo CBE, CEO of The Diana Award, says, "We warmly congratulate our new Diana Award recipients from the UK and across the world who are changemakers for their generation. It is especially poignant as we remember Princess Diana twenty-five years on. We know by receiving this honour they will inspire more young people to get involved in their communities and begin their own journey as active citizens."
Apart from the honour and title received for life, The Diana Award recipients have access to a unique development programme that aims to better their already proven capacity for innovation, leadership, and social change through access to resources, opportunities, and training both, in-person and online. Those based in the UK are also presented with an invitation to Althorp House, Princess Diana's childhood home.