10 June 2022
Siddhartha Kadia and Anjou Parekh Celebrate Parents by Instituting an Endowment at Ahmedabad University to Advance Research and Build Next Generation Leadership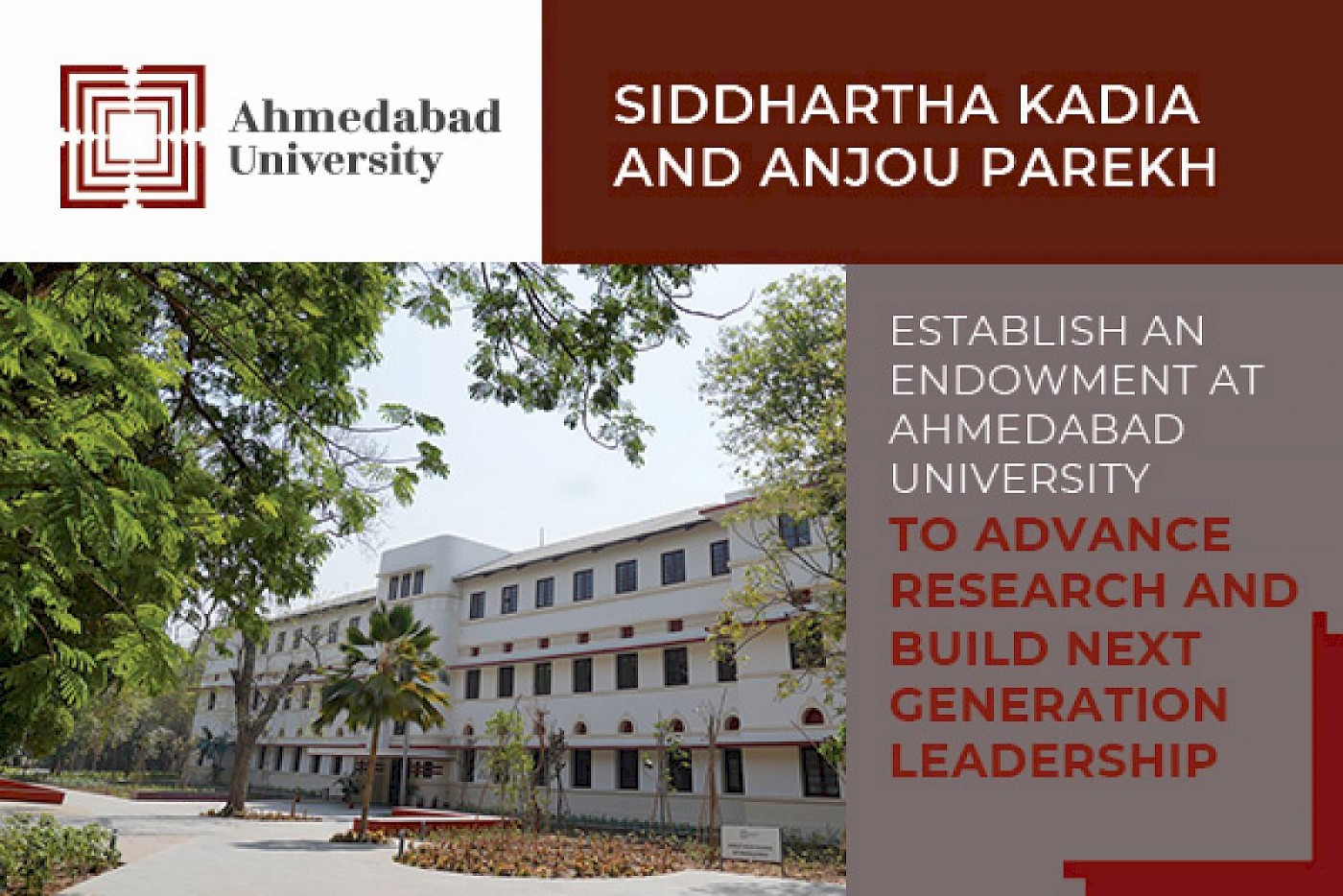 In honour of his parents, Rasila and Chandrakant Kadia, US based executive, scientist and entrepreneur, Dr Siddhartha C Kadia and his wife Anjou Parekh have established an endowment to support advancement of research and sustainability at Ahmedabad University. The endowment will annually support the following major initiatives that will help build global expertise in India:
The Rasila and Chandrakant Kadia Endowed Visiting Professorship has been instituted to bring a top global scholar to the University.
The Rasila Kadia Excellence in Research Award supports the best doctoral student in building deep capabilities by providing global exposure through international conferences or workshops.
The Chandrakant Kadia Award of Merit recognises the best graduate management student who has a strong commitment towards sustainability.
Dr Rasila C Kadia was born in Borsad in 1941, and has spent most of her life in Ahmedabad. She has been a lifelong student and a researcher, continuing to conduct scholarly work even at the age of 80 today. She received her PhD in 1981 in Gujarati Literature and in fact was pursuing her second master's degree in Prakrit in 1990-92, while her son was pursuing his college studies at Gujarat University. She spent her professional years as a high school teacher at Mohinaba Kanya Vidyalaya. She has published many books and compilations of her research/scholarship. She has also published translations/interpretations from old manuscripts and from Kannada language.
Mr Chandrakant K Kadia was born in Ahmedabad in 1942, and has spent all of his life in Ahmedabad. He was a professor of Gujarati Literature in Amdavad Arts College, and also served as the Rector of LR Jain Boarding. After his retirement, he has dedicated his life to serving others, through his work in the community in Ahmedabad as well as writing in partnership with his wife, Rasila. His memoir, Amaro Shekh No Pado, has won awards from Sahitya Academy of Gujarat Government, and Gujarati Sahitya Parishad. The book brings to life the innocence and elegance of culture of 1950's walled city of Ahmedabad and is an important contribution for understanding of the early post-independence years of the historic city and its heritage. Mr Kadia, along with Sri Shrenikbhai Lalbhai were founding trustees of Vatsalaya Nidhi, a trust established to serve the elderly in need, which was inspired by a book Mr Kadia wrote (Khander Ma Searchlight).
Mr and Mrs Kadia have lived their lives with principles common to their generation, strong beliefs in Gandhian ideals, with incredible simplicity for the modern times, and valuing education and experience much more than material wealth. It is their example and values that has allowed their son to achieve his dreams, and the endowment is in honor of their lifelong contribution to the city they love—Ahmedabad and for the activities they dedicated their lives to—Education and service.
Their son, Siddhartha grew up in Ahmedabad, literally on the grounds of what is now Ahmedabad University and has maintained deep connections to the community in Ahmedabad that was so instrumental to his personal and professional success. He received his Bachelor of Electronics and Communications Engineering degree from LD College of Engineering, a Master's degree from Rutgers University and a PhD in Biomedical Engineering from Johns Hopkins University School of Medicine. He currently serves as the CEO of Life Sciences Technology company, Berkeley Lights Inc. and in addition serves on the boards of several public and private companies. Siddhartha has lived and/or worked leading teams in the US, Japan, China, the UK, Australia and Europe. He was formerly President and CEO of EAG Laboratories and has also worked as a management consultant at McKinsey & Company.
Vice Chancellor of Ahmedabad University Pankaj Chandra said, "The University is grateful to Siddhartha and Anjou for helping us build deep capabilities in India. India needs to develop higher education in its own imagination and must develop knowledge to solve our own challenges. The endowment will allow us to advance such knowledge and help prepare the next generation of leaders from Ahmedabad."