Total net anthropogenic Greenhouse Gas (GHG) emissions have continued to rise during the period 2010–2019, as have cumulative net CO2 emissions since 1850. Climate change and biodiversity loss are global challenges that are affecting the wellbeing of the planet and the people. A clear response from governments, organisations, and businesses is required. Ahmedabad University is confronting these challenges through teaching and research and by transforming these into actions towards a sustainable world.
The University has a deeper mandate to actively advance the social, economic, and ecological developments of local, national, and international communities by educating and empowering students to become leaders that will lead the future towards sustainability. The centrepiece of Ahmedabad University's Sustainability Strategy is to act as a platform to learn, practice, and advance sustainability. The Strategy builds off this framework and is the next step in the University's evolving commitment to sustainability. It is our pathway for building and operating a more sustainable Campus.
Reducing energy consumption and emissions is one of the University's top priorities, and we aim to set and achieve ambitious targets through state-of-the-art technology in energy efficiency and management and renewable energy. Currently, the University measures Scope 2 emissions from electricity.
7067 GJ
Total Energy Used from Low Carbon-Energy Sources
216 KW
Installed Rooftop Solar Photovoltaics (RSP) in 2022
1 MW
University Generates Solar Power per Day
INR 3.5 million
Yearly Savings on Electricity Bills
The University follows the standards of the American Society of Heating, Refrigerating and Air-Conditioning Engineers (ASHRAE) for its Heating, Ventilation, and Air Conditioning (HVAC) systems.
Ecosystem and Biodiversity Mapping and Campus Landscape Design
Ahmedabad University is centrally located in an urban environment, creating an interconnected ecosystem for local flora and fauna. It protects, improves, and enhances the green spaces and the ecosystem around it to address personal wellbeing and regional biodiversity. The University has implemented a strategic plantation of flowering trees and plants to improve species' biodiversity on Campus. Our students along with Professors Minal Pathak and Shomen Mukherjee, have mapped the biodiversity of our campus. They have identified 64 varieties of birds, 22 varieties of butterflies, 5 varieties of amphibians, 4 varieties of reptiles and 2 mammals i.e. Five-striped Palm Squirrel, Northern Plains Grey Langur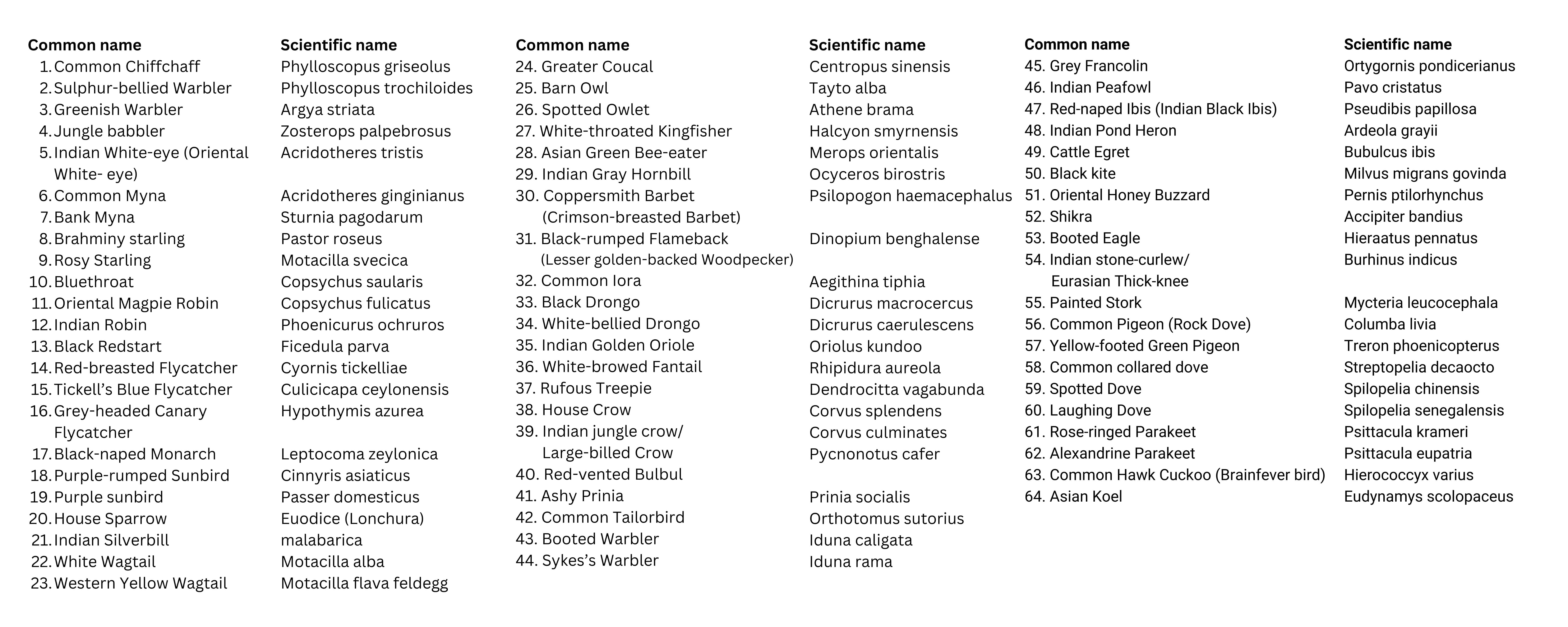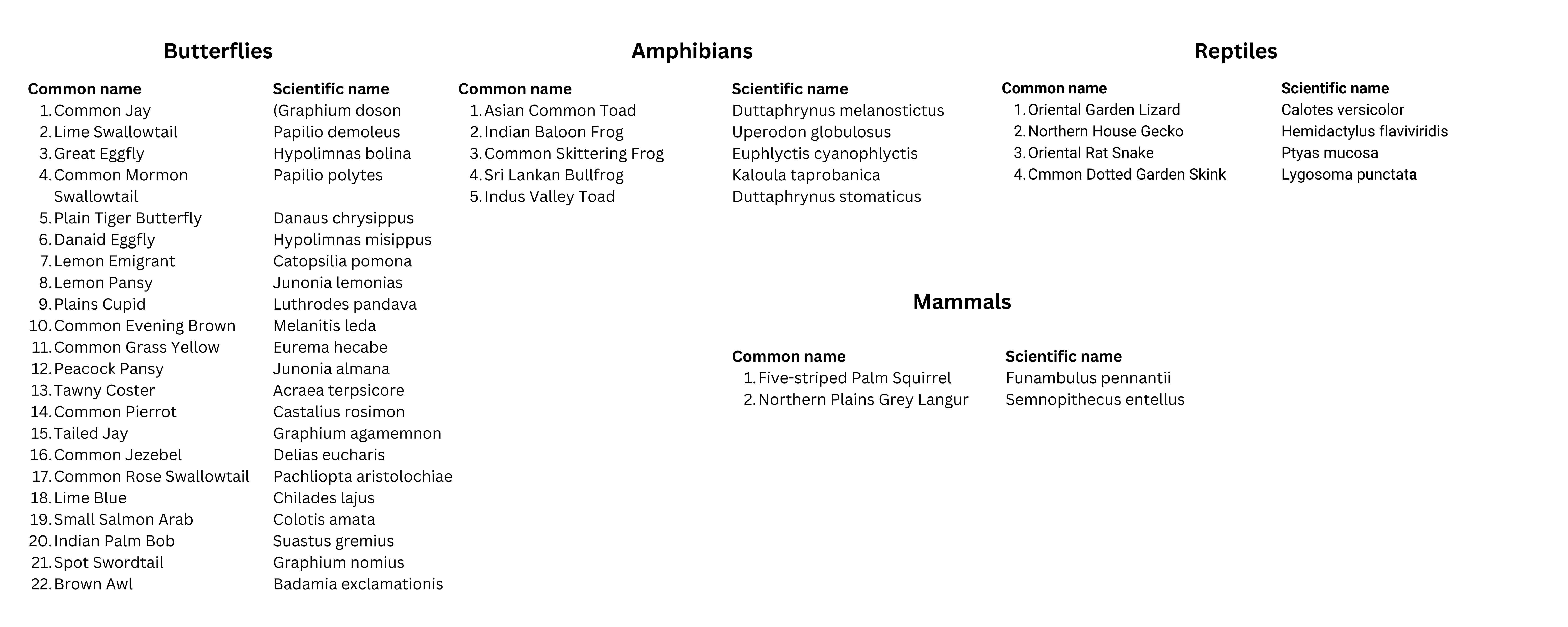 Arboretum
The University Arboretum project was initiated in April 2018. In addition to the 722 existing trees that the University has pledged to retain during future expansion, we have additionally planted 800 trees covering an area of around 10,442 sq m (46m x 227m).

Water and Wastewater
All the buildings of the University are equipped with an efficient rainwater harvesting system. We have developed and connected 9 recharge wells on Campus out of a total of 45 recharge wells. We have created one stepwell (that functions as an amphitheatre) and connected it to several percolation wells. During the monsoon, this stepwell acts as a rainwater holding tank, helping it penetrate into 6500 square metres of ground area. This reduces our reliance on the municipal water supply, thus contributing to emission reductions and helping achieve our sustainability goals. Waterflow aerators have been installed in all washroom taps, effectively saving 55% of water. Recycling wastewater has simultaneously reduced the net consumption on Campus, contributing to water conservation. We have a Sewage Treatment Plant with a daily capacity of 2,00,000 litres operational on Campus. Phase 1 of the Drip Irrigation project, envisaged for the University landscape, has been initiated. This is estimated to save approximately 1400 litres of water daily during summer.
Buildings, Transport, and Waste Management
Buildings
All buildings have double-glazed windows that help insulate against heat and cold throughout the year. This enhances thermal comfort and improves energy efficiency.
Our upcoming constructions will focus on energy efficiency based on LEED green building certification.
Older buildings are being retrofitted with state-of-the-art technology to improve the overall lifecycle of the structures.
100% of the existing light fixtures are highly efficient Light-Emitting Diodes (LED).

Transport
The University aims to reduce its carbon footprint by reducing private transport use within the Campus by providing shared transport facilities. Through campus design and infrastructure, the University endeavours to improve walkability.
Campus Shuttle Bus Service: A shared transport facility has been initiated for faculty and staff to reduce carbon emissions. Signages indicating bus stops are placed on the University Campus to assist community members.
Pedestrian-Friendly Campus: The University has several dedicated pedestrian pathways.
Electric Vehicle Charging Stations: The University Centre basement has multiple EV charging stations for two- and four-wheelers.
Waste Management
Segregated collection of waste on Campus.
Student-led annual e-waste collection event with the support of an external recycling partner.
Office supplies, especially papers and old books, are sold locally to vendors as part of the sustained recycling process.
Food Production and Consumption
We have introduced sustainable and healthy food with negligible single-use plastic in the University Cafeteria.
An area of two acres has been set aside for organic farming on the Campus to produce winter vegetables. Currently, soil testing is in progress.
We systematically segregate waste at the level of collection on Campus. We recycle food and garden waste and convert it to organic manure, producing on an average 100 kg of manure daily. The produced manure is utilised within the Campus, creating a circular approach. We have also installed an automatic organic waste converter machine with a daily capacity of 250-300 kg.