The Magic in Their Hands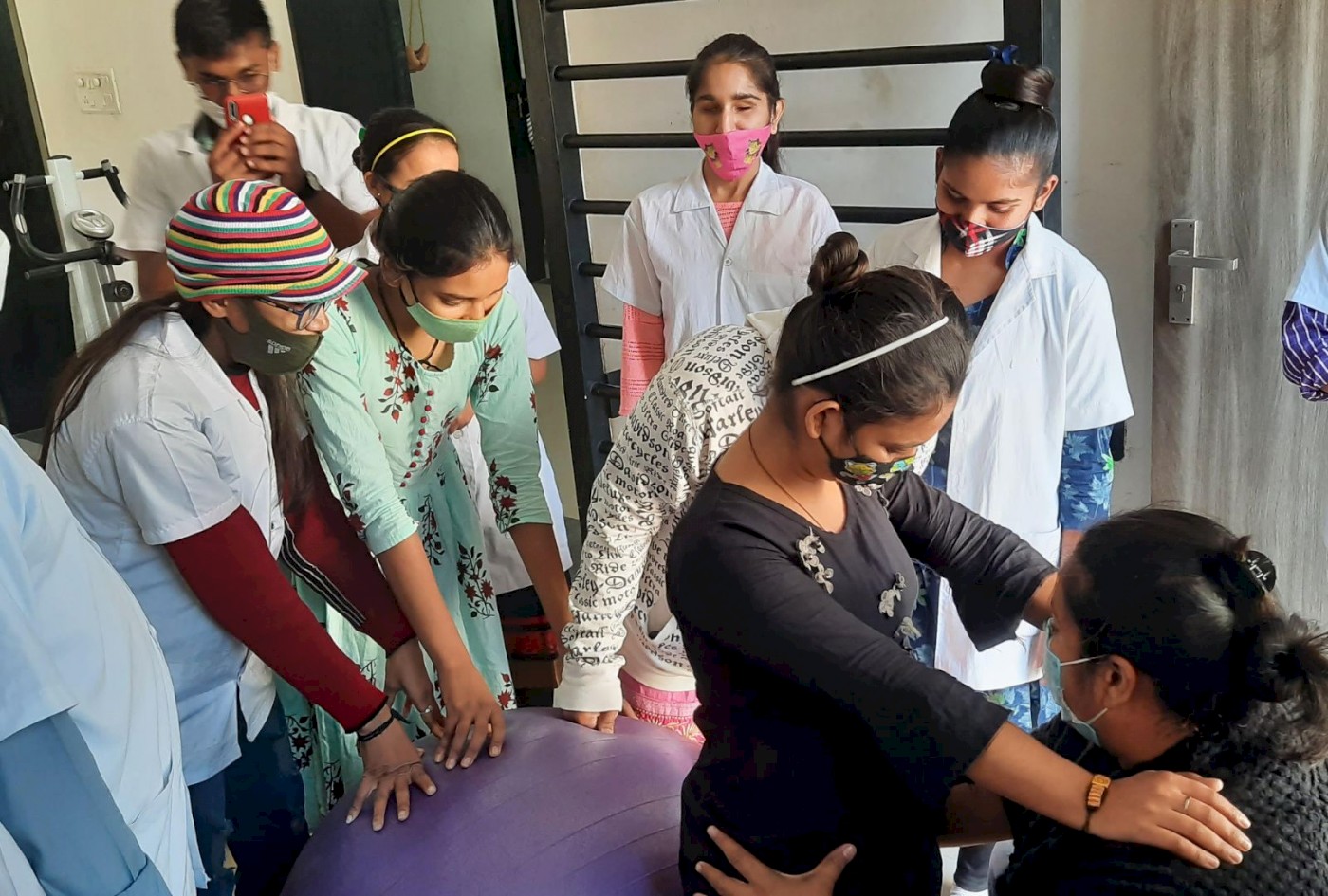 When he was only 25, Mukesh Patel was involved in a serious chemical accident at his workplace that impacted his vision. It took only a couple of months for him to lose complete sight and then his job. The absence of financial security led to a feeling of powerlessness till he joined Ahmedabad University's Physiotherapy College for the Visually Impaired at the Blind People's Association campus. Here, not only did he master physiotherapy but he also dedicated time and effort to The School for the Deaf and Mute Society campus, which he now manages. "Powerlessness is a very strong feeling, just as the feeling of being empowered. What we do through the Physiotherapy College for the Visually Impaired is bring a sense of direction to the visually impaired. Over the decades, we have witnessed patients walking into our outpatient department (OPD), receiving treatment by visually impaired practitioners, and returning in the next session to ask for that specific practitioner," says Mr Patel.
How critical is having a sighted practitioner to those seeking physiotherapy? Poonam and her husband have been coming to the Blind People's Association's physiotherapy clinic for the past two years for their back and foot, respectively. They completely trust their visually impaired practitioner, Jayesh, to work on their pain areas. For students with varying degrees of vision, this trust propels them to complete their education and build a financially independent future for themselves.
Ahmedabad University's Physiotherapy College for the Visually Impaired is spread over two campuses in Ahmedabad at the Blind People's Association at Vastrapur and The School for the Deaf and Mute Society at Navrangpura. These twin campuses provide support to the Programme with space marked out for three learning sessions to be conducted simultaneously, a science lab that houses 3D models of the human anatomy, a library with audio material, and a recording studio (at Blind People's Association). Each campus has a dedicated sighted physiotherapist and full-time as well as visiting faculty who guide the students through the curriculum and practical sessions.
Dr Bhushan Punani, Chairperson, West Asia at the International Council for Education of Children with Visual Impairment, and Chief Secretary, Blind People's Association, has been working for decades for inclusiveness and equity in the education and employability of the visually impaired. He says the Programme offered at the Physiotherapy College is highly interactive and practical. "Visually impaired physiotherapists possess greater empathy and better people management skills as they are not taught off a book. Also, they tend to be skilled at handling people's problems, given that they are inclined towards practical modes of learning and upskilling. Despite the challenges, they stack up well against the sighted - in terms of recurring patients, word-by-mouth publicity, people handling, and identification of pain points," he says.
Professor Abha Ranade, who has been associated with the College for three years and teaches Pathology and Pharmacology to second year students at the Navrangpura Campus, says that teaching students with visual impairments is a challenge she looks forward to taking on. Currently, her class is learning the sliding and stretching of muscles. A simple hand exercise with their peers helps her group to understand this muscle movement accurately. "It's about using teaching techniques that speak to these students bearing in mind not just their limitations but also their strengths - in this case their hands. Students respond to these techniques," she adds.
Arguably, the space that fascinates most of the students is the OPD clinic which is open to them for practice sessions right from their second year at the College. For over 500 students who have received their convocations through Ahmedabad University, and over 400 of whom are gainfully employed, that OPD has been the pathway to independence. Lahuraj Mhaske, Class of 2021, is based in Mumbai, Maharashtra, and is a practitioner at an Ayurveda centre that offers panchakarma healing. He says that watching hundreds of people walk in and out of that OPD clinic instilled confidence in him while studying at the College. "It's encouraging to see people trust the visually impaired. Before I joined the College, most of the time, I saw people labelling us as dependents. I saw blind graduates sitting at home without a job, which was depressing. But the OPD clinic changed that perception drastically," he says.
Sanjay Mahajan, Class of 2015, runs his practice about 75 kilometres in the interiors of Jalgaon, Maharashtra. For a few years after he graduated, Sanjay took time to build a network of doctors he could work with. "The hard work is in managing your network, maintaining your efficiency, and in upskilling. I make sure to attend workshops that allow me to upgrade my skills and learn new techniques and technology that would further my knowledge and skills," he says. "There is no differentiating a visually impaired physiotherapist from a sighted one but if we could award graduate certificates in place of the diploma, it definitely would make a difference in the public perception of the visually impaired as practitioners of physiotherapy," he explains.
Dr Punani reiterates that with physiotherapy being a practising profession, students go on to become ambassadors of empowerment in the field. Padma Shri Jagdish Patel, Founder of the Blind People's Association, himself a visually impaired physiotherapist to the renowned Lalbhai and Sarabhai families of Ahmedabad, is one such example. As for innovations in academics, Dr Punani says, "We are constantly innovating our curriculum to keep it aligned with modern requirements. The National Education Policy is poised to offer greater educational equity, and we are gearing up to advance with the changing times."