30 March 2023
First Cohort of the Unique Post Graduate Diploma in Literary Translation Programme Graduates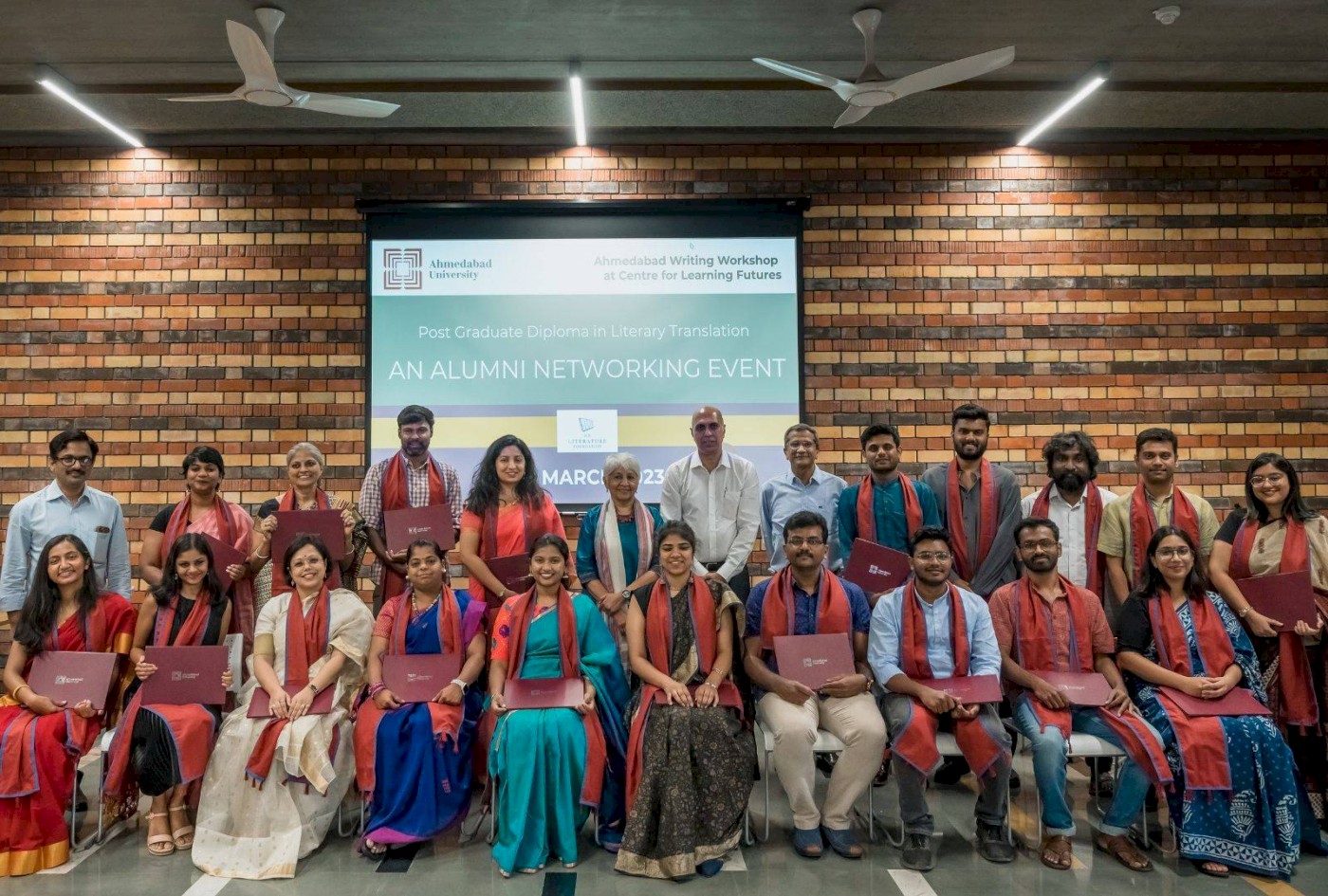 Student Wins 2022 Mozhi Prize
GN Mohan of Bengaluru-based Bahuroopi Books, a publishing house and a physical and online bookstore, has been experimenting with the cover designs of his books and publishing limited copies of collections of poems in Kannada. "These efforts are towards attracting younger readers, and we have succeeded fairly in doing so," he said, as part of the panel discussion, India in Translation, at the convocation ceremony for the inaugural batch of Ahmedabad University's Post Graduate Diploma in Literary Translation offered by the Centre for Learning Futures in collaboration with the JCB Literature Foundation. Rahul Soni from HarperCollins, Elizabeth Kuruvilla from Penguin Random House, and Aditi Maheshwari from Vani Prakasha, besides GN Mohan were part of the panel that discussed ways in which commissioning editors are contributing to bringing a diverse collection of literature across genres and regional languages to the forefront. The session was moderated by cultural theorist and translator Tejaswini Niranjana, Director, Centre for Inter-Asian Research, and Professor in the Humanities and Languages division, School of Arts and Sciences at Ahmedabad University, who has also designed the Post Graduate Diploma in Literary Translation programme.
For her translations from Kannada into English, Professor Niranjana has won the Central Sahitya Akademi Award, the Karnataka State Sahitya Akademi Award, and the DSC Prize for South Asian Literature. She won the 2021 National Translation Award for Prose from the American Literary Translators Association for her English translation of No Presents Please: Mumbai Stories, an anthology of short stories in Kannada authored by Jayant Kaikini. Speaking about the programme, Professor Niranjana said, "Translated works of literature are among the most highly visible books in the world market. In India, too, they are becoming increasingly popular. The idea that diverse experiences from diverse regions can be appreciated in a known language has become even more powerful than before. Training bilingual and multilingual people to translate in and out of global and regional languages is the challenging and necessary task that our programme has taken up."
The one-year Post Graduate Diploma in Literary Translation covers the history and theory of translation to enhance the skills of existing translators. Through industry mentorship, it also helps translators better prepare for the publishing, advertising, and editorial industries, providing them exposure to the methods of cultural and literary history. It offers a combination of online instruction, intensive offline workshops, and access to key practitioners. Some notable personalities who mentored students in the inaugural cohort are International Booker Prize winner Daisy Rockwell, Sahitya Akademi Award winner Jerry Pinto, award-winning authors and translators Shanta Gokhale, Jayasree Kalathil, Tridip Suhrud, Rita Kothari, V Ramaswamy, Ashish Rajadhyaksha, Sunil Shanbag, and Nasreen Munni Kabir.
Students of the programme have been receiving accolades for their work. Padmaja Anant won the 2022 Mozhi Prize, a prestigious literary award for short fiction translated from Tamil into English. She translated Chandra Thangaraj's A House Without Cats. Writer-translator Sherwin Rodriguez's translation of a Tamil short story was also shortlisted for the 2022 Mozhi Prize. He is also currently a translation fellow in the South Asia Speaks mentorship programme 2023, as part of which he will work on translating Tamizh Prabha's novel, Pettai, from Tamil to English. His poetry has been published in Underground (Georgia State University) and Third Coast (Western Michigan University).
The graduation ceremony culminated with a musical play, Same, Same, but Different, presented by Tamasha Theatre, Mumbai. The special alumni meet hosted by the University as part of the convocation ceremony fostered networking with key publishers and encouraged a deeper understanding of the world of literary translations. Chief Guest Manish Tayal, Director, JCB Literature Foundation, and Pankaj Chandra, Vice Chancellor, Ahmedabad University, addressed the graduates of the programme.