Foundation Programme
All students entering the undergraduate programme go through our common core, The Foundation Programme, in the first year. This Programme builds the foundations of interdisciplinary learning at Ahmedabad University and engage with issues of the society through project-based learning. The Foundation programme is built around six domains that define contemporary academic and life skills in the 21st century, areas of innovation that are transforming the world, and perspectives that help become a responsible member of any society. This includes:
| | | |
| --- | --- | --- |
| Skills | Perspective Building | Areas of Innovation |
| Data Science | Behaviour | Materials |
| Communication | Constitution & Civilization | Biology & Life |
The delivery of these areas is done in a thematic manner to develop amongst our students a holistic approach to thinking and enquiry where they would learn to understand multiple issues that defines a problem and learn the art and science of synthesis. Students complete four thematic Studios of learning that integrates the above-mentioned domains together creating a more effective way of thinking and problem solving. The thematic Studios for 2021-22 are:
Water | Environment and Climate Change | Democracy and Justice | Neighbourhoods
The idea is to engage the students' imagination with contemporary problems that the society, in which they live, encounters. Studios bring interdisciplinary engagement, experiential learning & research thinking together in the classroom. Each theme is explored through a set of domains thereby creating interdisciplinary learning. Students will learn that many systems of knowledge are required to solve challenging problems.
Another innovation lies in the delivery of these thematic modules in a studio format through experiential learning. Students learn to apply theory and connect ideas across different disciplines. The Foundation Programme is evaluated on a Passed/Not Passed basis to ensure that students are fully focused on the joy of learning. Students also display their work during the exhibition or the Foundation Programme EXPOs that are open to the university community and the parents.
Bhargav Adhvaryu
Professor, Amrut Mody School of Management
A studio is a unique pedagogic tool to teach students interdisciplinary topics and skills. The key characteristics that make studios a unique learning pedagogy than the traditional lecture format are learning by doing (hands-on), doing things simultaneously (and not sequentially), an iterative approach that entails refining outputs with each iteration, much higher peer-to-peer learning, and most importantly, it embodies the muddling through approach, wherein outcomes/targets are defined, but the path is not. Depending on the context the paths can be different, leading to the same/similar outcomes. The Democracy and Justice Studio, that I was involved in, presented a unique opportunity to deliver various domain knowledge via three modules, with the last module designed to converge learning in the three modules into a coherent output. Here, students chose a topic that they were most passionate about and prepared a critical paper. Overall, they learnt the skills of building arguments supported by evidence from data analysis, articulating them in a clear and succinct textual narrative, visualising data to produce impactful graphics, verbal presentation skills, and teamwork. It is rather impossible to deliver such a wide spectrum of knowledge and skills via the lecture format of teaching.
Manomohini Dutta
Assistant Professor, School of Arts and Science
When I first heard of the Foundation Programme, I was excited by the idea of interdisciplinary studios. I recall taking some great courses in prestigious institutions within India and abroad when I was a student, but cannot recall taking courses such as these. However, on becoming a Foundation Programme faculty in one of its four studios, I could not help but think, how will this work in the classroom? What would a class with two faculty from two completely different academic disciplines look like? In my case, it was me, an Arts faculty (working within the broad area of Indian History) co-teaching with a Sciences faculty (working within the broad area of Ecology) in module three of the 'Neighbourhoods' studio. While teaching, I noticed that my co-faculty and I were engaging in an academic dialogue quite naturally, which I much enjoyed, and sincerely hope that students have benefitted from our conversations. Such dialogues between different disciplines (wherever possible) in order to understand any major contemporary problem is one of the ways in which we want our students to start thinking, of course, along with specialising in their specific areas of study. After this teaching experience, I know what an interdisciplinary classroom looks like (even if it is on Zoom), how useful it might be for students to have such an integrated learning experience, and more importantly, why this synthesis of knowledge is necessary in the fast changing world that we are living in. I'm writing this piece for anyone who believes in staying within the firm contours of their own disciplinary interests to solve issues and to say to them that if one gave such courses a try, they would perhaps, see it for themselves how it all comes together this way while approaching real life problems.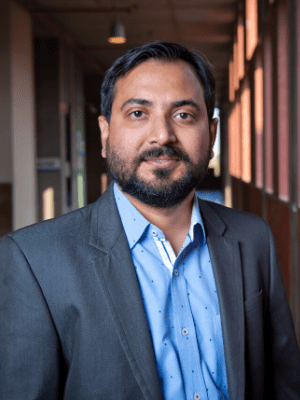 Ashutosh Kumar
Assistant Professor, School of Arts and Sciences
Foundation Programme encourages a positive engagement of students in the Studios to relate the classroom concepts with real-life problems. It not only facilitates the students with active learning and problem solving but also allows them to interact with the community, understand them, collect and analyse the relevant data to relate it with the societal issues. In Water Studio of the Programme, Clean Water and its Safety through Citizen Science was the approach used to map the quality of water by assessing the biological and chemical contaminants of water that was collected by the students from different wards of Ahmedabad. Students learned about the chemical and biological characteristics of water and the kind of diseases which are water-based. A prototype for different types of filters was also made by the students as a part of the Water Studio, which offered a hands-on learning experience to the students. The Foundation Programme Studios are designed to offer interdisciplinary learning to the students. While students explored the city collecting the groundwater, the municipality supplied water for quality assessment, they were made to realise a few important aspects around water. They could relate water with gender when they observed that women and girls are mainly responsible for the collection of water for household purposes irrespective of their physique and illness. They could see how the burden of the collection of water wherever it is not available on the premises, has affected and caused harm to one gender in the area of health and hygiene, education, and overall growth. This has made them aware and informed citizens and has changed their thinking and behaviour.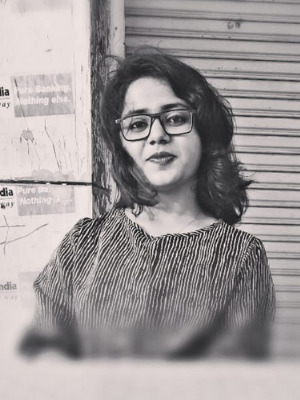 Charmi Monani
Integrated Master Of Business Administration
What thrilled me the most was the vibe of the classroom brainstorming and realizing the sides of democracy that we would never be able to be versed with if it were not for this studio Read more
As soon as you enter your days as a first-year student, you are welcomed with a set of Foundation Programme Studios aiming at multiple social topics that in no time changes your perspective on how you peer this world. The studio on Democracy and Justice was a social mirror shown to the students as responsible citizens without sugar-coating or hiding sensitive elements, helping us experience the gentle side of democracy while pacing to dreadful corners as well. The studio is truly interdisciplinary in nature and the unique thing you'll experience here is that all mindsets from different majors and backgrounds were put together and sessions naturally curated healthy discussions covering all knowns and unknowns of the subject. What thrilled me the most was the vibe of the classroom brainstorming together and realizing sides of democracy that we would never be able to be versed with if it were not for this studio. I am grateful to the teachers who made this experience a wonderful one. I believe every citizen deserves to get versed through this mirror to be enlightened and make this world a place that humanity always deserved.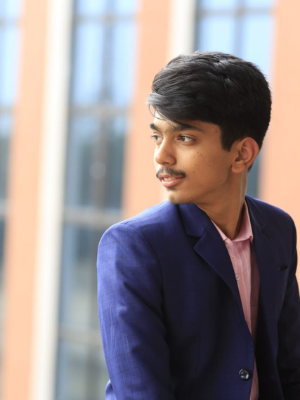 Adwait Waghmare
Bachelor of Arts (Honours)
Stepping into university life is always a memorable experience for every student. For 2020-2021 admits, however, it had been an unusual year as we were supposed to see our university, campus, peers, and faculty through the virtual eyes. Yet, with Ahmedabad University, it never felt like we are missing out on our learning experience. I never expected to be a part of such a rounded learning process which was completely unorthodox and unique. The unconventional ways of learning at the Foundation Programme touched upon issues that were of utmost importance and relevance in the present day scenario but are generally not covered in most of the higher education curriculums. The programme helped me shape my thoughts and allowed me to work on enhancing some of the significant skills, building perspectives while interacting with the fellow-students and faculty. It was one of the exceptional and enriching learning experiences that I ever had.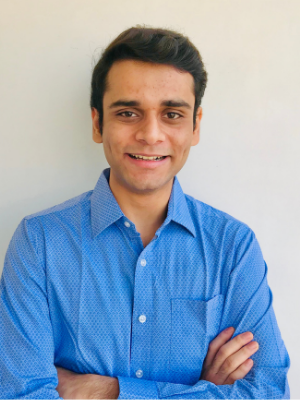 Prajwal Chatterjee
Bachelor of Arts (Honours)
The Foundation Programme at Ahmedabad University is one of its key initiatives to inculcate an interdisciplinary thought process in students. My journey through this programme has been amazing as well as transformative. I had a myopic view of the disciplines and believed that problems had solutions only within the discipline. The four studios of the Foundation Programme, i.e. Environment and Climate Change, Democracy and Justice, Neighborhoods and Water, forced me to think critically and take a holistic view of every problem, and seek out innovative solutions by seriously broadening my perspective. It made me understand how just a bucket of water creates a complex impact on gender roles in society, forcing me to open my mind while seeking a solution. Looking beyond the obvious and taking a holistic view of any problem is what will help me in fostering 'progress of self and society