The Office of International Affairs (OIA) is a strategic link between the University and external stakeholders internationally across a variety of activities. OIA facilitates implementation of the internationalisation strategy of the University and its constituent community. International linkages are crucial for driving the agenda of:
Cutting edge globally benchmarked academic research
Student, faculty and staff outreach
A broader culture of diversity across the University.
At the University, international collaborations are driven by schools, centres and domain-specific affinity groups as well as by various functions at the University Office. While it is expected that the ownership of the majority of the international activities will be at the school, centre, and affinity group levels, the OIA has been created to provide overall strategic support to all the international affairs of the University including visitors to the University from outside the country.
Objectives:
Improve and expand the internationalisation strategy of the University
Facilitate research, teaching and administrative collaborations with reputed institutions around the world
Facilitate Student, Faculty and Staff exchange internationally
Attract international students, faculty and staff to the University
Develop Joint/Dual degree programmes with international partner institutions
Facilitate global accreditation and ranking related activities of the University
Types of International Activities that OIA facilitates:
Collaborations with International Institutions for

Joint Research Projects
Student, Faculty and Staff Exchange
Study Abroad Programmes (Faculty-led international immersions)
Joint Consultancy Projects
Joint Conferences and workshop
Joint teaching across global campuses
Dual/ Joint Degree Programmes

International Outreach for Student, Faculty and Staff Recruitment
Student Exchange and Study Abroad Programmes
Faculty and Staff Exchange
Conferences and Events with international linkages
Partners: Past and Present
Ahmedabad University collaborates with several leading international research universities for all-round academic development of the Undergraduate and Graduate students, as well as faculty and staff. These collaborations provide invaluable experience in cross-cultural teamwork and exposure to international experts to build global perspectives.
Our Centres are paving the way in this domain with several illustrious international partnerships. Stanford University's Center for Design Research and VentureStudio have helped develop an entrepreneurial ecosystem in Ahmedabad through coaching and designing of enterprise methodology. The eight-hundred-year-old University of Valladolid, Spain, and the seven-hundred-year-old University of Ferrara, Italy, are working closely with the Centre for Heritage Management to develop programmes and research activities in the area of heritage.
At our Schools, our collaboration with the Olin College of Engineering, USA is accelerating project-based learning especially at the School of Engineering and Applied Science. This multiyear partnership saw faculty visits and participation in the advisory council of our engineering school. This year a major milestone was reached when a uniquely crafted international practicum was kicked-off under the sponsorship of industry partners. Under this collaborative practicum, our Engineering students teamed up with their peers in Harvey Mudd College, Claremont in California, to solve live engineering challenge projects.
A significant collaboration with one of the foremost institutions in the United States for higher education and research, University of California San Diego's Rady School of Management, was inked in the space of Executive Education, under which a Global Executive MBA Programme in Pharmaceutical Management was launched. Rennes School of Business, France has entered into a partnership with Amrut Mody School of Management for students' exchange of BBA and Integrated MBA programmes. We are seeing an increase in momentum of international student mobility at Ahmedabad University. Several students benefited from studying at University of Applied Sciences in NYSA, Poland, Rennes School of Business in France, Valladolid University in Spain, etc. We are also increasing our base in UK and Africa leading to collaborations with SOAS University of London, University of Nairobi and Maasai Mara University.
For more information on our partners, visit here.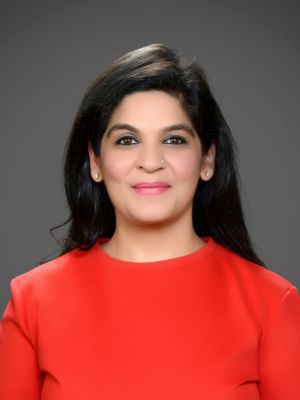 ANUBHOOTI ARORA
Director, Office of International Affairs
With over 11 years of international education and public diplomacy experience, Anubhooti is a seasoned professional who holds a Master's degree in Social Work from the Tata Institute of Social Sciences (TISS), Mumbai, India and graduated from the School of Oriental and African Studies (SOAS), University of London. As the All-India Higher Education Policy Specialist at the U.S. Embassy in New Delhi, she played a pivotal role in shaping the U.S.-India higher education bilateral relationship through flagship projects, earning her Embassy's Mission Honour Awards. Anubhooti led the launch of Coursera's inaugural online Indian degrees for global audiences. In her previous role at Lehigh University, she led efforts in India, advising the VP for International Affairs, promoting the university to Indian students and faculty, and forging academic partnerships with prestigious Indian institutions.
Email: [email protected] | [email protected]
Phone: +91.079.61912617 (Office); +91.9051509009 (Mobile)