Housing and Dining
The University provides limited but high quality living in its University Residences. The Office of Residential Living is responsible for welfare of the campus residence community. Student Resident Advisors live in the Residence and help in building a dynamic campus residence community and provide immediate counsel on all aspects of living and academic support. They work with the Director of Residential Life and the Dean of Students.
University residences are an effort to provide a simple, comfortable, and secure living environment for those from out of town. It is also a lesson in building a community that has as its core value a respect for diversity, amongst others in ideas, ways of living, food preferences, cultural practices, language and religion.
Campus Housing for both Boys and Girls are secure, modern and comfortable, and within close proximity to the campus. Separate floors with security monitoring have been allocated solely for girls with access to only girl students. There is a dedicated transportation facility to pick up and drop students to and from the Residence and the University campus at specified hours.
All rooms are allocated on a double occupancy configuration. Every student has an individual single bed with a mattress, a writing table, a chair and a wardrobe. There is an onsite Residence Manager/ Warden to address any concerns of the students. While our dorms are under construction, our current university residences as located in a rented building and are fully managed by the university.

Common amenities include:
Biometric access systems and CCTV surveillance of common areas for security
High speed Wi-Fi
Common areas with lounge furniture
Well-equipped gym including treadmills, cross-trainers, cycles, home gym, bench press, chest press, yoga mats, leg machines, weights and plates
TV room entailing 60" TV with Netflix and cable connection and informal seating
Reading room with casual seating and book racks.
Nutritious and sumptuous multi-cuisine meals served in the dining area.
Dedicated laundry services.
Professional Housekeeping services on a daily basis.
Doctor-on-call and emergency travel arrangements, when required by the Residence management.
For more detailed information on University Residence, please email abhinav.chaturvedi@ahduni.edu.in and we will get back to you.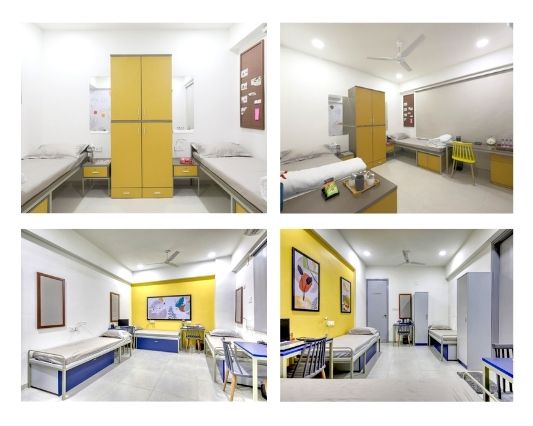 Being located in centre of the city, there are varied casual and serious dining options in the vicinity of the campus. You can find cafes, restaurants, bistros, and full service dining places around the campus. However, the campus also provides the following dining options:

The Dining Common in the University Residence provides meals & snacks to its residents. The following cafes on the campus also provide diverse eating options:
University Cafeteria (South Campus in GICT Building)
University Cafeteria (East Campus)
BLS Cafe
Project Otenga (serves food options from northeast of India and is also a cafe)
Venture Cafe (serves bistro style food)