Housing and Dining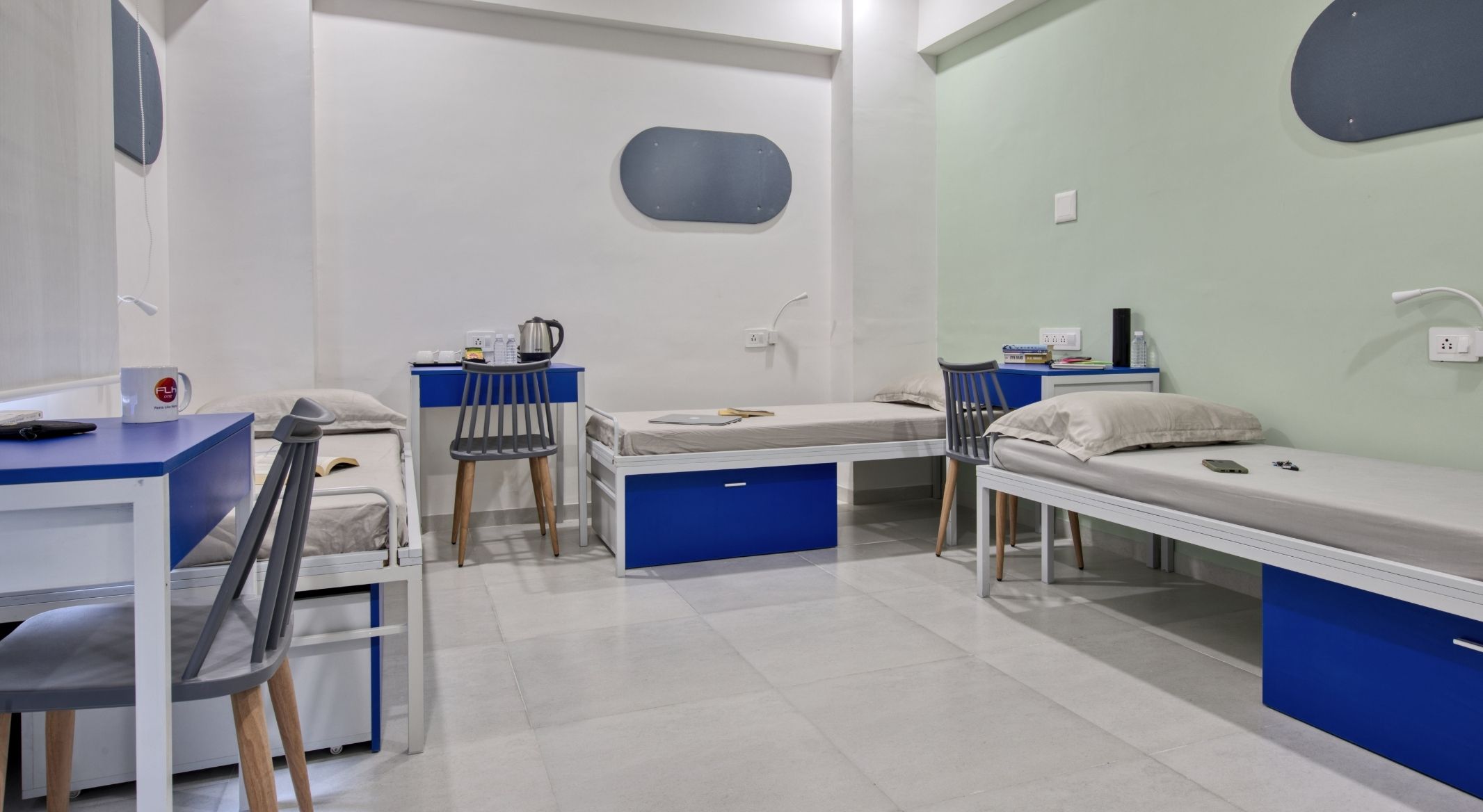 University Residences provide secure spaces for Ahmedabad University students to live in a homelike environment vital for their growth and development. The University currently provides two high quality Residences in its commitment towards simple, comfortable and secure living for those from out of town. Our Residences are a lesson in building a community that has at its core a respect for diversity in ideas, in ways of living, in food preferences, in cultural practices, in language and in religion.
While our own dorms are under construction, our University Residences are currently in partnership with an entrepreneurial student accommodation firm, Feels Like Home (FLH), and are overseen by a dedicated Office of Student Housing and Residential Life. The University has onsite Residence Managers/ Wardens to address any concerns that students might have.
Our modern housing options offered for both boys and girls are within close proximity to the campus with a dedicated transportation facility to pick up and drop students to and from the Residences and the Campus at specified hours. Both Residences are under strict security monitoring.
Location
For Male Students
For Female Students
Ahmedabad University Residence FLH2
Near Regional Passport Office,
Gulbai Tekra, Navrangpura,
Ahmedabad, Gujarat – 380009
(Distance from Central Campus: 1.2 km)

Contact number: +91.9910073125
Location pin - https://goo.gl/maps/uiw14Rdbwu3WEuRW6
Ahmedabad University Residence FLH3
Near Sarovar Complex,
Surajmal Zaveri Road, Navrangpura,
Ahmedabad, Gujarat – 380009
(Distance from Central Campus: 850 m)

Contact number: +91.9910073125
Location pin - https://goo.gl/maps/6mz7QM4sDM942Mbp9
Services and Amenities
Besides professional managers and residence coordinators, we have senior students doubling up as residence advisors to oversee, guide and curate the experience at our University Residences.
Amenities at the University Residences include:
Choice of twin or triple sharing rooms with every student having a single bed with mattress, a wardrobe, a writing table, a chair and bed linen set
Air-conditioned room with a ceiling fan, window blinds, a bath mat and a dustbin
Attached bathrooms
Well-equipped gyms with adequate aerobic and strength-training equipment
TV rooms with popular OTT subscriptions and informal seating
Reading/study room
Dining and café areas with common facilities like microwave ovens and refrigerators
Electricity consumption chargeable only for the AC on actuals – as per the sub-meter in each room
Normal electricity consumption for fans, lights and geysers is part of the fees
University Residences are committed to ensuring a home-like experience with:
Hygienic food: Nutritious and sumptuous vegetarian and non-vegetarian meals with ample variety.
Security: Biometric access systems and 24/7 CCTV surveillance.
Laundry: Free laundry with pick up and drop service for up to four clothes on a daily basis. In-house washing machines for personal/inner garments and ironing boards for delicate clothes.
High-speed internet: Wi-Fi enabled high-speed internet access with IT support services.
Housekeeping: Professional housekeeping of rooms and common areas every day.
Medical assistance: First-aid kits with a doctor-on-call facility.
Emergency management: Presence of a robust emergency management system in case of any natural disaster.
No smoking: Strictly no smoking allowed inside the Residences.
For more details on the University Residences, please email [email protected] or contact us at +91.9910073125 and we will get back to you.
Charges
The current fees are as follows:
Rs 2,10,000/- annual fees for twin sharing rooms.
Rs 1,86,000/- annual fees for triple sharing rooms.
The above fees are payable in two equal instalments at the beginning of each semester.
A one-time security deposit of Rs 20,000/- is payable at the time of fresh admission. This is refunded on completion of the stay period.
The fees mentioned above are for the academic year 2021-22, and are subject to an upward revision of six to seven per cent annually to cater to inflation.
Dining
Being located in the heart of the city, there are varied casual and fine dining options, including cafes, bistros, and full service restaurants in the vicinity of the Campus. However, the University itself offers several options:
The Dining Common in the University Residences provides meals and snacks.
Cafeteria at University Centre offering multi cuisine options: Truly Indian, Greens and Grains, DELICE, and Global Bistro
Cafeteria at BRL
Project Otenga (food options from the northeast of India; also a cafe)
Venture Cafe (serves bistro style food)