Funkaari: Madhubani Workshop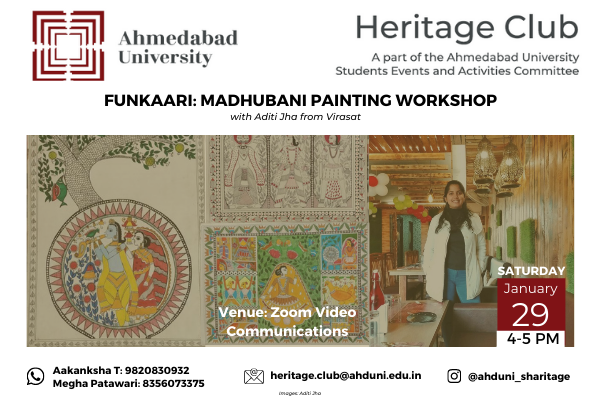 Madhubani paintings have been associated with ceremonies, rituals and social activism. With an art form as diverse as the Madhubani paintings, we get an opportunity to learn varied sets and elements of the paintings.
What better way to spend a weekend evening than to join us in learning an ancient painting style.
About the Event :
The Funkaari is a series by Sharitage - The Heritage Club that aims to introduce various cultural arts from different states of India. In this particular workshop, we will showcase the ancient painting style of Madhubani from the Mithianchal province of the Gangetic plains.
Date: 29th January 2022, Saturday
Venue: Zoom Video Communications
Timings: 4:00 pm to 5:00 pm IST
About the Facilitator
Aditi Jha is a Madhubani artist from Patna, Bihar. Currently, a student of Zoology, Aditi hails from Madhubani, a district known for its exquisite art and having a family indulged in the artform, she too moved on her journey as a Madhubani artist. At the age of 13, her mother taught her the intricacies of art. In her words, " The parallel lines or the beautiful colours are always a form of meditation for me". In 2020, when the world was locked in their houses, she reflected on the lack of awareness she had been experiencing about the state heritage and culture around her. She thus started her channel named "Virasat", meaning Heritage on Youtube, where she teaches the basics of Madhubani paintings.
We hope to see you learn more about the heritage of Madhubani Paintings with us!
For any queries, feel free to contact us at [email protected]