8 January 2022
Ahmedabad University students Win Prestigious Mahatma Gandhi Elocution Trophy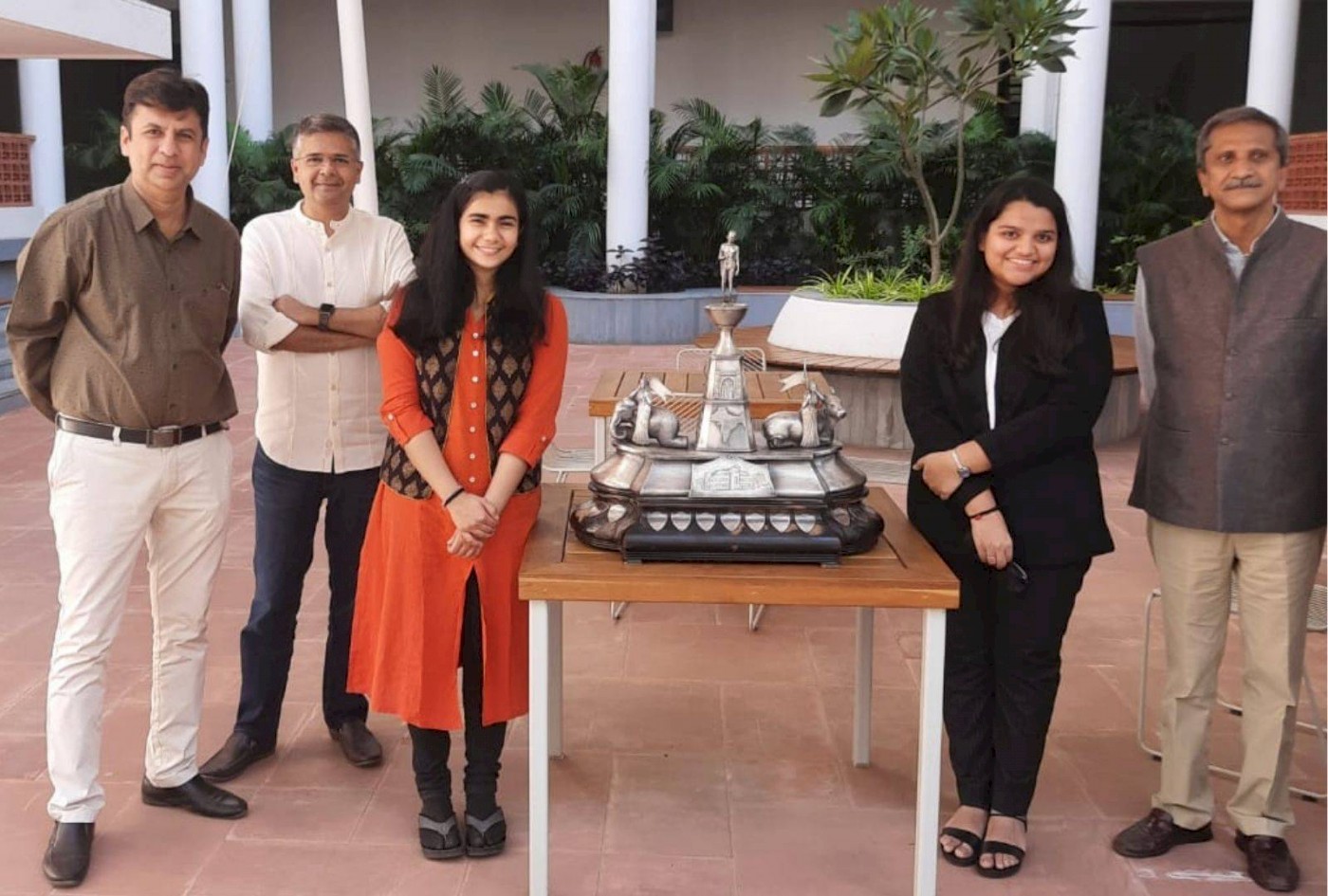 Aditi Jain, BBA (Honours) with a Major in Finance and Economics (Class of 2025), and Mana Shah, Integrated Master of Science in Life Sciences (Class of 2026), know exactly how to drive their point across so we would suggest you defer your arguments with them for another time. The trailblazing duo from Ahmedabad University's club for literary activities (The Literary Club) have proven their oratory skills at HL College of Commerce's Mahatma Gandhi Elocution Competition winning the prestigious rotating MG Trophy for the year 2021-22. That is by no means a small achievement. Not only is it a historic trophy evoking interest among orators across India but also its past winners are names to reckon with as public speakers of repute. Our students have walked right into the footsteps of illustrious trophy bearers such as the late Kirit Raval, former Solicitor-General of India, and Amal Dhru, former President of Alumni, IIM Ahmedabad.
Aditi and Mana received the trophy on January 8, 2022 debating on the topic - India must revisit Gandhian thoughts for the country's economic bounce back from Covid. Competing against top-notch colleges such as St Xavier's College, Umiya College, Uma College Gandhinagar and home team HL College of Commerce, among others, our students were represented as Team Awaaz.
Aditi spoke in favour of the motion while Mana presented her views against it. She reminded the audience of how Mahatma Gandhi was one of the first leaders to promote 'vocal for local', emphasising, "Today, there is a need in our society to push for decentralisation of economic power. It is time to be inclusive in the real sense and look beyond the GDP contribution of the country's top industrial houses only."
On the other hand, Mana expressed concerns about the 'copy-paste approach' to Gandhi's principles. "We often forget that he said, 'you must be the change you wish to see in the world'," she added to make her point. Mana also lauded the work being done by Indian industrialists in the fight against Covid.
The duo may have won the eminent trophy but the journey doesn't stop there. Aditi and Mana's plans for the future reflect exactly how focussed and disciplined they are. Aditi, who is an exponent of the Indian classical dance, Bharatnatyam, and the Japanese martial art, Karate, also runs an NGO called India Fights Life where she imparts self-defence training to underprivileged girls. Mana, oriented towards science, aims to study cancer and genetics in depth besides pursuing her oratory skills.