27 November 2021
Ahmedabad University Students help Ahmedabad defeat hosts Surat; bring home the State Junior Basketball Tournament 2021 title after Twenty-year wait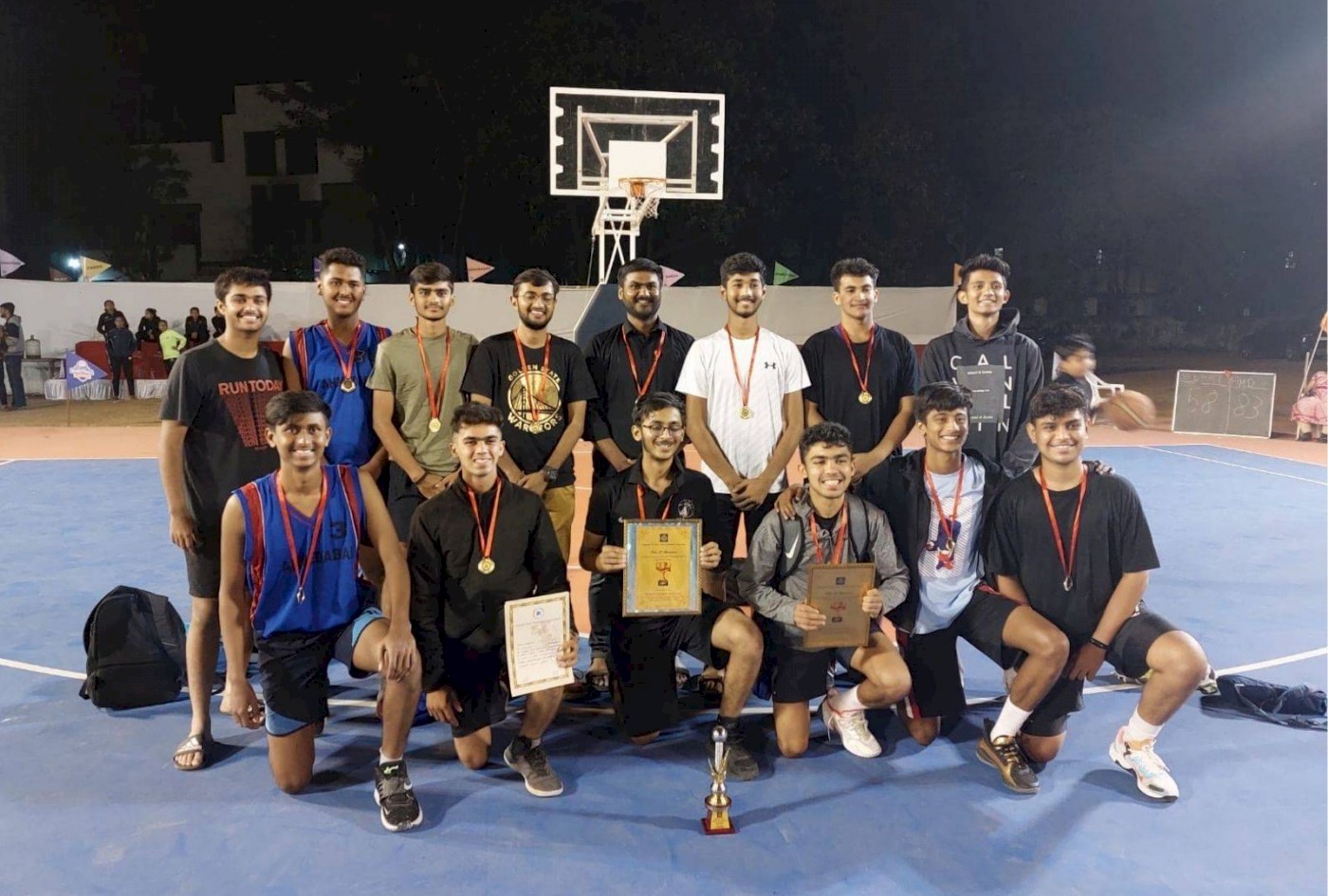 Vedant Jain declared Most Valuable Player of the tournament

November 2021
It was a nail-biting basketball final as the Boys Under-19 team from Ahmedabad defeated hosts Surat in a thumping win of 83-58 at the State Junior Basketball Tournament 2021. Our eyes were on the decider as two of our students, Siddhant Jain, currently pursuing the first year of his Bachelor of Business Administration (Honours) class of 2025, and Vedant Jain, currently studying the first year of his Bachelor of Commerce (Professional) class of 2025, were part of the Ahmedabad city team.

Organised by the Gujarat State Basketball Association (GSBA) from 25th November to 27th November 2021 at Surat, the State Junior Basketball Tournament is a prestigious championship which is the selection ground for Gujarat-level representation at the national basketball matches. Traditionally, Bhavnagar and Baroda have been the top contenders in the tournament. With the Ahmedabad city team having clinched the title after two decades, the mood is jubilant.

Ahmedabad University students Siddhant and Vedant have been playing basketball since Grade VII and Grade VI respectively. Despite having rather strenuous schedules, practising the game daily in the mornings, the two youngsters have not given up on their academics. They credit their fathers for being their staunch supporters as also their coach, Mr Shakil Khokhar.

Siddhant said that the late basketball legend Kobe Bryant is his role model having picked up basketball tips and tricks by watching his videos. As for Vedant, having earned the Most Valuable Player of the tournament, opens up a state-level slot for him. He said, "I feel basketball teaches you to be resilient and adaptive. It builds your focus, enhances your sportsman spirit and strengthens your team building skills as one cannot attribute any victory or any defeat to a single player."

Completing their academics at Ahmedabad University as well as pursuing their love for basketball remains top priority for both these young achievers.