21 February 2023
Ahmedabad Undergraduates Win Mahatma Gandhi Trophy 2023 for Second Consecutive Year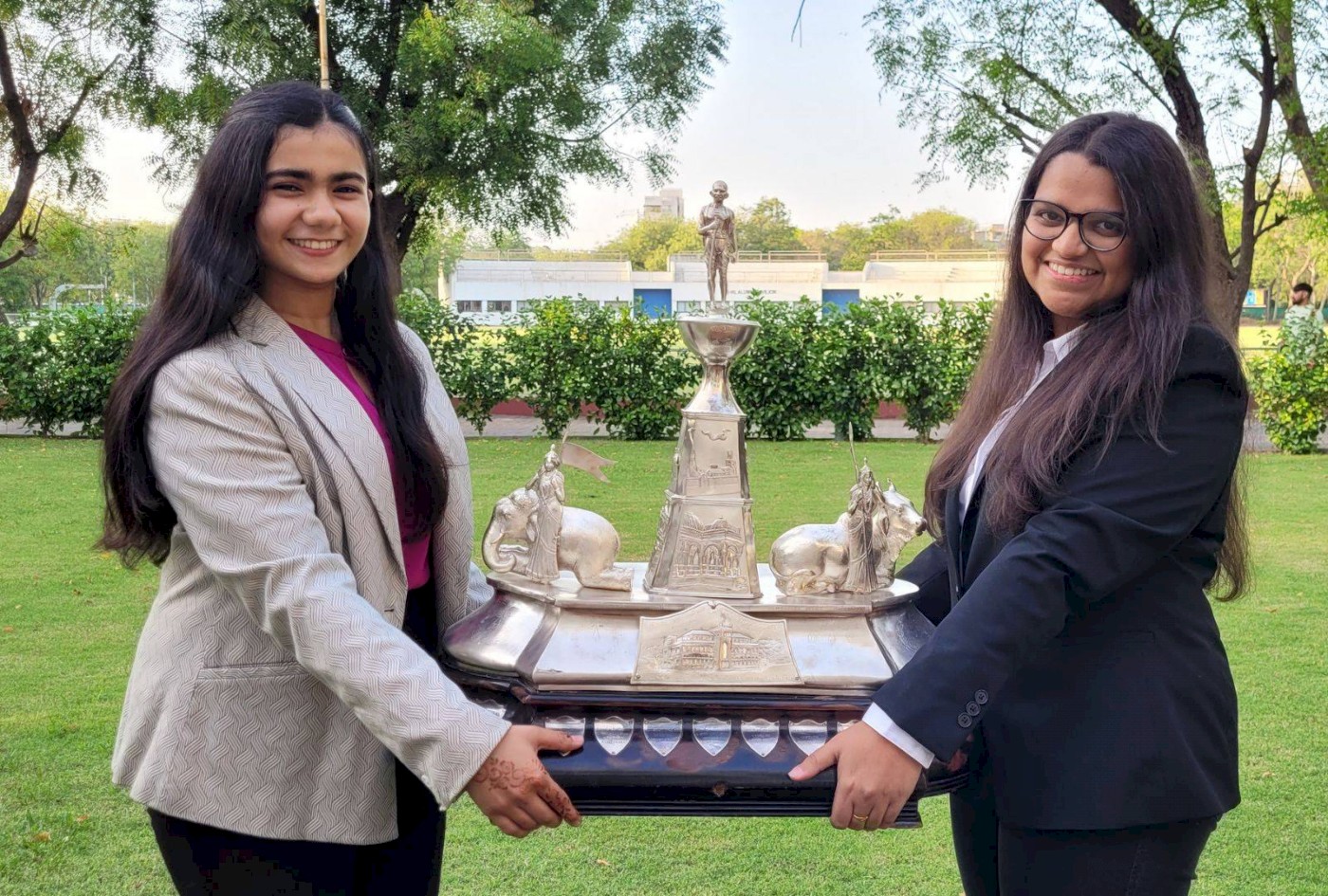 Ahmedabad University has won the Mahatma Gandhi (Elocution) Trophy 2023 for the second successive year. Amrut Mody School of Management's Aditi Jain and School of Arts and Sciences' Mana Shah won the Trophy once again for their debate on, In the present-day context of the growing religious divide in India and the world over, the Gandhian idea of religious equality (Sarva Dharma Sambhav) is the only remedy to usher harmony in the society. Last year, Mana and Aditi won the Trophy for their debate on, India must revisit Gandhian thoughts for the country's economic bounce back from Covid. The MG Trophy has a rich legacy of distinguished orators spanning over 80 years. It has been won in the past by the Late Kirit Raval, former Solicitor-General of India, and the Late KJ Sethna, former President of the Gujarat High Court Bar Association.
Aditi, a BBA (Hons) student with a Major in Finance and Economics, Class of 2025, and Mana, an Integrated MS student in Life Sciences, Class of 2026, competed with students from state-wide universities and colleges including St Xaviers, Gujarat Law Society University, HL College of Commerce, Asia Pacific Institute of Management, HA College of Commerce, and LD College of Arts, among others.
Speaking in favour of the motion, Aditi said, "I believe that religion is an amalgamation of values, based on collective ideals rather than individual perspectives, to promote mutual respect and co-existence. The predominant factor of the 21st century is that man has started following the 'messenger', instead of the 'message'. Gandhiji's principle of Sarva Dharma Sambhava throws light on the 'message,' and it is the truth common to all religions. Adopting the philosophy of Anekantavada, Gandhiji believed that all religions propagate one idea and one truth, irrespective of the different paths each takes. Gandhiji believed in 'Sarvodaya', the welfare of all, and all his concepts promoted human welfare and spiritual development. Since we have given birth to religious divides, we are also responsible for uprooting them. The fabric of Gandhian philosophy of religion ascertains that we need to utilise his principles in modern times, to strike a balance between ethics and morality."
Mana, meanwhile, speaking against the motion, said, "We may be busy discussing and debating on the equality of religions, but we cannot turn a blind eye to the Caste Systems prevalent in the country. How does Sarva Dharma Sambhava answer the millions of Indians forced into manual scavenging because of this existing caste system? Many problems arise when we talk about the equality of religious laws, like the acceptability of polygamy, conflicting interpretations of religious books, and more. These need to be addressed when we speak about equality. Moreover, rather than being an equal space, we must focus on being inclusive. We must explore financial equality and economic prosperity as tools to achieve harmony in our society. I believe that harmony isn't something that can be achieved through just one principle, and like Gandhiji, we should keep exploring more strategies to see what best promotes it in our society."