World Book Day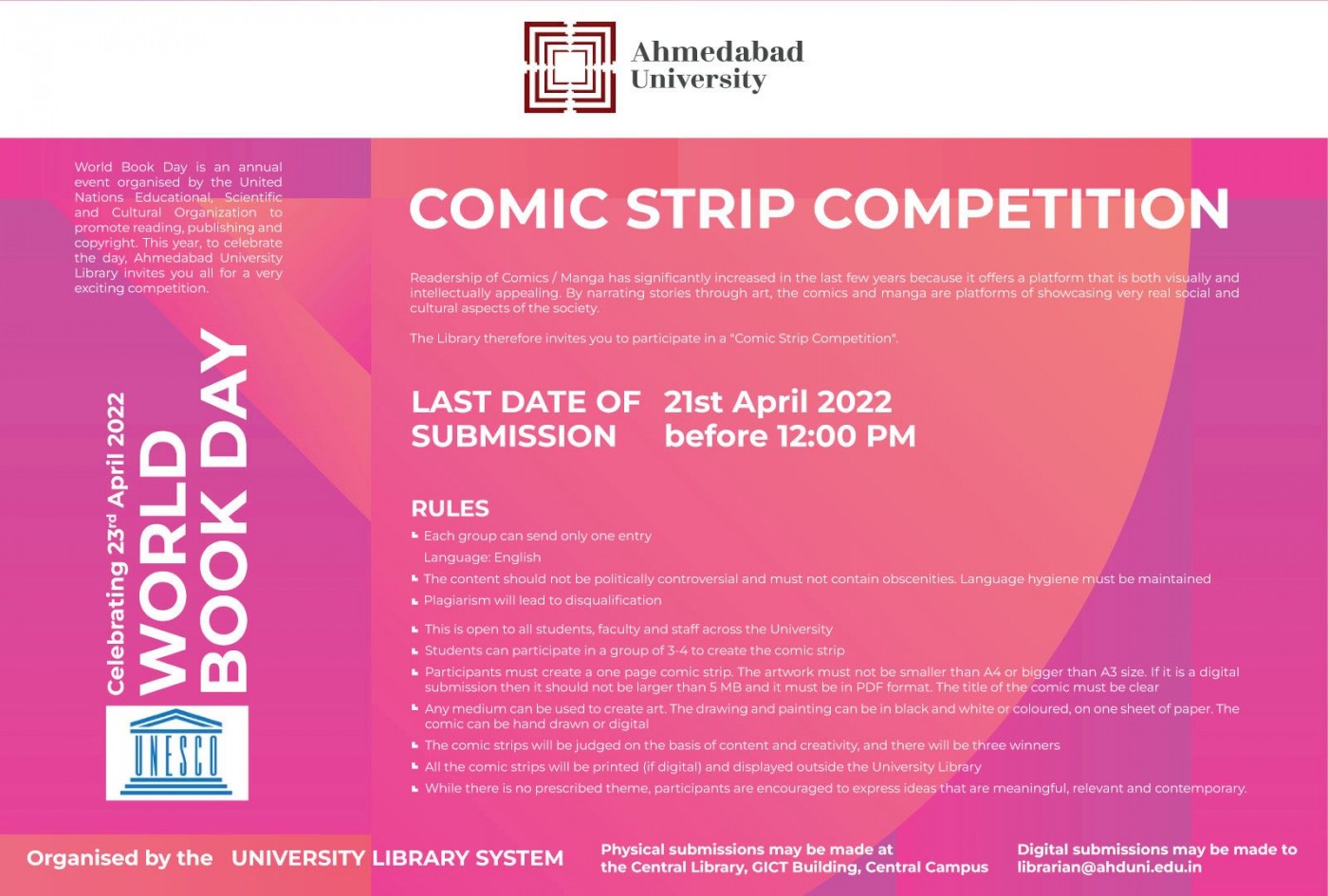 World Book Day is an annual event organised by the United Nations Educational, Scientific and Cultural Organization to promote reading, publishing and copyright. This year, to celebrate the day, Ahmedabad University Library invites you all for a very exciting competition. Readership of Comics / Manga has significantly increased in the last few years because it offers a platform that is both visually and intellectually appealing. By narrating stories through art, the comics and manga are platforms of showcasing very real social and cultural aspects of the society. The Library therefore invites you to participate in "Comic Strip Competition", and here are the details:
This is open to all students, faculty and staff across the University
Students can participate in a group of 3-4 to create the comic strip
Participants must create a one-page comic strip. The artwork must not be smaller than A4 or bigger than A3 size. If it is a digital submission then it should not be larger than 5 MB and it must be in PDF format. The title of the comic must be clear
Any medium can be used to create art. The drawing and painting can be in black and white or coloured, on one sheet of paper. The comic can be hand drawn or digital
The comic strips will be judged on the basis of content and creativity, and there will be three winners
All the comic strips will be printed (if digital) and displayed outside the University Library
While there is no prescribed theme, participants are encouraged to express ideas that are meaningful, relevant and contemporary.
Rules:
Each group can send only one entry
Language: English
The content should not be politically controversial and must not contain obscenities. Language hygiene must be maintained
Plagiarism will lead to disqualification
The last date for submission is 21st April 2022 before 12:00 PM. It should be submitted to the central library, the GICT building. Digital submission may be made to [email protected]