6 November 2021
BTech Student Yashraj Kakkad Secures Job Offer from Goldman Sachs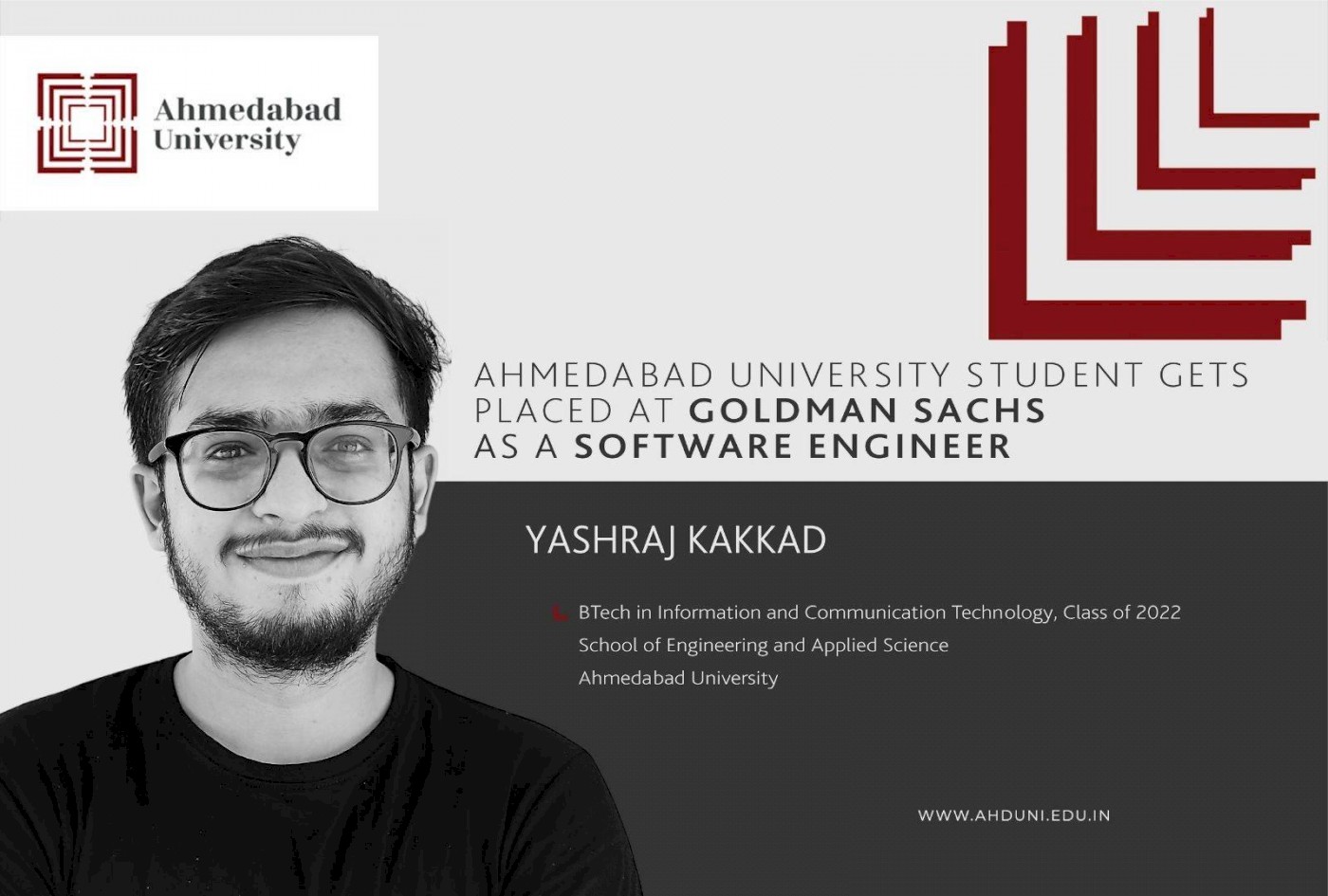 Yashraj Kakkad, a student of BTech in Information and Communication Technology (2018 batch) has been offered the position of "Software Engineer" from Goldman Sachs. He was initially selected as a summer intern for 2021 from the firm's "Engineering Campus Hiring Program" open for every engineering student.
Ahmedabad University is proud to share that Yashraj was one of the 40 students who received this internship offer out of the one lakh plus applicants!
Based on his performance in the internship, he was extended a pre-placement offer to join the organization post his graduation in June 2022. Yashraj will also be carrying out his BTech Project with Goldman from January 2022.
Expressing his gratitude to Ahmedabad University for nurturing and mentoring him and helping him grow, Yashraj says, "I had the good fortune of learning from amazing professors here at Ahmedabad University. My hands-on experience with course projects as well as conceptual clarity helped me immensely during the interviews and also with the internship project. For instance during my interview, I discussed about my course project on 'Operating Systems' where we had worked on an open source operating system; this seemingly impressed the interviewer. Also, my experience with working on course projects in teams gave me an edge during my internship."
At Ahmedabad University, besides academics, Yashraj has also been the Secretary of the Programming Club as well as the first lead for the Google Developer Student Club. He believes that these associations helped him widen his exposure and develop skills beyond academics. Now, Yashraj is invited by such clubs from various universities to share his experience.
Ahmedabad University wishes Yashraj the best as he prepares to embark on a successful professional odyssey!
About Goldman Sachs
The Goldman Sachs Group, Inc. is a leading global financial institution that delivers a broad range of financial services across investment banking, securities, investment management and consumer banking to a large and diversified client base that includes corporations, financial institutions, governments and individuals.
Founded in 1869, the firm is headquartered in New York and maintains offices in all major financial centres around the world.