9 November 2021
BTech Student Wins at Intel's AI Global Impact Festival 2021 for Surveillance Project That Blends Human Intelligence and AI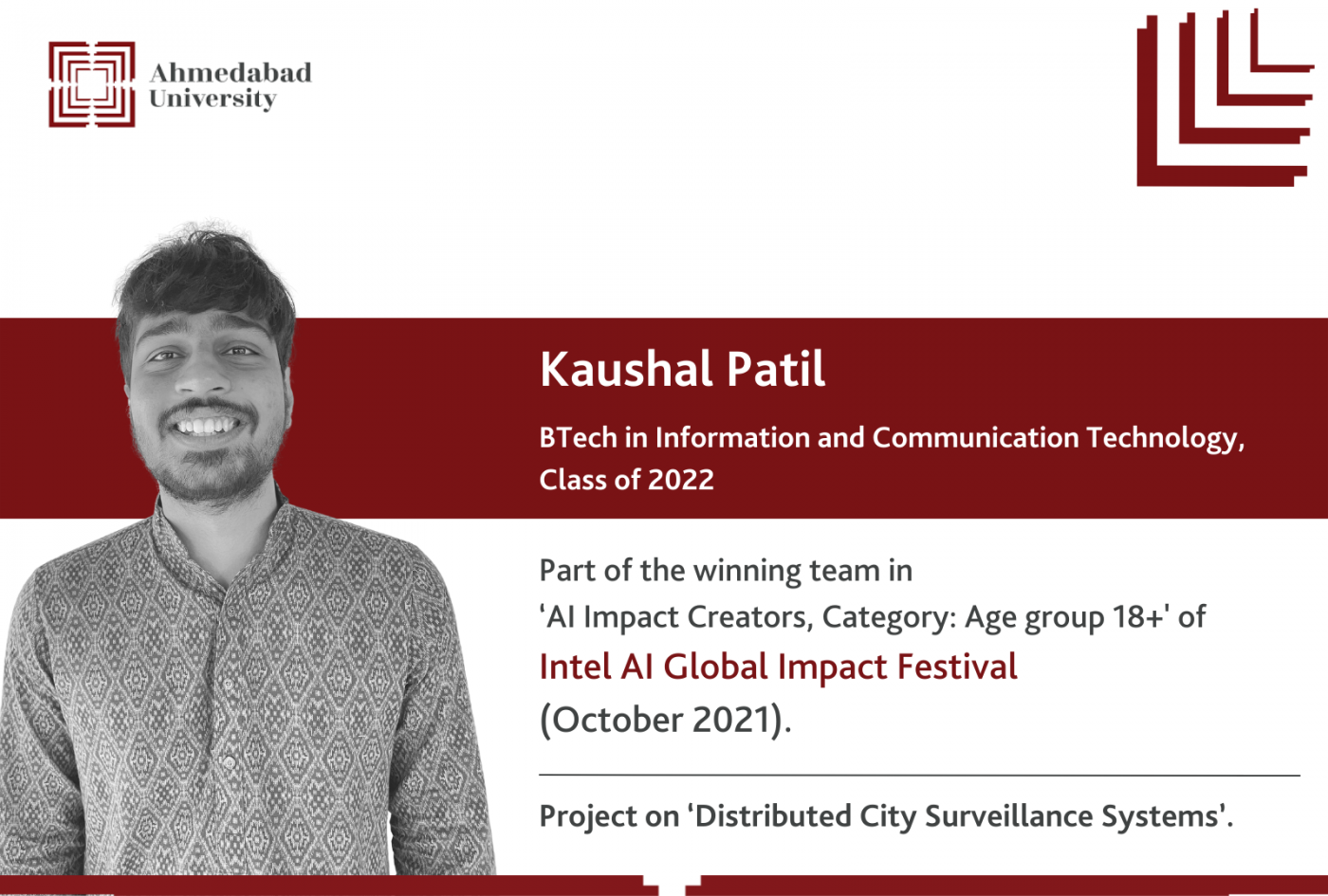 In 2020, when Kaushal Patil witnessed a stabbing at his native, Vadodara, he was jolted into action. The BTech in Information and Communication Technology (Class of 2022) student of School of Engineering and Applied Science at Ahmedabad University is being trained to be a 'whole engineer', one who actively looks at engineering solutions for real world problems. And here was a grave problem staring him in the face. "I had thought right then that we needed to do something to prevent crimes of violence. If only there was a way to identify weapons beforehand?" he shares, looking back at that incident.
It was in 2021 that opportunity presented itself by way of the first edition of Intel's AI Global Impact Festival 2021. In the category of AI Impact Creators, Kaushal led a team that created the Distributed City Surveillance System, winning the Country/Region Award with an Intel certificate and a cash prize of 1500 USD. Around 15 teams from India and 200 teams globally had been selected for the festival.
Kaushal says that their project is a unique blend of artificial intelligence and human intelligence which ensures more reliability and a wider reach. With the aim to prevent violent crimes, the team devised a two-pronged solution. "The first is an app where regular users of the app report any activity that is fishy with a possibility of turning violent. The second part is where the AI software comes in, detecting weapons and reporting it to our server. Once both these inputs come to the server, along with their location info, it shows up as a potential threat on a dashboard created for the security body's server which, in turn, can deploy a force into action," explains Kaushal. The system is also future-ready in the sense that it can be modified to detect more complex crimes by collecting data from artificial scenarios readily available in gaming, he adds.